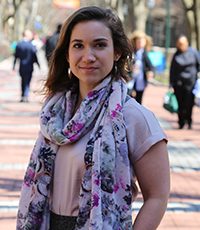 Allison R. Russell, PhD, MPA
Graduate, PhD in Social Welfare
Research Interests
Volunteerism
Nonprofit human resources management
Equity and ethics in nonprofit organizations
Nonprofit organizations in social welfare, policy, and governance
Global civil society development
Online teaching and pedagogy
Allison R. Russell was a Postdoctoral Fellow at the Center for Social Impact Strategy (CSIS). Her work at SP2 includes curricular review and development for both the Executive Program in Social Impact Strategy and the MS in Nonprofit Leadership (NPL), as well as online and in-person teaching in the NPL program. This role reflects Allison's interest in online teaching and pedagogy for nonprofit management curricula and professional education more broadly.
In addition to her teaching interests, Allison's research centers on the nonprofit and voluntary sector, including volunteerism, nonprofit HRM, ethical decision-making, and the role of nonprofits in social welfare and policy. Her dissertation examined the role of transitioning in and out of volunteering on older adults' well-being. She is also involved in several research projects on civil society development around the world, including volunteering in Vietnam and microfinance and ancillary employment generation in India.
Allison is a 2017 recipient of the Association for Research on Nonprofit Organizations and Voluntary Action Emerging Scholars Award. She also received the 2019 Penn Prize for Excellence in Graduate Teaching, for which she was nominated by NPL students. She is a co-author (with Femida Handy) of the book, Ethics for Social Impact (2018). Allison holds a PhD in Social Welfare from the University of Pennsylvania School of Social Policy and Practice and a Masters in Public Administration from the University of North Carolina at Wilmington.
Contact
Email
About
Department(s)
Recent PhD Graduates
Program(s)
NPL
Related Links