alumni events
At SP2, we offer our alumni a slate of events that provide opportunities for networking, personal development, and professional enrichment.
These events allow SP2 graduates to interact with each other but also to get to know current students, faculty, and staff. We hope these events will create spaces for alumni to feel connected with SP2's present and invested in the School's future.
Some of our regular programming includes:
SP2 Fridays
A chance for alumni to return to Caster for relaxed evening of food and refreshments with current students and faculty. Held throughout the semester.
SP2 Minute
This event allows SP2 graduates to share their expertise with the rest of the School's community and engage in thought provoking discussions on a wide range of relevant topics. Held throughout the semester.
SP2 Speaker Series
The Speaker Series features leading scholars and activists from within the SP2 community and beyond in conversation with renowned social justice leader Ben Jealous. Held throughout the semester.
Alumni Weekend
Alumni Reception, May 12th; 6-8pm
SP2 Commencement Pre-Reception, May 13th; 2-3:30pm
Jazz Brunch, May 14th: 12-2pm
All alumni are welcomed back to campus to celebrate the completion of another academic year with food, drink, and live music.
In addition, each semester, special one-off events are held to highlight alumni from each program, events to create networking opportunities for alumni, and events that feature current faculty discussing their work. 
Please make sure to check your email for details on all upcoming events as well as the SP2 Calendar.
News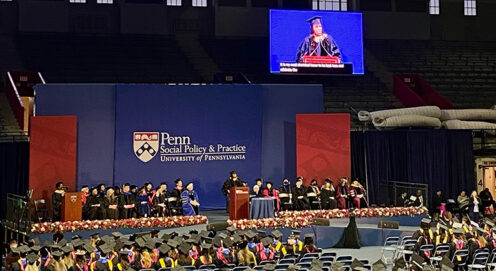 SP2's 2023 Commencement highlights need "to improve the well-being of all people"
Themes of joy, humanity, and justice took center stage at the 2023 Commencement of Penn's School of Social Policy & Practice (SP2). In an evening ceremony at the Palestra on Saturday, May 13, graduates and their families and friends heard from SP2 Dean Sara S. Bachman and Commencement Speaker Amber Hikes, MSW'08, before cheering on the presentation of graduates across SP2's five degree programs.