News Details
PhD Student Takes on Changing Discourse Around Aging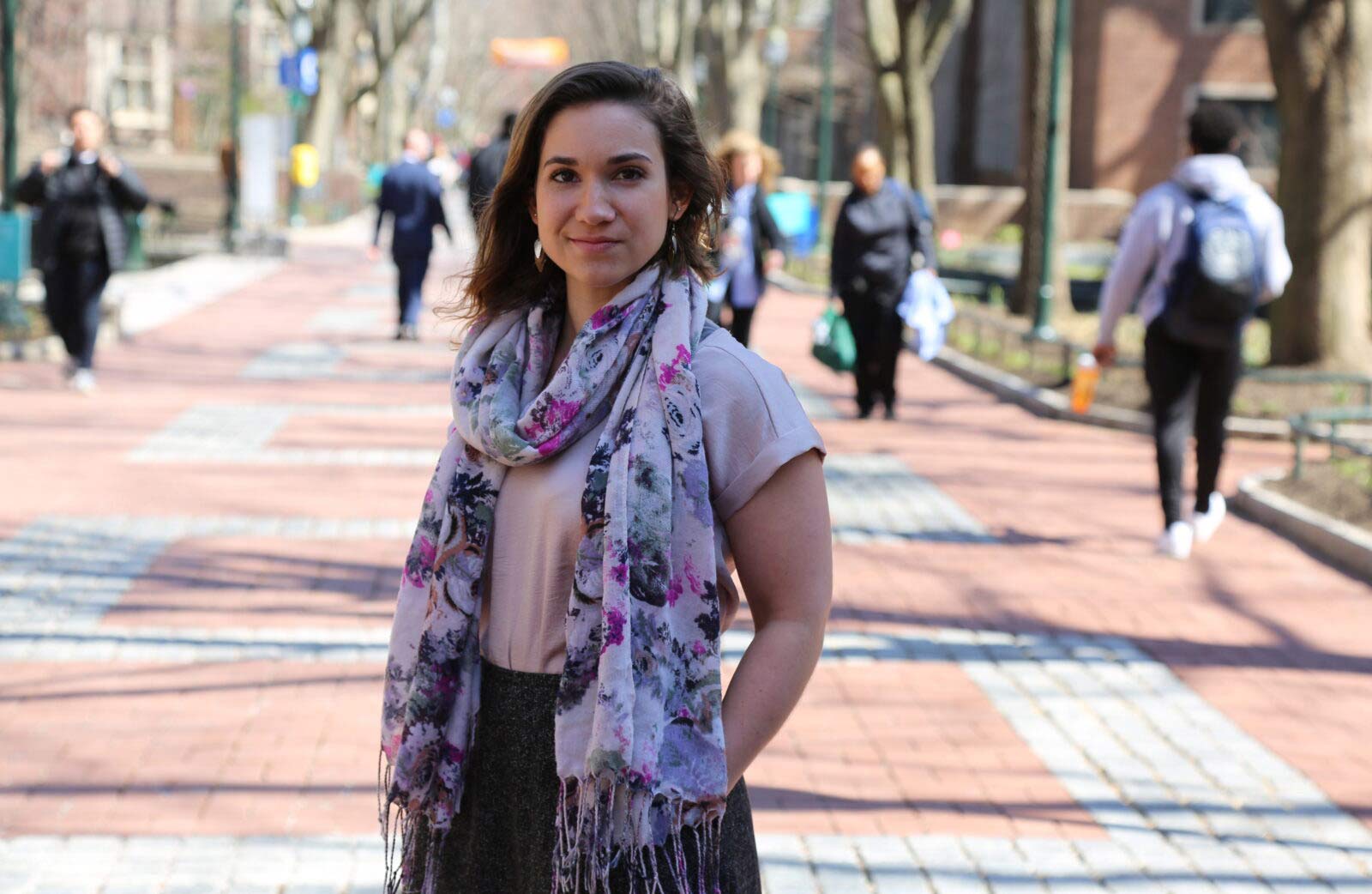 Authored by: Alina Ladyzhensky
Photography by: Alina Ladyzhensky
According to recent Census Bureau projections, the U.S. population will reach a transformative milestone in the year 2030. By then, all baby boomers will be 65 or older— and consequently, one in every five U.S. residents will be of retirement age. For Allison Russell, a PhD candidate at Penn's School of Social Policy & Practice (SP2), this demographic shift presents an important opportunity to confront society's preconceived notions around aging.
"Our aging population is larger than ever before, so it's a great time to challenge ideas and biases about what 'old age' means. We have all these conversations from a policy perspective, but they can feel very clinical or stale—it's almost pragmatic to such a degree that there's no face to it," Russell said. "People are people at every age, and aging looks different for each person. I think the discourse around aging can be improved, and those who are leading the way are all in the social work space."
Russell's research is around the nonprofit sector, nonprofit management, and volunteering. Her dissertation in-progress focuses on volunteering and well-being among the older adult population.
"We're looking at not only the decision to begin volunteering in older age and how it benefits and influences quality of life, but also what happens when older adults eventually have to 'retire' from volunteering. It's almost like a second retirement for people who get really embedded in these organizations," Russell explained. "It's great to encourage people to volunteer as a policy initiative that is promoting their well-being, but if we're going to do that, we also need to think about the other side of it."
To that end, Russell worked with a volunteer administrator and researcher at the Philadelphia VA Medical Center to conduct a qualitative study as part of her dissertation. Being involved in this work helped Russell gain a practical experience perspective and professional lens to supplement all her theoretical and empirical readings.
"Because I haven't worked professionally outside of academia, it's sometimes a bit harder for me to understand all of the management or practice implications of different things," Russell said. "In partnering with my colleague at the VA, Melissa Heinlein, I was able to get that perspective and be out in the field. It helped me think about the management implications of working with older adult volunteers and how to ensure that you're not viewing them simply instrumentally as a human resource, but also considering them holistically as people."
Russell recently experienced what she described as an "aha moment" when attending a conference for healthcare volunteer administrators, where she and Heinlein presented some of their findings.
"To have people actually come up and say, 'This is relevant and important, and I think about this in my practice'—you realize that you've closed a loop and are doing something that has real world implications, and matters to people who do this work," she said.
Russell didn't always expect to end up in a PhD program in Social Welfare. She pursued a Master's in Public Administration at the University of North Carolina Wilmington, and initially planned to delve into immigration policy-related work. But, while at UNC Wilmington, she worked with a professor whose work was primarily concerned with the nonprofit sector and volunteerism. This led to her involvement in the social welfare field, and connected her with Femida Handy, PhD, professor and director of the PhD in Social Welfare program, who is now Russell's advisor at SP2.
"Honestly, this is the only PhD program I applied to. I liked that it was interdisciplinary in nature and felt it would give me better latitude to explore different things," Russell shared. "I met Dr. Handy at a conference, a few weeks before the program application deadline. When I applied, I requested to work with her because our research interests align really well. It was a great opportunity to work with someone I admire who is at the top of their field, plus the added benefit of feeling like all the things I can bring to the table would fit into this program, and I wouldn't be narrowed into something."
Since then, Russell has refined and expounded on her research interests, accrued graduate-level teaching experience at Penn, and immersed herself in dissertation work. When speaking about her desire to shift the discourse on aging through her research, Russell's enthusiasm and dedication are evident.
"We should be thinking about breaking down generational divides, encouraging intergenerational interaction and appreciation, and transfer of knowledge—and essentially, combating ageism in all of its forms," she said. "The qualitative project I did as part of my dissertation really changed how I think about what research can do. At the end of the day, if research doesn't serve people and help communities, it's not really worth doing."
After completing her PhD, Russell hopes to go into academia, and continue her research and teaching in a tenure-track position. 
"Wherever I end up, it's mostly about feeling like I can do good there— it has never been about prestige. For me, it has always been about: how can I use the skills, energy, and passion I have for this work to serve other people? I'm just looking for the right opportunity, and I know that it's out there."
People
Allison R. Russell, PhD, MPA

Graduate, PhD in Social Welfare

Contact

Email

Femida Handy, PhD

Professor

Contact

office: 215.573.2660

fax: 215.573.2099

Email