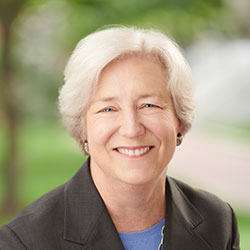 A MESSAGE FROM OUR DEAN
Sara S. Bachman, PhD
Innovation and impact. A steadfast commitment to social justice, equity, and inclusion. An unyielding drive to tackle society's toughest challenges through scholarship, practice, research, and engagement. These are the pillars that define the University of Pennsylvania's School of Social Policy & Practice (SP2), and they are what empower us to work tirelessly for a better future.
In today's complex world, where injustice and inequity remain deeply entrenched, the need for passionate social change leaders is more urgent than ever. At SP2, we are constantly evolving to meet this need. We offer rigorous Master's and Doctoral programs as well as dual degrees, certificates, and diverse opportunities to collaborate with Penn's other professional schools. Our students bring their classroom experience to life through a wide range of internships, practicums, and fieldwork. In fact, they spend a combined 250,000 hours each year making a difference here in Philadelphia and around the world.
Our faculty are the very heart and soul of our program. As renowned practitioners, instructors, and world-class scholars, they are dedicated to sharing their knowledge and experience, and doing whatever it takes to help our students achieve academic and career success.
They are also leading innovative translational research that examines everything from economic security and social innovation to health equity, philanthropy, and data-driven policy and practice. This important research is just another way we're working to evolve and improve social policy and practice locally and globally.
I am so proud to be a member of the SP2 family. Each of us – students, faculty, staff, alumni, donors, and others – is truly committed to advancing the pursuit of social innovation, justice, policy, and practice, and fostering a better future for all.