News Details
'The passionate pursuit of social justice'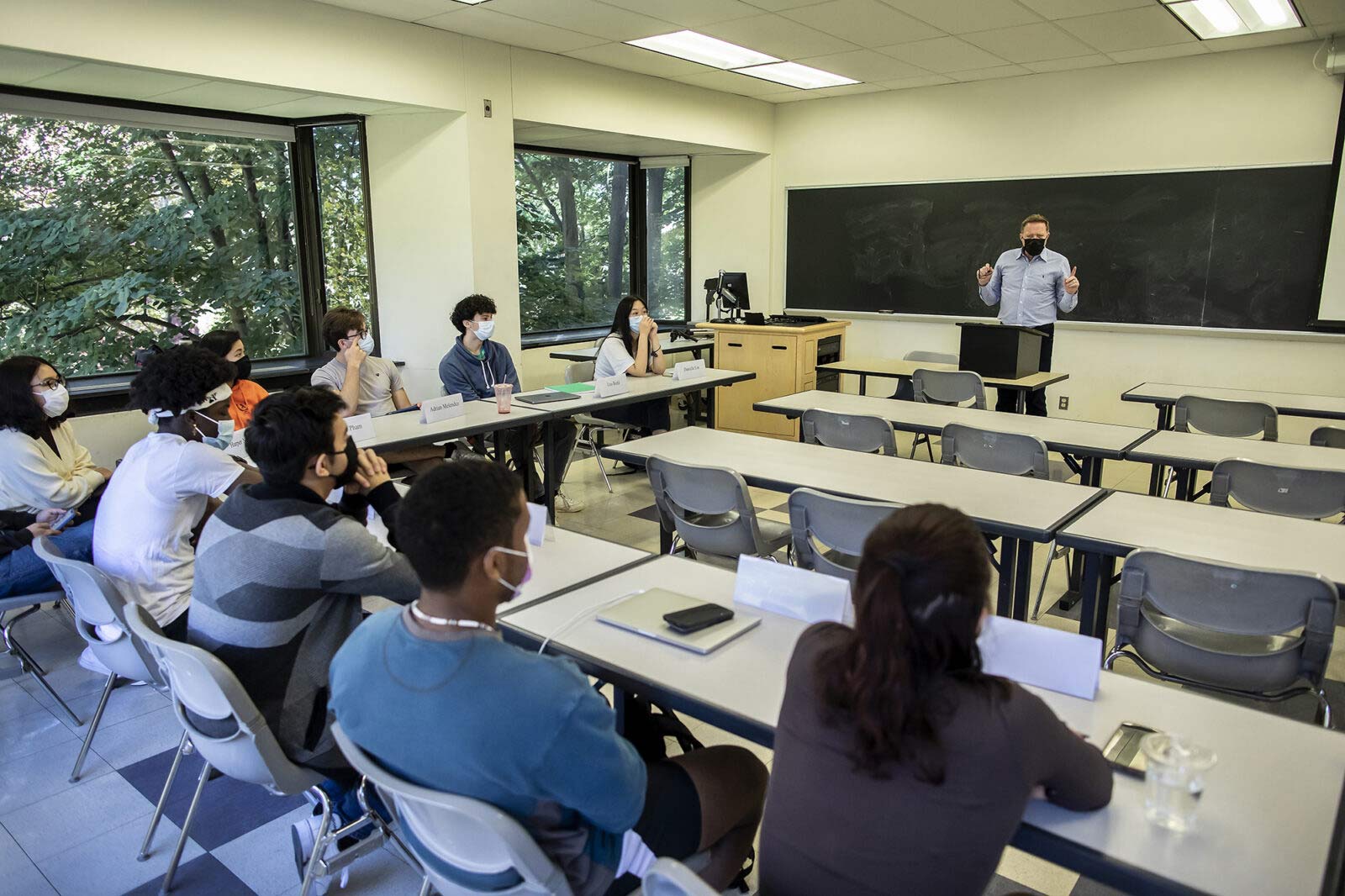 Authored by: Kristina García / Penn Today
Photography by: Eric Sucar
Faculty & Research
10/07/21
The School of Social Policy & Practice addresses social inequities through research.
After majoring in psychology, John Gyourko spent 10 years exploring various social work roles in the foster care system before enrolling in the School of Social Policy & Practice (SP2). Along the way, he developed relationships with the young people he served—and their families.
"As those connections grew, so did my recognition that we all have a personal stake in what happens to these folks who are involved in our child protection systems," Gyourko says. These experiences also piqued his academic curiosity. "What happened to those folks depends, to some extent, on the policies we choose to implement at the 30,000-foot level. As I became more familiar with the dynamic connections between social work policy and practice, I realized that there were many questions I wanted to answer," he says. How can policies better support the often-precarious transition from foster care to adulthood? What more can be done do to preserve family stability? "These questions are out there, the data is out there, but I just did not have the skills I needed to really address them," Gyourko says.
To acquire these skills, Gyourko enrolled in the PhD in Social Welfare program at SP2 and is now in his second year, working with Johanna Greeson and Sarah Wasch at the Field Center for Children's Policy, Practice & Research. He focuses on child maltreatment and child welfare, with particular interests in the experiences of older youth and those aging out of foster care. Gyourko was drawn to the Field Center in part because of the center's work with community partners and stakeholders with lived experience. "Emphasizing the voices of young people and their families—this is a key component of our research, and it's critically important in this moment of social reckoning as we identify the changes we need to make to our child protection systems," This work plays a big role in larger societal questions, he says.
Founded in 1908 as a school of social work, SP2 has undergone its own transformation to address these larger societal questions. Former dean Rich Gelles decided that these questions would best be addressed by social work in collaboration with other social welfare professions and the school evolved to offer five degrees: the Master of Social Work program, the Master of Science (MS) in Social Policy program, the MS in Nonprofit Leadership program, the Ph.D. in Social Welfare program, and the Doctorate in Clinical Social Work program.
Under the leadership of current dean Sara Bachman, the school is finding new ways to come together. In 2020, Bachman appointed Joretha Bourjolly as associate dean for inclusion. Under Bourjolly's leadership, the entire school engages in the "One book, One SP2" initiative, a mandatory summer reading program where faculty, staff, and students gather and discuss the book in facilitated, small-group sessions.
The school also started the Social Justice Scholars Program, admitting three students—one for each of SP2's masters programs. The students were all recruited from minority-serving institutions and are offered full scholarships. "Our hope is that over the next several years, we will continue to increase this program so that we have a cohort of 12 social justice scholars every year," says Bachman, who is focused on maximizing the financial aid that SP2 can offer its students.
"As a person who went through almost all of my education on financial aid … I really understand the impact that financial aid can have on a person's educational journey," Bachman says. "If we want to be educating social change agents who are well-suited and connected to communities of every type, then we need to ensure that we make our Penn education financially realistic for our students.
"The mission of the School of Social Policy & Practice is the passionate pursuit of social justice," adds Bachman. All of the school's endeavors are "inevitably pointed at addressing social inequities and oppression," including the four new faculty members hired this academic year.
The established faculty at SP2 have been busy, addressing such issues as homelessness, substance use, the carceral system, data and quantification, guaranteed income and universal basic income, the foster care system, and how to maximize philanthropic impact—all issues that have come to the fore during the last year and a half through the pandemic and the Black Lives Matter movement.
People
John Gyourko, MSW

Student, PhD in Social Welfare

Contact

Email

Sara S. Bachman, PhD

Dean

Contact

office: 215.898.5512

fax: 215.573.2099

Email

Joretha N. Bourjolly, MSW, PhD

Associate Professor/Clinician Educator

Contact

office: 215.898.5524

fax: 215.573.2099

Email

Sarah Wasch, MSW

Associate Director, Field Center for Children's Policy, Practice, & Research

Contact

Email

Johanna K.P. Greeson, PhD, MSS, MLSP

Associate Professor

Contact

office: 215.898.7540

fax: 215.573.2099

Email

Dennis P. Culhane, PhD

Professor

Contact

office: 215.746.3245

fax: 215.573.2099

Email

Sharon Zanti, MSW

Student, PhD in Social Welfare

Contact

Ezekiel Dixon-Román, PhD

Associate Professor

Contact

office: 215.898.5512

fax: 215.573.2099

Email

Ioana E. Marinescu, PhD

Associate Professor

Contact

Email

Hyeri Choi, PhD, MSW

Graduate, PhD in Social Welfare

Contact

Email