News Details
SP2's 2023 Convocation urges hard work, connection, and social impact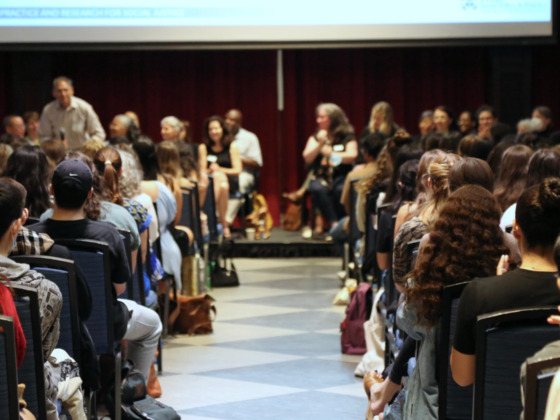 Authored by: Juliana Rosati
Photography by: Carson Easterly
Welcoming new students from 28 states and territories and 22 countries, Penn's School of Social Policy & Practice (SP2) held a rousing 2023 Convocation in a packed Hall of Flags at Penn's Houston Hall. Remarks by SP2's leadership highlighted the importance of working hard, drawing strength from interpersonal connections, and pursuing social impact.
Dr. Jenn Clinkscales, SP2's associate dean of student affairs, described three pillars — attitude, commitment, and talent — to guide students on their educational path. "I encourage you during your tenure here to have a positive attitude and a spirit of good intent for your colleagues while you're in the classroom," she said. "Things will be challenging while you're here in all the best ways, but when things get tough, remember the commitment you made to yourself. Each one of you were admitted because you were talented and you have something to offer."
In addition, Dr. Clinkscales expressed the School's confidence in each student's ability to create social impact. "The communities that you're going to be working with, the policies you're going to be addressing, the nonprofits you're going to be working in, they all need you to show up unapologetically," she said.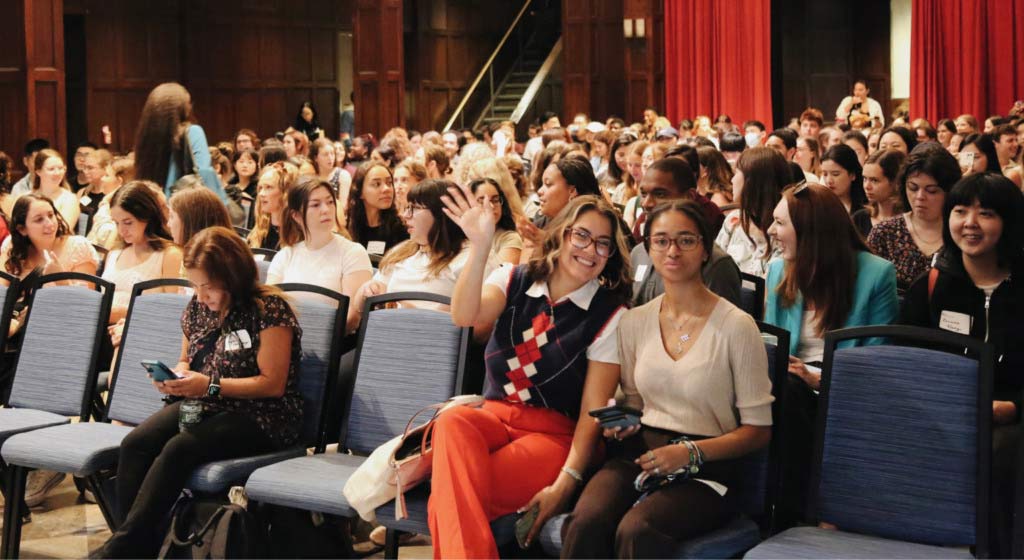 Dr. Mary Mazzola, SP2's associate dean of enrollment management and global outreach, advised students to make the most of their time at SP2 and find strength in connection. "All of you have the responsibility to learn as much as you can, to contribute to making our world, which is fraught with social problems and inequities, a better place," she said. "Ask for help when you need it, don't walk alone, and be kind to yourself and be kind to others, because we never know what someone else is going through, or the impact of a kind word."
Dr. Mazzola also shared an overview of the states, countries, and undergraduate institutions of the School's 297 new students and highlighted each of SP2's five degree programs, asking the students enrolled in them to stand.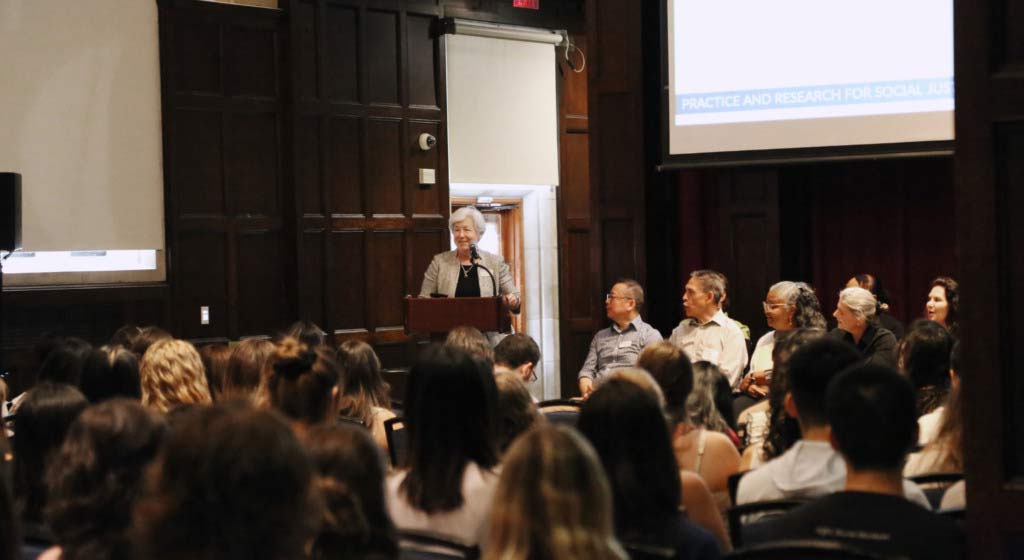 SP2 Dean Sara S. Bachman emphasized the urgency of students' roles in effecting positive change in the world. "We are deeply committed to the value of ensuring that you grow into the social change agent you're meant to be," she said. "Regardless of which of our programs you've chosen to equip yourself for this journey, I know you're going to gain the skills and knowledge you need to have social impact. Every day, we live out our responsibility to you to ensure you leave here stronger and even more equipped for the hard work that lies ahead."  
Dr. Bachman pointed to practices of inclusion as an underpinning of the SP2 community. "You must be ready to listen before speaking, to learn from those around you, to challenge and attend to your own biases, which you have, just like I have," she said. "We welcome you to our ongoing efforts to do better, and we want you to join us. As I said, we need you to work with us on this journey. I can't wait to get started, because I know you are going to be successful at changing the world."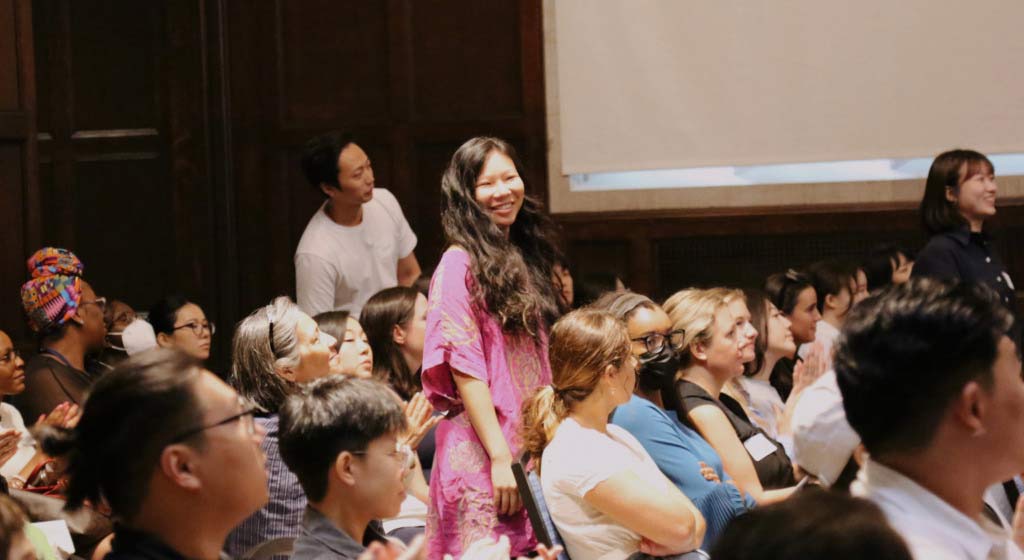 Following her remarks, Dr. Bachman invited the members of SP2's 28 standing and six research faculty seated onstage to introduce themselves individually, noting their areas of teaching and research. In addition, Dr. Bachman introduced Senior Leadership Fellow Douglas M. Brooks. A nationally recognized leader in HIV and health care policy and advocacy, Brooks is the first of a series of social impact experts to be invited to SP2 as part of a new mentoring initiative for students, the SP2 Leadership Collective.
At the conclusion of the event, SP2's Dr. Jerri Bourjolly, associate dean for inclusion, encouraged students to expand their horizons in the year ahead and sent them to small-group discussions of the fifth annual One Book, One SP2 choice, Disability Visibility: First-Person Stories from the Twenty-First Century, a collection of essays edited by Alice Wong.
"You don't have to be afraid to reach out and take risks, and to experiment with new ideas," said Dr. Bourjolly. "The time you have here at SP2 is relatively short, and it will go fast. But the seeds of your efforts while you're here will be planted in a rich environment of opportunities that will give you great rewards. So take risks and venture to grow. Welcome again to SP2 and the start of your academic year!"