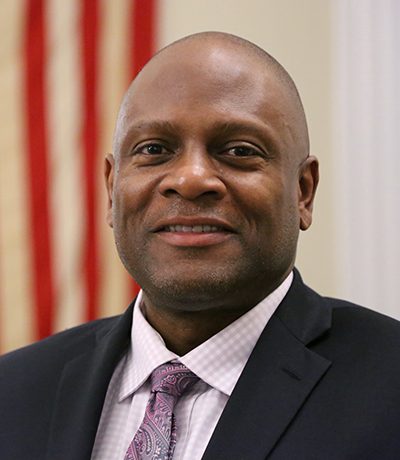 Douglas M. Brooks, MSW
Senior Leadership Fellow
Douglas M. Brooks, MSW, is a nationally recognized leader in HIV and healthcare policy and advocacy. His career has taken him from local community health clinics to the pinnacles of the nonprofit and the corporate worlds and to the White House. In each of his positions, he has used his platform to fight for marginalized communities and against the social determinants that produce unjust and inequitable health outcomes.
Douglas served as the Director of the White House Office of National AIDS Policy (ONAP) under President Obama, where he spearheaded an update to the National HIV/AIDS Strategy. Douglas, an openly gay man living with HIV, focused ONAP's attention on the populations most affected by HIV —including gay and bisexual men, Black and Latino communities, Black women, transgender people, and people living in the Southern U.S. As director, he supported the widespread scale-up of PrEP, and included this in the updated strategy as a key way to reduce new infections in the U.S. Prior to ONAP, Douglas was appointed to the Presidential Advisory Council on HIV/AIDS (PACHA), and was subsequently named that body's liaison to the CDC/HRSA Advisory Committee under President Obama.
Building on his experience at the White House, Douglas served as the Vice President, Advancing Black Equity and Community Engagement, at Gilead Sciences, where he created and executed programs that seek to address inequities experienced by Black communities. Douglas led an enterprise-wide strategic framework to tackle systemic issues of structural anti-Black racism and health-based inequities. Over six years, he helped the company manage complex issues, particularly in the field of HIV, and contributed to the design of programs that are making real and sustained change. Douglas was one of the architects of Gilead's COMPASS Initiative®, a 10-year, $100 million commitment to addressing HIV in the Southern United States, and Gilead's largest corporate giving program. He also pioneered a partnership with the Satcher Health Leadership Institute at Morehouse School of Medicine to assess and develop recommendations for addressing racial inequities in the treatment of COVID-19 and other significant health issues.
For twelve years, Douglas served on a team representing the Commonwealth of Massachusetts as part of the Massachusetts-South Africa Health Task Force, working closely with South Africa's Eastern Cape Province Department of Health on strategies for developing partnerships between government and HIV-positive consumers. Douglas was particularly instrumental in supporting the development of an effective and now nationally recognized pre-antiretroviral treatment strategy known as the Integrated Access to Care and Treatment (I ACT) Program.
Douglas began his career as a social worker. He was a clinician, program director, and eventually the Senior Vice President for Community, Health, and Public Policy for the Justice Resource Institute (JRI), a regional health and human service agency in Massachusetts, Rhode Island, Connecticut, and Pennsylvania. At JRI, he was dedicated to serving youth and adults who are at great risk of HIV/AIDS or who are already living with HIV disease and in need of services and support.
Doug has served on multiple nonprofit and governmental boards and advisory committees, including as Chair of the Board of Trustees of AIDS United in Washington, DC and Co-Chair of the San Francisco AIDS Foundation where he also served as Chair of the search committee that brought the first Black CEO in the organization's 40 year history.
Douglas strives to embody and exemplify a commitment to serve and to lead in the most nonjudgmental and effective manner possible. His management style is to support a collegial, collaborative, innovative team environment, always remembering that clients, patients, communities take precedence in "the work" and teams that feel valued will work feverishly to ensure that sense is imparted to those being served.
Contact
Email
About
Department(s)
Fellows