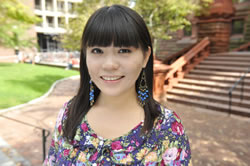 Jia Xue, PhD
Graduate, PhD in Social Welfare
Research Interests
Interpersonal violence, intimate partner violence, domestic violence, dating violence, child abuse
Rape myth methodology, sexual violence, gender-based violence
Computational social science methods, social media, Twitter, data mining
Jia is a sixth-year student in SP2's PhD program in Social Welfare, along with a dual Master's degree in Statistics in Wharton. Her research is motivated by promoting social justice and improving the well-being of vulnerable individuals and families who are affected by intimate violence. Her career goal of promoting social justice began with her studies in Law School at Tsinghua University, Beijing, China, and an internship in China's Supreme Court. Her research has focused on intimate violence, dating violence in young adulthood, child abuse and gender-based violence in international and cross-cultural contexts. She has been committed to working collaboratively across multiple disciplines, including social policy, health, criminology, and social work.
Recently, her research focuses on how new communication channels (e.g. social media) can advance research methodology regarding technology-based data collection and measurement (e.g. mobile apps and wearable devices); whether social media can be used to support healthy dating and sexual behaviors among vulnerable populations (e.g. adolescents and young adults); and whether social media can serve as venues for efficacious intimate violence interventions. Her dissertation – Social Media and Agenda Setting for Intimate Partner Violence in the U.S. and China: A Comparison of Twitter and Weibo is a comparative analysis of the social transformation of intimate partner violence from a private matter to a social problem, and to a policy agenda item, both in the US and China. She investigates the role of social media in the social transformation and development of public policy of IPV in the US and China. She analyzes publicly available tweets collected through the Twitter and Weibo application-programming interface (API). The study has implications by generating insights in exploring whether social media can serve as a potential tool both for preventing intimate violence and for informing policy-making.
Jia is currently working on her pre-doctoral fellowship at Harvard Kennedy School. She was a research fellow at CARR Center for Human Rights from 2016 to 2017, and will be working as a research fellow at the Women and Public Policy Program at Harvard from 2017 to 2018. Meanwhile, she is an adjunct faculty teaching courses at Smith College and Rutgers University School of Social Work in 2017.
Contact
Email
About
Department(s)
Recent PhD Graduates
Related Links