News Details
Three SP2 Faculty Members Receive Tenure, Discuss Future Research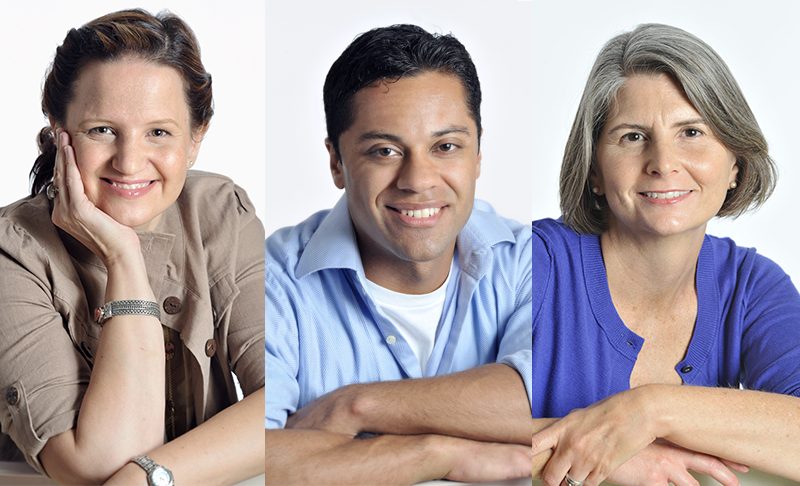 Authored by: Jessica Bautista
Photography by: Candace DiCarlo
Faculty & Research
07/13/18
Trailing a lengthy record of influential instruction and research, three faculty members from Penn's School of Social Policy & Practice (SP2) – Malitta Engstrom, Antonio Garcia, and Johanna Greeson – have all become tenured, effective July 1, 2018.
A system of tenure for faculty members is the preeminent means of fostering and protecting academic freedom of faculty in teaching and in scholarly inquiry, according to Penn's Office of the Provost.
"I'm grateful to those in the SP2 village who have been an integral part of this journey in one way or another, from mentorship, to collaborations, to encouraging words, to hugs. I'm also especially grateful for our SP2 junior faculty tribe – no better colleague-friends!" said Greeson, PhD, MSS, MLSP, whose efforts focus on the child welfare system and evidence-based practices for youth aging out of foster care.
Greeson, as well as Garcia, are also faculty directors at the Field Center for Children's Policy, Practice and Research.
"I'm very excited to embark on this next phase of my career as an Associate Professor. I will continue to elevate the voices of young people who age out of foster care and advocate for the power of interdependence and connections to supportive and caring adults," she said.
Those who receive tenure have a responsibility to advance the purposes of the University and of the communities it serves, including teaching and scholarship. As tenured faculty members, Engstrom, Garcia, and Greeson are expected to push forward the frontiers of knowledge through their studies – a notion they've been long committed to in their fields.
Together, the three faculty members have spent decades carefully examining social justice and policy issues in child welfare, including the intersection of immigration and foster care, problematic substance use and criminal justice system involvement, victimization, HIV, and mental health.
"Receiving tenure at SP2 is truly an honor and is indicative of the hard work and dedication of mentors, colleagues, and community stakeholders who collaborated with me to advance child welfare practice research. Over the past six years at SP2, my research revealed what is needed to increase the chances that all youth and families, regardless of race and the zip code they live in, engage in evidence-informed services to prevent and/or address maltreatment and other types of adverse childhood events," said Garcia, MSW, PhD, who is also Co-Director of the Child Well-Being & Child Welfare Specialization.
"With tenure, I feel I have the awesome responsibility to rely on these findings to develop strategies that will likely support agency workers and leaders to address the needs of at-risk youth and families in our own backyard and beyond. I will also have the opportunity to continue to disseminate this knowledge in innovative ways to students in our MSW, DSW, and PhD programs who are equally passionate about promoting child well-being."
Throughout their tireless research efforts and work developing practices to best address society's most pressing concerns, Garcia, Engstrom, and Greeson have continued to thoughtfully inform and train future social change agents at SP2 and beyond.
"Penn is an extraordinary community. Since my first visits to campus, I've been inspired by its vibrancy and collective commitment to positive social change. I appreciate the ways in which intellectual inquiry is connected to action in the world and the generative ways in which people engage with each other at Penn.  It's an honor to be at this moment, and I'm profoundly appreciative of all of the people who have been part of this journey," said Engstrom, PhD, who was also recently recognized by the Society for Social Work and Research and the Gerontological Society of America.
"As a clinical social work researcher and educator, I'll be further developing my engagement in efforts that aim to foster justice, alleviate suffering and enhance quality of life through empathic, evidence-supported practices and policies—with particular attention to women across the life course and families who are affected by substance use, criminal justice system involvement, and other co-occurring concerns, including trauma and HIV."
People
Malitta Engstrom, PhD, LCSW

Associate Professor

Contact

office: 215.573.6454

fax: 215.573.2099

Email

Johanna K.P. Greeson, PhD, MSS, MLSP

Associate Professor

Contact

office: 215.898.7540

fax: 215.573.2099

Email