News Details
The Penn Experience: Racism, Reconciliation, and Engagement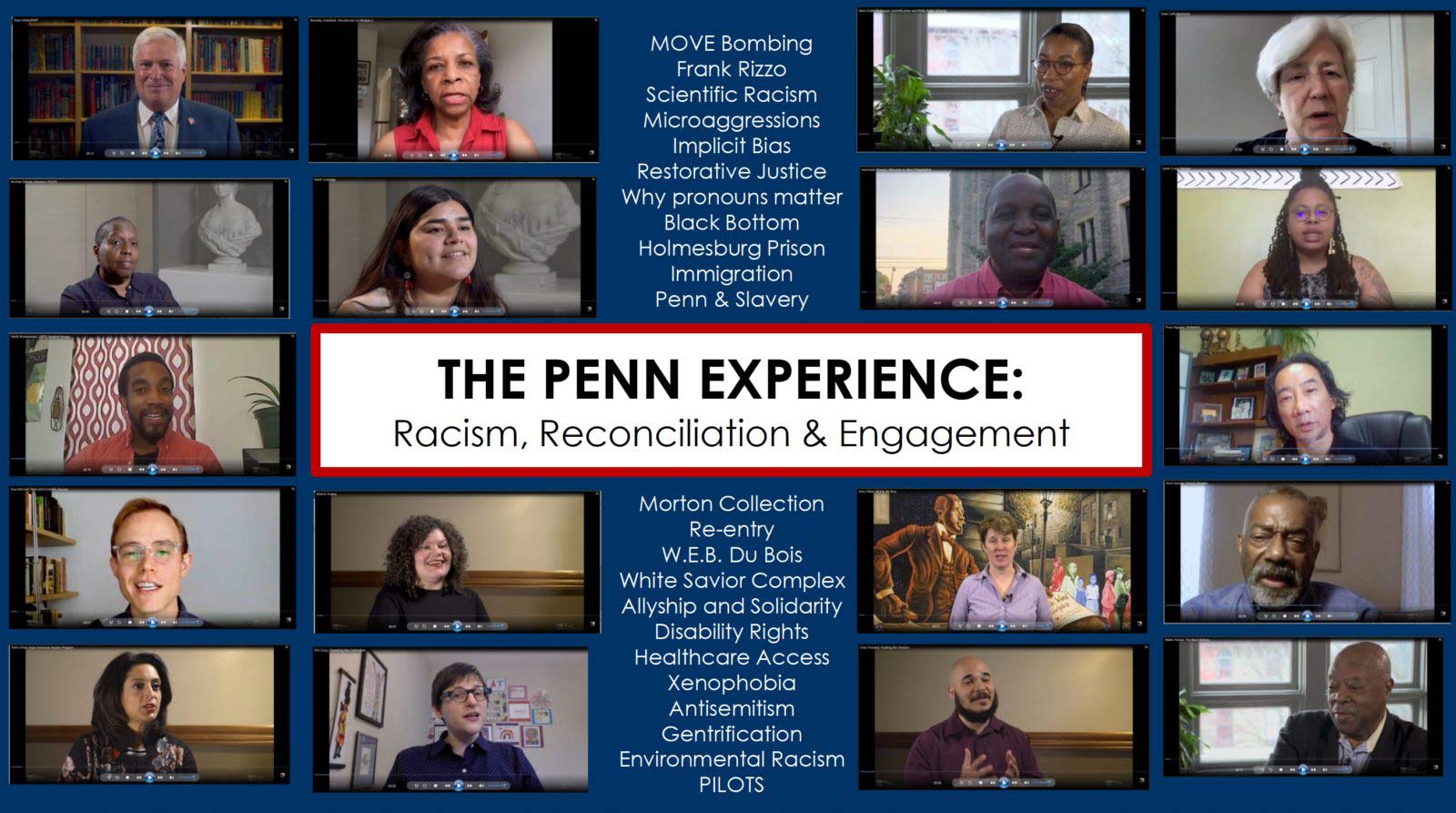 Authored by: Jessica Bautista
Faculty & Research, Student Life
09/30/20
For more than a century, spearheading social change has always been at the core of Penn's School of Social Policy & Practice's (SP2) knowledge-building activities and practice. But partnering with the School of Dental Medicine on such work is one thing we've never done before.
Recent incidents related to inequities in COVID-19 exposure and impact, police violence against Black and Brown people, and national protests calling for a reckoning with a long history of racism and white supremacy have only reinforced our commitment and vision to prepare students for the hard conversations and personal growth that are integral to a graduate education at SP2.
For these reasons, it became even more crucial that SP2 launch a new, online course for incoming SP2 students entitled, "The Penn Experience: Racism, Reconciliation and Engagement."
The entirely asynchronous non-credit course, which was created in collaboration with Penn's School of Dental Medicine, had been in the works over the last year and was finally launched in July.
The objective? To establish common language and concepts to facilitate subsequent difficult conversations about race, racism, and difference in the classroom and beyond.
Using video interviews, presentations, short readings, and podcasts, the course highlights the significance of Penn's and Philadelphia's history of racism and other forms of oppression, Penn's evolving relationship to West Philadelphia, and Penn's efforts toward greater engagement and inclusion on campus and off.
The modules—a total of six, requiring around 20 hours— also focus on implicit bias, restorative justice, intercultural communication, gender identity, forms of oppression, allyship, disability rights, and disparities in healthcare. A final module addresses the antiracist work that must be done to dismantle white supremacy, according to SP2 associate professor Amy Hillier, PhD.
The course spawned as a direct result of SP2 student input and a series of recommendations from the School's Task Force on Race and Social Justice. Of the more than 300 SP2 and Dental students who have already completed the course, Hillier noted that the detailed feedback has been overall positive and will serve to inform how the course may evolve over time for future cohorts. A majority of the students strongly agreed the course provided beneficial knowledge that they didn't possess before entering.
"I felt relieved that Penn was engaging students in conversations regarding race, the history of Penn's institutional racism, gender, and Penn's push for restorative justice. The Penn Experience course led with transparency and that's an important step towards change," SP2 student Mel Brown, MSW/MFA '23 said of the new training.
"The depth of the course and its intentional approach to the topics are valuable and pushed the conversations forward. As a social change agent, it is vital to understand and challenge my implicit biases. The Penn Experience course provides the opportunity to inform us of what we know, what we think we know, and what we don't know in a way that is approachable."
The Penn Experience is required of all incoming full-time and part-time students in SP2's masters programs and strongly encouraged for all current students, as well as those in the School's doctoral programs. At Penn Dental Medicine (PDM) the course is required for all incoming first year students. This year it was incorporated as part of the curriculum for second, third- and fourth-year students. The course may be expanded to faculty members, staff members, alumni, community members, and others in the near future of both schools.
"I expect conversations to be different; and deeper," Hillier said. "My hope is that people will be more equipped to engage in the hard conversations that will take place, especially when you have people coming in with different attitudes about West Philadelphia and Penn. I expect this to ready people for these discussions and that we'll have made a clear statement about our values at the same time."
The course comes during a slew of other initiatives and activities the SP2 community has been shaping to strengthen open, constructive, and fruitful dialogue surrounding how the School can combat injustice and become more inclusive.
"At PDM this course is just the beginning," says Crawford. "After the first year, we will select topics from the different modules and develop on a more complex level, especially topics having to do with health disparities, access to care and cultural humility. Our students serve the Philadelphia communities and it is imperative that they do that with an understanding of these communities."
PDM is supported in these endeavors by its Committee for Cultural Growth (CCG). The CCG brings together administrators, faculty, staff and students at Penn Dental Medicine who are committed to creating and enhancing a culture of respect and belonging. Committee programming works to ensure that members of the School's community have greater self-awareness and sensitivity to those of different backgrounds. Penn Dental Medicine is also completing construction on a new clinic for persons with disabilities. One of the modules presents information to students on treating the disabled.
To learn more about The Penn Experience, please contact Amy Hillier at ahillier@upenn.edu.
People
Amy Hillier, MSW, PhD

Associate Professor, School of Social Policy & Practice

Contact

office: 215.746.5486

fax: 215.573.2099

Email