News Details
SP2 Social Justice Scholar Skye Horbrook works to effect change through data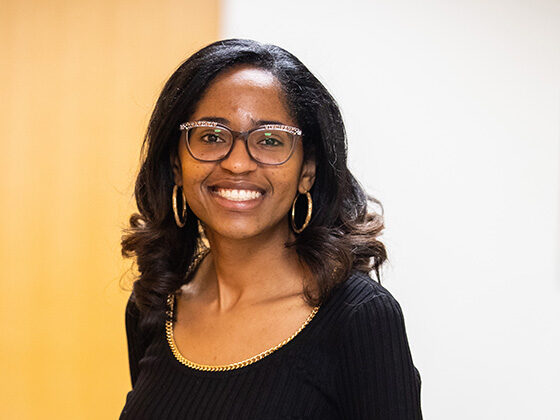 Authored by: Juliana Rosati
From majoring in computer science at a historically Black university, to volunteering on the front lines of disaster relief and digital equity efforts, Skye Horbrook has built a path focused on using technology and data to create social change.
A master's student and inaugural Social Justice Scholar at Penn's School of Social Policy & Practice (SP2), Horbrook has contributed research to the national conversation about the significance of historically Black colleges and universities (HBCUs) during her time at SP2. This semester, she is exploring the intersection of data and equity through an internship placement as she prepares to graduate. Horbrook points to the book Digital Humanitarians as part of the inspiration that brought her to SP2.
"It provided an example of how technology can be used as a tool for social impact," says Horbrook, who read the exploration of digital volunteerism and activism as an undergraduate at Bowie State University. During that time, she also volunteered across the country with humanitarian organizations — work that included counseling residents and canvassing neighborhoods as part of FEMA's response to Hurricane Irma in Florida.
Meier's book brought to her attention the importance of policy, an understanding that drew her to SP2 and the Master of Science in Social Policy Program + Data Analytics for Social Policy Certificate (MSSP+DA).
"Towards the end of the book, Patrick Meier noted the importance of forward-thinking policymaking when considering how big data is utilized," says Horbrook. "This point really resonated with me, and I found MSSP + DA as a way to grow in the areas of policy, data, and social impact."
Horbrook entered SP2 and the MSSP + DA Program as a member of the inaugural cohort of Social Justice Scholars, a competitive full-tuition scholarship program at SP2 with the aim of enhancing the School's ongoing commitment to the recruitment and retention of students with a particular interest in and demonstrated capacity for social justice leadership in their field. Preference is given to those graduating from HBCUs and minority-serving institutions.
Horbrook reports that highlights of her studies include SP2 courses on data visualization, democratizing data, and machine learning, as well as electives in city planning and education offered by other Penn schools. She also enjoys opportunities offered through the Social Justice Scholars Program, such as monthly speaker seminars and support to attend the conferences of SXSW EDU, Code for America, and the Association for Public Policy Analysis & Management.
For Horbrook, an important step forward in her pursuit of social impact was an independent project that she pursued as part of a year-long course sequence in The Data for Equitable Justice Lab at SP2. Horbrook chose to explore HBCUs' access to research funding, a topic that came to her attention as a student at Bowie State.
"I attended protests around how publicly funded HBCUs in Maryland were underfunded," says Horbrook. "I've also read articles detailing how there are currently no HBCUs classified in the top tier (R1) of research universities. My goal was to explore how the current methodology of Carnegie's classification system impacts how HBCUs are classified."
It's the kind of question that the lab course's instructors encouraged students to research.
"We want students to apply their knowledge to a social policy issue or a social policy problem that really intrigues them," says SP2 alumna and lecturer Angelina Ruffin, PhD in Social Welfare '21, who taught Horbrook's fall semester in the course.
The topic had a particular appeal for spring course instructor Cherése Godwin, MSW'09, PhD, who describes Horbrook as a "phenomenal student." Also an SP2 alumna and lecturer, Dr. Godwin brings the perspective of an HBCU graduate, having earned her bachelor's degree and PhD at Clark Atlanta University.
"I related to this project's importance," says Godwin, who believes HBCUs deserve greater recognition. "I knew the education I received at Clark Atlanta University was like no other; it was the best. Yet leaders of historically Black colleges and universities have been working for many years to achieve R1 status, the coveted Carnegie Foundation classification."
The research article that Horbrook produced during the course highlights the fact that no HBCU has been ranked as R1 since the Carnegie Classification's last change of methodology in 2005. Through data and analysis, Horbrook ultimately concludes that the Carnegie methodology does pose a significant obstacle to HBCUs.
"I found that based on determining factors such as research expenditures and number of research staff, HBCUs' numbers are lower than higher classified institutions," she says. "Under this methodology, R1 classification is much more difficult for HBCUs to reach, which can impact research opportunities, university strategies, philanthropic donations, and policy decisions."
Ruffin applauds Horbrook's work as well as her interest in contributing to the national discussion about the importance of HBCUs. "She's brilliant. She's a Black woman who cares about our community, our issues, and is equipping herself with the knowledge to really make a difference," Ruffin says.
Having completed her master's courses, Horbrook is continuing her pursuit of social impact this semester as an intern with SP2's Actionable Intelligence for Social Policy, an organization that helps state and local governments collaborate and responsibly use data to improve lives.
"I appreciate this role, as it will enhance my communication, project management, and evaluation skills," says Horbrook. "Part of my studies involved defining how data can be democratized; this internship fortifies how data infrastructures can be made more equitable. "
The position allows her to fulfill the internship requirement of the MSSP+DA Program as she looks ahead to graduation in the spring and envisions a career in consulting for nonprofits. "My long-term goals involve centering equity when translating information for various audiences," she says.
According to Godwin, the qualities Horbrook demonstrated in the classroom point to a bright future. "Skye outlined her steps to action strategically and is continuously working beyond the classroom to bring awareness and bridge the gap, to create new knowledge, new experiences, and hopefully new outcomes," says Godwin. "What Skye and so many of her classmates have in common is their desire to fight for social justice, through safe and guided action."
About SP2
For more than 110 years, the University of Pennsylvania School of Social Policy & Practice (SP2) has been a powerful force for good in the world, working towards social justice and social change through research and practice. SP2 contributes to the advancement of more effective, efficient, and humane human services through education, research, and civic engagement. The School offers five top-ranked, highly respected degree programs along with a range of certificate programs and dual degrees. SP2's transdisciplinary research centers and initiatives — many collaborations with Penn's other professional schools — yield innovative ideas and better ways to shape policy and service delivery. The passionate pursuit of social innovation, impact, and justice is at the heart of the School's knowledge-building activities.
People
Cherése Godwin, MSW, PhD

Lecturer, MSSP Program

Contact

Email

Angelina Ruffin, PhD

Graduate, PhD in Social Welfare

Contact

Email