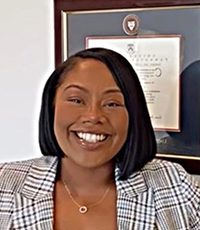 Cherése Godwin, MSW, PhD
Lecturer, MSSP Program
Dr. Cherése Novelle Godwin obtained her Master of Social Work from The School of Social Policy & Practice at The University of Pennsylvania at 23 years old. Upon graduating, Dr. Godwin began working on a UN short term country wide consultancy project on ending violence against women in the Caribbean for the Federation of St. Kitts and Nevis. After successfully completing the consultancy and establishing a model that has been used throughout the Caribbean and Latin America, she worked in Washington, D.C. providing community support to individuals suffering from mental illness.
Thereafter, the onset to her career as a professor began, lecturing sociology and race and ethnic relations. She went on to obtain her PhD in Social Policy, Planning, Administration and Social Sciences from the Whitney M. Young Jr. School of Social Work at Clark Atlanta University, where she was also a Contributing Professor of the Master's of Social Work Department. Post graduating with her published dissertation on A Study of the Relationship Between Incarceration, Birth Rate, and Racial Disparities Among African Americans Since the Passing of the Violent Crime Control & Law Enforcement Act of 1994, she took on a position as Chair & Associate Professor of a BSW program and also began teaching as a contributing faculty member for Walden University's MSW program. Dr. Godwin later moved to Saint Kitts and Nevis and opened her consultancy firm providing social policy writing and advising to countries and also advising businesses on people, culture, and mental health, while she performed the monitoring and evaluation of UN programs across the entire Caribbean.
Dr. Godwin is a UNESCO Public Speaker on Humanities and represented the entire Eastern Caribbean at the World Humanities Conference with a published paper. She was asked by the St. Kitts and Nevis Chamber of Industry and Commerce, after winning the Woman in Leadership of the Year Award from the International Labour Organisation, to represent all employers as a Social Security Board Director and served her three year term in that appointment. Dr. Godwin also took on the role as the first Psychologist/Social Worker for all of National Security in the Federation of St. Kitts and Nevis advising the Prime Minister, Commissioner of Police and other National Security heads. She took on a similar role working directly with the Governor and HR of the Eastern Caribbean Central Bank, the monetary council for 8 countries, as their Wellness Consultant, advising on policy, culture, and people.
Dr. Godwin has such an appreciation for SP2, and her experience as an international social worker and as a social policy and race relations expert and is looking forward to lecturing her first semester in the MSSP program.
Contact
Email
About
Department(s)
Faculty | Lecturers | Part-time Lecturers
Program(s)
MSSP