News Details
SP2 congratulates 2023 award winners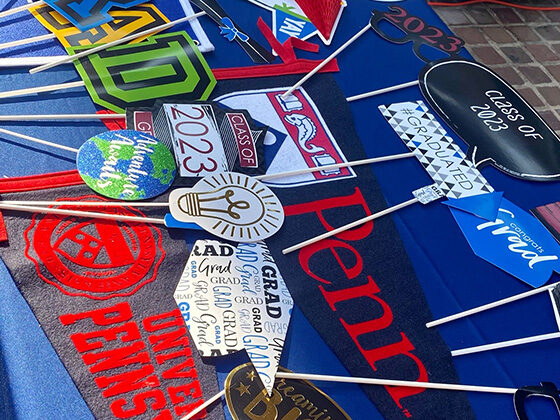 Authored by: Juliana Rosati
Photography by: Carson Easterly
Penn's School of Social Policy & Practice (SP2) is pleased to announce the 2023 SP2 Award Winners. SP2 Award recipients will be recognized for their outstanding achievements by Dean Sara S. Bachman at the School's 2023 Commencement ceremony on Saturday, May 13, at the Palestra.
Note: The full SP2 2023 commencement program is available below.
SP2 STUDENT PRIZES AND AWARDS
Hal Levin Award
Samaita Jana and Codi Smith
This award is presented to meritorious students in the Doctor of Philosophy in Social Welfare program who are continuing the process of completing course work.
Dr. Ram Cnaan Award
Amber Ann Flanigan-Bodrick
This award is presented to a meritorious student in the Doctorate in Clinical Social Work program who has completed the third year of coursework.
Wilson Spigner Award for Social Policy Excellence
Jin Ye
This award is presented to a graduating student in the Master of Science in Social Policy program who has a demonstrated record of intellectual inquiry and academic excellence and who is committed to using research to analyze and shape social policy locally, nationally, and/or globally. The award is named in honor of the Reverend Dr. Welford Robinson Wilson II, and his daughter, Dr. Carol Wilson Spigner, the first faculty director of the MSSP program, who have notably increased equity and equality among people who are often forgotten, through research-based change in policy and organizations.
Excellence in Social Impact Award
Delaney Quinn Bantillo Pearlman
This award is presented to a meritorious graduating student in the Nonprofit Leadership Program who has a record of academic excellence and has shown promise in using their talents and knowledge to create positive social impact.
Richard J. Estes Global Citizenship Award
Maria Andrea Giraldo Gallo
This award is presented to a graduating international student in the Nonprofit Leadership Program who embodies a commitment to social impact, who has a record of academic excellence and who is committed to using their talents and knowledge to make a difference in the world.
Rosa Wessel Award
Sarah Meher Pallivalapil-Karerat
This award is presented to a meritorious graduating student in the Master of Social Work program who is selected based on academic performance and one or more of the following: exemplary student leadership, innovative activities in the field practicum, and exceptional community service.
Dr. Ruth E. Smalley Award in International Social Welfare
Marissa Louise Heath
This award is presented to a member of the Master of Social Work graduating class who, through their writing, participation in class discussions, and experience, has demonstrated an interest in, and a working knowledge of, the international and cultural dimensions of social work practice, and the application of practice to research.
EXCELLENCE IN TEACHING AWARDS
The Excellence in Teaching Award is presented to members of the standing and non-standing faculty in recognition of excellence in teaching and mentoring.
Full-Time Faculty
Kim McKay, PhD, LSW, MEd
Kim has a PhD in social work and an MEd in human sexuality studies from Widener University, as well as an MSW in social work and BS in child and family development from the University of Utah. Kim has 20+ years of social work experience, including case management, administration, supervision, policy, and clinical work. They have taught undergraduate and graduate students in social work programs for more than a decade. Kim has taught many courses throughout the social work curriculum, with a particular focus on the integration of gender and sexuality. Kim loves teaching and working with students. Kim has presented their work at national and international conferences including Council on Social Work Education (CSWE), Society for Social Work and Research (SSWR), American Association of Sexuality Educators, Counselors, and Therapists (AASECT), American Public Health Association (APHA) and the International Social Work and Sexualities conferences in Montreal, Canada (2018) and Olten, Switzerland (2016).
Full-Time Faculty
Meredith Myers, PhD
Meredith Myers is a senior fellow in the Wharton School's Center for Leadership and Change Management. She has been a member of the Penn faculty since 2009, working within the Wharton School, SP2, and the Positive Psychology Center. Dr. Myers has won excellence in teaching awards in the Wharton School and SP2's MS in Nonprofit Leadership program. Dr. Myers is also the executive director of Job Crafting LLC, an organization that helps people bring more purpose and engagement to their work. In her research and consulting, she has coached international leaders, executives, and board members in corporations, non-profits, government, and mission-critical teams. Her key areas of interest include optimal human performance, leadership, collaborating in contentious contexts, training the trainer, bias in decision-making, and the science of emotions. Dr. Myers holds a PhD in Organizational Behavior from Case Western Reserve University. She is also a graduate of the University of Pennsylvania's Huntsman Program in International Studies & Business, earning a BS in economics from the Wharton School and a BA in international studies from the College of Arts & Sciences.
Part-Time Lecturers
Valerie Dorsey Allen, MSW, DSW
Dr. Allen received her DSW from Penn's School of Social Policy & Practice in 2010 with a dissertation entitled "Educational-Entertainment as an Intervention for Adolescents Exposed to Community Violence." She has extensive experience as a counselor, career development officer, and administrator with the Department of Labor's Job Corps Program. As Director of Penn's African American Resource Center (AARC), she is focused on addressing the needs of the Penn community and on improving the quality of life for faculty, staff, and students, especially those of African descent. In addition to her work with AARC, she is Lecturer in the School of Social Policy & Practice at the University of Pennsylvania.
Part-Time Lecturers
Jeannine Cicco Barker, PsyD
Jeannine Cicco Barker (she/her) is a licensed psychologist and board-certified art therapist. She has a therapy and consulting private practice in Philadelphia. Previously, she was a psychologist at Counseling and Psychological Services (CAPS) of the University of Pennsylvania for several years. At CAPS, she led the interdisciplinary Eating Concerns Team and focused on the wellness of first-generation low-income students and working with students who hold marginalized identities. She has presented widely on topics relating to the intersection of mental health and social justice, advocating for the needs of underrepresented and marginalized students and communities, and systemic trauma and internalized oppression. She holds doctorate and master's degrees in clinical psychology from Widener University, a master's degree in art therapy from Drexel University, and a bachelor's degree in fine arts from the University of Pennsylvania where she attended as a Philadelphia Mayor's Scholar. At SP2, Jeannine teaches in the racism sequence, and brings a lifetime of personal and professional experience living in and working with marginalized and underserved communities. She serves on the board of directors at Food Empowerment Project, a vegan food justice organization based in California.
SP2 COMMUNITY AWARD OF EXCELLENCE FOR STAFF
This recognition is presented annually to an SP2 staff member that demonstrates a commitment to the SP2 community through service, collegiality, and overall community engagement.
Bryanna Bonner, MA
Bre Bonner is the Associate Director of Student Affairs at the University of Pennsylvania School of Social Policy & Practice. As the Associate Director, she works closely with the Associate Dean to provide advocacy, mentoring, and support for students in all degree programs as well as to support the creation and delivery of programs and services that foster a positive student experience. She received her Bachelor of Science in Psychology with an Art Minor from Ursinus College and her Master of Arts in Counseling from Rosemont College. Prior to joining SP2, Bre was employed as a Survivor Services Clinician in an outpatient mental health facility that offered evidence-based treatments for those suffering from the effects of trauma.
PENN MODELS OF EXCELLENCE AWARDS FOR STAFF
The Models of Excellence Award program celebrates the extraordinary achievements of full- and part-time staff across the University's schools and centers. 
Models of Excellence Program: Pillars of Excellence Award
SP2 MSW student Rebecca Tamayo
Rebecca Tamayo, Administrative Coordinator for the Graduate and Professional School Advising Team at Career Services, sets the standard for excellence in a student-facing role through her responsiveness, resourcefulness, unflagging kindness, and professionalism. With exceptional efficiency and attention to detail, she manages letters of recommendation for medical and dental school applicants, provides prompt, friendly, and clear communication, and proactively makes improvements to address issues.