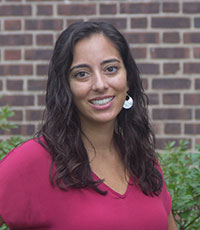 Melissa Skolnick-Noguera, MSW
Student, PhD in Social Welfare
Research Interests
Race, ethnicity, and identity
Media activism and cultural organizing
Digital culture
Immigrant rights
Art and social work/social policy
Melissa Beatríz Skolnick-Noguera is a Research Fellow at Penn's School of Social Policy & Practice (SP2). Since 2010, she has been working with nonprofit and community-based organizations throughout Philadelphia, while using media as a tool for community building and storytelling. She holds a Master of Social Work degree from the University of Pennsylvania, and a Bachelor's degree in Sociology from the University of Delaware. While attaining her MSW, she was initially trained as a documentary filmmaker by faculty affiliated with CAMRA (Collective for Advancing Multimodal Research Arts) at Penn.
Melissa's experiences have focused on the intersections of documentary film, macro social work, and creative communications. She is currently serving as the Community Engagement & Administrative Fellow at the Center for Experimental Ethnography. Prior to this, she was the Co-Director of CAMRA from 2017-2018, as she focused on expanding community partnerships across Philadelphia and developing the organization's communications strategy. From 2016-2017, Melissa served as the Director of the CAMRA Fellows Program, which supports undergraduate students through a mentorship model, while also providing production and research training for the Fellows to produce a social justice focused media project. Through a generous grant from the Mellon Foundation, she launched a pilot expansion version of the program, with the goal of building a pipeline of underrepresented students pursuing graduate studies with a focus on multimodal research. She also served as a Creative Consultant for the Penn Top 10 Social Justice & Policy Issues, a multimodal initiative that distributed the work of researchers from SP2 in accessible formats.
Melissa is currently investigating how Latin American immigrants in Philadelphia navigate harmful mainstream narratives about their community, by producing counter narratives through media and the arts. She is also exploring how this form of cultural organizing may impact immigration policy on a local level. Her work aims to challenge stereotypical narratives of immigrants and people of color, through advocating for these groups to have equal access to social, educational, and economic opportunities through the support of public policies and social justice reform.