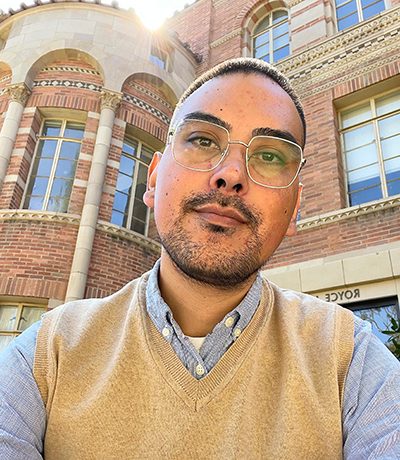 Javier Garcia-Perez, PhD, MSW
Postdoctoral Fellow
Research Interests
LGBTQ+ Latinx mental health and well-being
Trauma
Intersectionality
Identity based trauma and mental health
Social work education
Community based methodologies
Qualitative methodologies
Digital well-being
Ethnic-Racial identity
LGBTQ+ identity
Chicanx studies
Javier Garcia-Perez, PhD, MSW is a Postdoctoral Fellow at the University of Pennsylvania's School of Social Policy & Practice. He is an interdisciplinary, intersectional, and community-centered researcher focused on improving the quality of life for the LGBTQ+ and Latinx community across the life span. Findings from his dissertation work, "Viviendo en la Intersección: Queer Femme Latinx Individuals Experience Living at the Intersection of Identities" indicate queer femme Latinx individuals make meaning around their identities through creativity, have developed adaptive behaviors for the current social, political, and legislative climate, and have a strong sense of self-wroth and selflove.
Dr. Garcia-Perez acquired training in youth development and socioemotional learning working with predominantly Black and Brown middle school students in Harlem, New York as an Extended Learning Time program director. He continued his training acquiring skills in individual therapeutic modalities like CBT, psychoeducation, and trauma informed care with Latinx communities solely in Spanish. Dr. Garcia-Perez has led support groups for Latinx immigrant women and a high school group to support newly arriving students' transition. He has also supported psychological evaluations in partnership with attorneys for individuals seeking asylum.
Dr. Garcia-Perez will gain additional training and experiences working with Dr. Desmond Patton in the SAFElab where he will gain additional skills in qualitative and natural language processing methods to better understand the mechanisms of violence, joy, and grief online and with Dr. Tamara Cadet and her teams where he will gain a deeper understanding of health promotion activities for underserved and underrepresented populations.
Dr. Garcia-Perez earned his BA in Chicana/Chicano Studies from the University of California, Davis, an MA in Sociocultural Anthropology from Columbia University in the City of New York, a combined MS in Nonprofit Leadership and MSW from the University of Pennsylvania School of Social Policy and Practice, and his PhD in Social Welfare from the University of California, Los Angeles.
Contact
Email
About
Pronouns
he/him/his
Department(s)
Fellows
Related Links