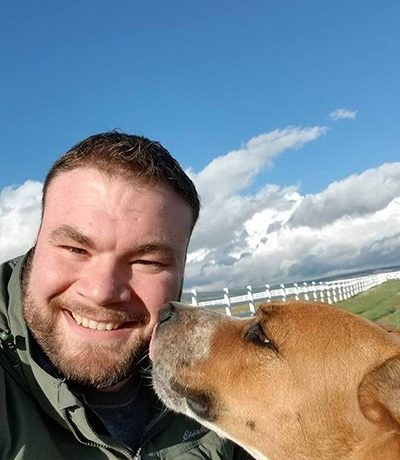 Adam Clark, LCSW, AASW
Student, Doctorate in Clinical Social Work
Practice & Research Interests
Veterinary social work (VSW)
Morals/ethics surrounding the human-animal connection
Belief in the animal mind (BAM)
Animals' forced role in oppressive practices and systemic injustices.
Adam Clark, LCSW, AASW is a Licensed Clinical Social Work (LCSW) graduate from the University of Denver Graduate School of Social Work where he received his Animal-Assisted Social Work (AASW) Certification through the Institute for Human-Animal Connection and specialized in Family Systems work. Currently, Adam is focusing on receiving his Doctorate in Clinical Social Work (DSW) at the University of Pennsylvania School of Social Policy & Practice as a 2024 doctoral candidate. He is focusing his studies on veterinary social work (VSW), morals/ethics surrounding the human-animal connection, belief in the animal mind (BAM), as well as animals' forced role in oppressive practices and systemic injustices.
Adam found himself focusing on pet loss and bereavement during his tenure at the Colorado State Veterinary Teaching Hospital, Argus Institute, as a Clinical Counselor after graduate school. Subsequently, Adam started his private practice of Equine Assisted Therapy working with families as well as specializing in tweens, teens, and young adults in biofeedback modalities for teens and young adults.  In order to enhance his understanding of grief and loss, Adam moved into the realm of human hospice as a Medical Social Worker at Suncrest Hospice in Denver, Colorado, and in administration as a Director of Support Services at an emerging hospice program. In addition, Adam spent time as a Crisis Counselor working at Rocky Mountain Crisis Partners, advancing his clinical and critical intervention skills working with a variety of high-risk callers and at-risk populations frequently engaging in suicidal/homicidal interventions. Lastly, Adam spent time working as a Float/Trauma Clinician at Children's Hospital of Colorado as a pediatric Social Worker.
Adam is the founder of Pet Loss Education Project, his consulting practice, whose focus is on reducing the cultural stigma associated with pet loss, supporting pet owners, and educating professionals. Adam educates and supports veterinary professionals within his practice in self-care strategies, time management, communication techniques, clinic growth, and personal/professional balance. Most recently, Adam has been actively involved in consulting roles with the American Humane Society and American Veterinary Medical Association, as well as Barkbox. Within his role at Pet Loss Education Project, Adam has launched a growing audience through social media, Pet Loss Education and Support, as well as reaching nearly two million readers within his online Column for Psychology Today, Animal Attachment. Adam's column is aimed at the human-animal bond and focuses on issues at end of life between pets and their human counterparts.
Adam has taught over 700 graduate and undergraduate social work students as an Adjunct Professor across three universities since 2016. Within this role, Adam has taught 22 different courses a total of 63 times with a primary clinical social work focus. Currently, Adam has the honor of being an Adjunct Professor at the University of Denver Graduate School of Social Work and has held historical Adjunct positions at both Portland State University School of Social Work and The College of Saint Rose School of Social Work Programs.
Adam has been involved with the Institute for Human-Animal Connection at the University of Denver Graduate School of Social Work (IHAC) upon entering graduate school. Since graduating, Adam has been invited back to participate in guest lectures and consultations as needed for the last five years. Adam has since moved into the role of Affiliate Faculty for IHAC since 2018 and continues to work within a variety of supportive roles and consultation within the Institute, including contribution as an author within Transforming Trauma: Resilience and Healing Through Our Connections With Animals (Purdue University Press, 2019).
Contact
Email
About
Pronouns
he/they
Cohort
2021-2022
Advisor
Jennifer Punt, AB, VMD, PhD
Department(s)
Current DSW Students
Related Links