News Details
Penn's Dorothy Roberts urges support for families at SP2 MSW program lecture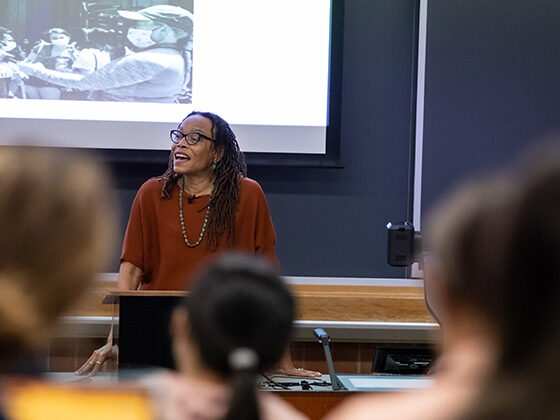 Authored by: Lini Kadaba
Photography by: Eddy Marenco
Faculty & Research
12/13/22
Acclaimed scholar of race, gender, and law Professor Dorothy E. Roberts challenged future social workers to "imagine and work toward a better way" when she gave a lecture this fall to approximately 100 students in the Master of Social Work (MSW) program at Penn's School of Social Policy & Practice (SP2).
Roberts' talk, "The History and Ideology of Policing Black Families," was part of a lecture series for a redesigned SP2 course, "Philosophical and Historical Foundations of Social Work and Social Policy" (SWRK 601), which takes an uncommon approach to social work education.
Roberts, the George A. Weiss University Professor of Law and Sociology at Penn, urged students to take an approach to child welfare that focuses on support for families rather than what she described as needless separation of children from parents.
Roberts, also the Raymond Pace and Sadie Tanner Mossell Alexander Professor of Civil Rights, has long tackled inequities in the child welfare system. After 20 years of trying to reform the child welfare system, which many believe protects children from abuse and neglect, Roberts concluded it was time to contemplate an entirely new approach to supporting families and keeping children safe.
Her most recent book, "Torn Apart: How the Child Welfare System Destroys Black Families — and How Abolition Can Build a Safer World," published in April 2022 by Basic Books, draws on decades of research to argue that the child welfare system is designed to punish marginalized families, especially those that are Black and Indigenous, through "family policing" that historically regulated them and put their children into foster care at much higher rates when compared to white families.
"Instead of imagining how to truly meet children's needs, our society relies on this punitive system — which blames parents for harms to children caused by social inequities — as a stop gap measure," Roberts said. She urged the students to focus on eradicating child poverty and structural racism as social workers and to look to mutual aid networks and other community-based resources that provide direct support to families.
MSW program student Leila Raven, who experienced foster care as a teenager, said Roberts' words resonated with her. "I was always told this is a system that's supposed to help you, and if it didn't, then you're the problem," she said. "You really internalize that. I had never been exposed to the idea that the foster system was the problem." That is, until a few years ago, when she read Roberts' 2002 book "Shattered Bonds: The Color of Child Welfare." It proved eye opening, she said, and Roberts' lecture reinforced her commitment to find a better way. "It's simple to make a phone call and file a report," she said. "It's not simple to build relationships and actively promote child safety."
The central tenet of the course is "that our system of social work and social welfare is fundamentally geared toward inequality," says Dr. Yoosun Park, an associate professor at SP2 behind the changes to the SWRK 601 course, a core part of the MSW program curriculum.
The revamped course is built around a series of six multidisciplinary lectures by renowned scholars and practitioners in fields related to social work and social policy. In addition to Roberts, the Fall 2022 series includes Penn professors Dr. Roberto Gonzales and Dr. Karen Tani and SP2 professors Dr. Tamara Cadet, Dr. Amy Castro, and Dr. Ezekiel Dixon- Román speaking on topics at the intersections of race, immigration, public policy, social services, health care, and economic security. The lectures serve as anchors for critical analyses and discussion by students.
About SP2
For more than 110 years, the University of Pennsylvania School of Social Policy & Practice (SP2) has been a powerful force for good in the world, working towards social justice and social change through research and practice. SP2 contributes to the advancement of more effective, efficient, and humane human services through education, research, and civic engagement. The School offers five top-ranked, highly respected degree programs along with a range of certificate programs and dual degrees. SP2's transdisciplinary research centers and initiatives — many collaborations with Penn's other professional schools — yield innovative ideas and better ways to shape policy and service delivery. The passionate pursuit of social innovation, impact, and justice is at the heart of the School's knowledge-building activities.
People
Yoosun Park, MSW, PhD

Associate Professor

Contact

Email