News Details
Leading Social Change: Interdisciplinary course challenges SP2 students to tackle their "One Big Thing"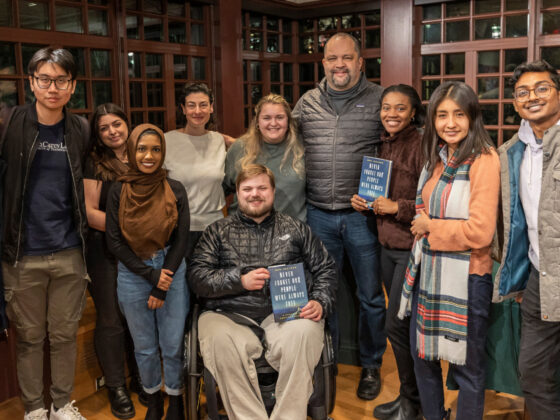 Authored by: Carson Easterly
Photography by: Krista Patton
For Becca Edelstein, MSW'23, combatting gender inequity is her driving passion. A recent graduate of the Master of Social Work Program at Penn's School of Social Policy & Practice (SP2), Edelstein is dedicated to advancing reproductive justice and reducing barriers to abortion and other reproductive health services. Aiming to become a more effective advocate for women and families, Edelstein enrolled in the course Leading Social Change last spring.
"Access to reproductive health services is not only a fundamental human right — something that should be guaranteed for everybody — but a lack of access is also a barrier to achieving gender equity," says Edelstein, a macro social worker who notes that her views shared here are her own and not her current employer's.
Available to SP2 students through a collaboration with Penn Carey Law and the Annenberg School for Communication, Leading Social Change asks students how they can employ their passions to drive meaningful action. The course features interactive ways of grappling with tough social problems and is co-taught by civil rights leader Ben Jealous, a current professor of practice at SP2 and Annenberg and a former distinguished visiting fellow at the Law School, and Dr. Ariel Schwartz, managing director of Penn's Center for Social Impact Strategy (CSIS) and lecturer in SP2's Nonprofit Leadership (NPL) Program.
"We help students learn to translate personal passion into a clearly articulated plan to effect real change," says Jealous, whose grandmother was an SP2 alumna.
Both Jealous and Schwartz have a strong connection to social impact work. Jealous is executive director of the Sierra Club, former president and CEO of the NAACP, and 2018 candidate for Governor of Maryland. Schwartz's work at CSIS, a center housed at SP2, focuses on making the tools and resources for social impact accessible and affordable to all. They established Leading Social Change at the intersection of SP2, Annenberg, and Law, hoping to engage students across the University and convene a variety of perspectives. Cross-listed between the three schools, Leading Social Change serves as a strong example of SP2's commitment to interdisciplinary education.
The class invites students to name their "One Big Thing" — a social issue or cause that deeply resonates with them — and use it as a guide to explore multiple paths for making decisions aligned with their values.
"A student's 'One Big Thing' is like their North Star," explains Schwartz. Students have chosen topics like gender equity, the school-to-prison pipeline, family law, sex workers' rights, youth mentorship, and financial barriers to education for traditionally marginalized communities.
For their final assignment, students develop a pitch, a personal leadership philosophy, and an action plan for their next steps solving the challenge they identified. This project challenges students to determine how they can advance change on a realistic timeline.
Edelstein designed her final project around an issue campaign that would address gaps she identified in the movement for reproductive health and justice. Edelstein has long been driven to advocacy work — prior to coming to SP2, she earned her undergraduate degree in leadership and public policy before going on to work for a political campaign.
"I was particularly interested in how to mobilize voters to the polls around the issue of abortion, create more accountability among elected officials for expanding abortion access, and develop a more compelling and unified pro-choice narrative," explains Edelstein, who proposed a crowd-sourced a political advertising campaign aimed at states where reproductive rights would play a significant role in the 2024 elections.
The campaign would call for individuals living in the chosen states to create and submit a meaningful advertisement, "harnessing the power of [their] creativity and lived experiences," in Edelstein's words. In each state, one ad would be selected to be disseminated and would drive viewers to a website with information on 2024 candidates and their stances on reproductive issues.
Open to all SP2 graduate and doctoral students, the course offers SP2 students the opportunity to engage with new perspectives and collaborate with students outside of their field as they work to envision solutions to their chosen social issues.
Amy Thissell, MSW'23, signed up for Leading Social Change because she is passionate about fighting social injustice through policy reform. "I felt that this course was going to provide me with the knowledge and skills needed to create social change. I was also excited to have the opportunity to interact with and learn from students who are earning other degrees," says Thissell, whose "One Big Thing" is eradication of systemic racism and oppression within the criminal legal system.
Shaindy Black, MSW '23, who pursued a Certificate in Law while at SP2 and is now a JD candidate at Seton Hall University School of Law, agrees that one advantage of Leading Social Change was the makeup of the classroom. "The class was very cross-disciplinary and attracted students from across the spectrum. It had the most diversity of schools represented in the classroom that I had experienced in any course at Penn," explains Black, who chose family law as her focus for the course.
According to Schwartz, the course offers students an opportunity for structured reflection on their professional trajectory and how they may drive social change throughout their lives.
"I think that any SP2 student would be very well-equipped to run for office or lead a legislative campaign or found a social impact startup, and students seem to really grapple with the possibility of taking these paths," she says. "This class invites them to think creatively about what they're learning and how to use these lessons in service of many different career avenues."
The course was a turning point for Loran Grishow-Schade, MSW'20, ML'21, MSSP'21, who enrolled in it as a dual degree student at SP2 and Penn Carey Law. Grishow-Schade's "One Big Thing" project is The Spillway— a nonprofit with the mission of combatting racism and white supremacy. Since completing the course, Grishow-Schade has continued their work on the project, which now includes a 15-episode podcast, interactive workshops, speaking engagements, curated resources, and an active social media presence.
"Any other class on campus can ask you what you're passionate about, but Leading Social Change will ask you how you will achieve your goals and how you will synthesize everything you've learned on campus into your life's work," says Grishow-Schade. "[It] changed the very trajectory of my life."
Black too found that the course showed her how to turn her passion into action. "One really amazing thing that I took from the course is that all of us have the capacity to change the world," she says. "That was such a radical and empowering concept. There's one thing in the world that you're the best at — you have it inside of you, you just have to figure out what it is and amplify that."
For Edelstein, she'll be taking the course's changemaking tools, leadership lessons, and interdisciplinary mindset with her as she leads efforts to advance gender equity, improve outcomes for women and families, and advocate for systemic social change.
"It brought new ideas to the forefront for me," she concludes. "For a lot of the issues that we're passionate about, it's going to take a variety of approaches from different angles and people with different skill sets and strategies to achieve change."
People
Ariel Schwartz, MPA, PhD

Managing Director, Center for Social Impact Strategy

Contact

Email

Benjamin Todd Jealous

Professor of Practice

Contact

Email