News Details
Data for Equitable Justice Lab Symposium Takes Policy Conversations Beyond the Classroom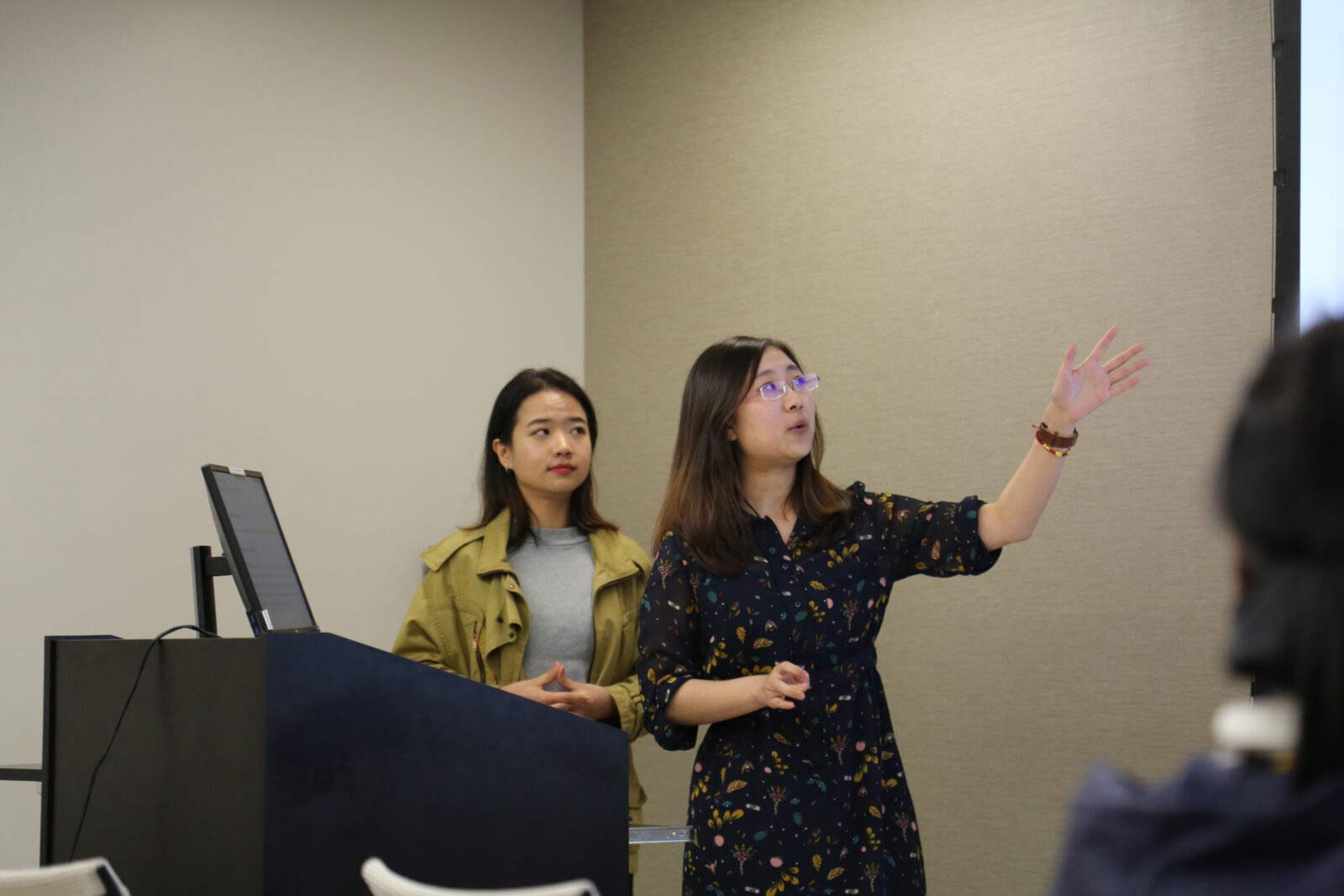 Authored by: Alina Ladyzhensky
Photography by: Jessica Bautista
Faculty & Research, Student Life
05/30/19
Held at Penn's School of Social Policy & Practice (SP2), the Data for Equitable Justice Lab Symposium featured an afternoon of engaging and discussion-worthy presentations on each student's chosen areas of research and advocacy. The initiative was led by Dan Treglia, PhD, MPP, a postdoctoral fellow at SP2 and lecturer in the MSSP program.
Treglia serves as the instructor for the Data for Equitable Justice Lab, in which each student develops an evidence-driven deliverable that can be shared outside of the classroom, with the aim of shaping and impacting social policy conversations. Treglia co-created the lab with Ezekiel Dixon-Román, PhD, an associate professor at SP2, in 2017.
"The lab gave students an opportunity to connect what they're learning in the classrooms to actionable research projects of their own interest and design. Everyone came a long way in understanding the research process and the practical applications of their work," Treglia said. "Students are taking their projects and turning them into op-eds, documentaries, and podcasts. I think it's exactly what we as a school strive for— that students use the skills they develop here and use them to, in some big or small measure– change the world."
During the symposium, students delved into a wide variety of engaging social policy topics, including combatting voter suppression in Florida, the #MeToo movement in India, the effect of Medicaid expansion on access to care, and combating the post-incarceration cycle of poverty—among many others.
Kathryn Kirkman, a student in the Master of Social Work (MSW) program at SP2, presented on data limitations for youth with foster care experience attending post-secondary education. She saw the lab as an opportunity to combine her analytical skills with her social work experience.
"This course allowed me to expand my knowledge in regard to data and see how it can apply to all facets of social work. I loved that the class exposed me to topics I had never thought about and to be surrounded by a group of people excited about using data for change like I am," Kirkman said. "I truly hope the course continues for future students."
Rose Brown, a student in the Nonprofit Leadership (NPL) and Professional Certificate in Organizational Leadership in Social Work programs at SP2, examined colorism among female African American exotic dancers in Philadelphia and neighboring counties and presented the results of her findings at the symposium.
"This study was critically needed to increase cultural awareness in the sex industry and African American community," Brown said. "As an African American woman, it is of the upmost importance to me that I continue to research issues facing other black women and disenfranchised communities and raise awareness in an effort to create change."
For Brown, the symposium provided a platform to enhance her presentation, public speaking, research, and civic engagement skillsets. Of her experience in the Data for Equitable Justice Lab, Brown reflected that she was impressed by "the breadth of research expertise, professional experience, and cultural awareness across symposium presentations and audience questions."
Madeline O'Brien, a Master of Public Administration student in the Fels Institute of Government, enrolled in the Data for Equitable Justice Lab while working on her MPA capstone project. The lab provided an opportunity to share the results of her research and receive feedback from students outside of her program. O'Brien's research and subsequent symposium presentation focused on how graduate programs shape career decision-making for the public sector.
"The chance to do independent research was the highlight of my grad school experience, and Professor Treglia made a process that can seem daunting manageable," O'Brien said. "It's a great opportunity to dig into something you're passionate about and learn what your classmates are passionate about, as well."
O'Brien cited the collaborative nature of the course as a particular highlight of her experience; she recommends both the lab and symposium to any student at Penn, regardless of their major.
"We really all got to see each other's projects develop over the course of the semester. The best part was seeing the final results at the symposium," she added. "I was so impressed by the variety of projects and the amount of work that my classmates put into them!"
"The symposium gave students an opportunity to show off their work to other SP2 students, faculty, and administration," said Treglia, who plans to share presentations from the event more broadly. "I think these can all have some impact on broader policy and practice conversations, and students are taking these presentations and converting them into op-eds, blog posts, videos, and even zines to expand their reach."
People
Dan Treglia, PhD, MPP

Graduate, PhD in Social Welfare

Contact

Email