News Details
Art @ SP2 exhibit affirms diversity, belonging, and community in renovated lobby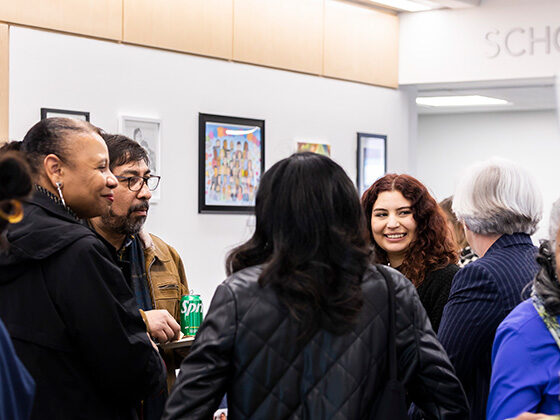 Authored by: Juliana Rosati
Photography by: Krista Patton
Student Life, Gifts & Giving
04/05/23
Light, energy, and creative works filled the recently renovated lobby of the Caster Building last week during the opening reception of the "Art @ SP2" exhibit at Penn's School of Social Policy & Practice (SP2). The glow came from not only the newly displayed artwork by students, faculty, and staff, but also the buoyant mood of the SP2 community members gathered there.
"Wow!" said SP2 Dean Sara S. Bachman, addressing the attendees. "I'm completely overwhelmed by the beauty of seeing you all here."
The works of art produced by 15 students, faculty, and staff were the result of an initiative established by SP2's Task Force on Race and Social Justice and carried out by the Art Committee at SP2 "to install art in our physical spaces that reflects, recognizes, and affirms the diversity of the School's students, faculty, and staff." Several of the contributing artists stood beside their pieces during the reception to answer questions about their work, which included photography, mixed media collage, Chinese calligraphy, printmaking, a mandala and art installation, and drawing and painting in watercolor, pastels, colored pencil, marker, oil, and graphite.
Dr. Bachman thanked SP2's associate dean for inclusion, "the truly incomparable Dr. Jerri Bourjolly," for her leadership of the initiative and recognized the committee and the contributing artists for making it possible. "With your creativity and talent, you can see things and make it possible for others to see," said Bachman of the artists. "You use your mind, heart, and hands to create messages that literally cannot be put into words."
Bourjolly, also an associate professor and clinician educator at SP2, emphasized the exhibit's connection to SP2's mission. "This exhibit is aligned with our school's mission to promote social justice, inclusion, diversity — and most of all, belonging," she said. The initiative, she said, was propelled by the aim that "all of our spaces here at SP2 make you feel at home, make you feel welcome, and that you're part of the space . . . so that we are building a sense of community throughout SP2."
Bourjolly thanked SP2 student Rain Gideon, a Franklin Innovation Fellow, for taking on the exhibit as the signature project of her fellowship.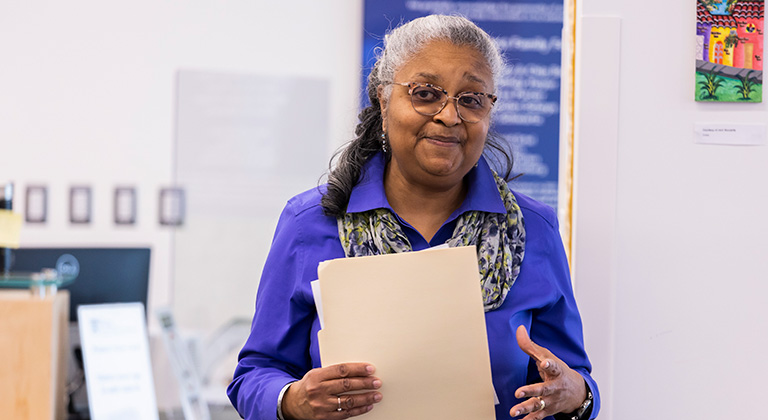 "We worked collaboratively as a committee to bring this to life," said Gideon, who is enrolled in the Master of Social Work/Master of Fine Arts (MSW/MFA) dual degree program at SP2 and the Stuart Weitzman School of Design. During her studies at Penn, Gideon has brought artistic techniques into her social work practice, guiding clients to pursue photography to process caregiving, illness, and transitions. "Photography is an accessible medium that lets people express feelings that can't be verbalized," Gideon says.
Gideon coordinated Art Committee meetings and worked to translate the Task Force's charge into practical decisions about the location, submission process, and other logistics for the art exhibit. Conversations, she said, focused on the question of "How can we install art from the people who spend time in these spaces, and let them have a say in what's shown?"
In keeping with the mission of inclusion and affirmation, the committee chose to accept at least one piece from each person who responded to the open call for submissions that was sent to SP2 students, faculty, and staff in January.
"The committee centered inclusivity," Gideon said. "As an artist, it's hard to get your work seen. Opportunities are limited, and I think that's why people are excited today — it's a nice feeling for people to affirm your work."
Empty wall space in the renovated Caster Building lobby provided a backdrop for the exhibit in a hub of the SP2 community. Completed in June of 2021 as a result of successful School-wide fundraising during the Power of Penn Campaign, the renovation has allowed the lobby to become a gathering space for events across the School, on Penn's iconic Locust Walk. The upgrades include two lounge areas, a flexible meeting space with student carrels, and a dedicated conference room named in honor of former SP2 Dean Richard J. Gelles.
The art exhibit will remain on view through May 15, 2023. Bourjolly and Gideon envision it as the start of a new tradition that could expand into SP2's courtyard and spaces in the McNeil Building and 3815 Walnut Street.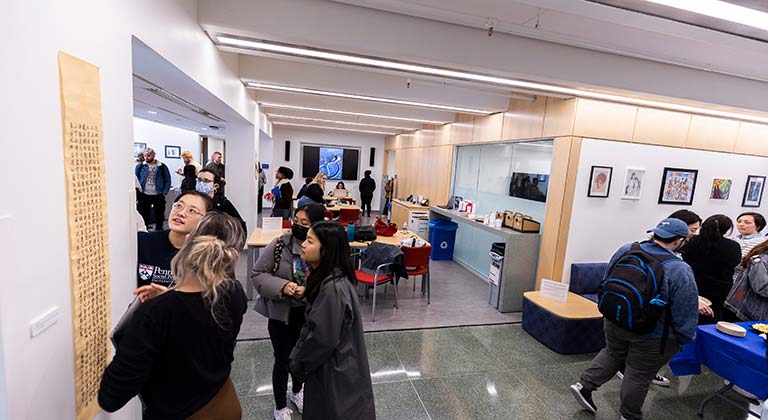 Artists
Alma Figueroa-González
Codi Smith
Devon Ciampa
Halla Anderson
Lee Taggart
Lenny Schnier
LZ Mathews
Maria Giraldo Gallo
Monica Brodovsky
Obed Arango
Paloma Brand
Ryleigh M. Dublinske
Sarah Gzesh
Sidney Hargro
Yue You
Art Committee Members
Obed Arango
Bryanna Bonner
Jerri Bourjolly
Adiza Ezell
Rain Gideon
Bart Miltenberger
Nicole Sansone Ruiz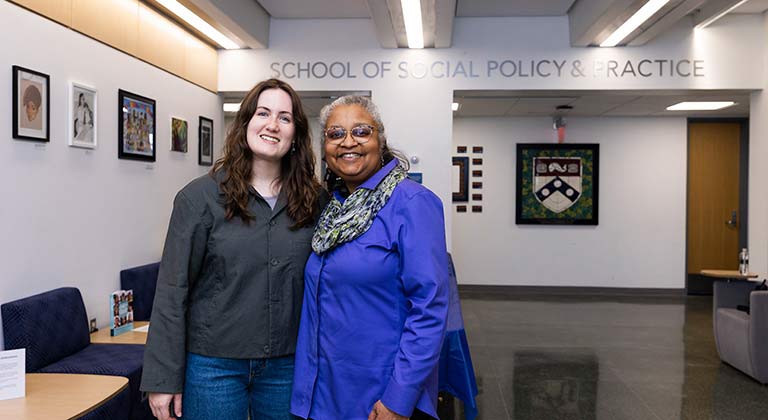 About SP2
For more than 110 years, the University of Pennsylvania School of Social Policy & Practice (SP2) has been a powerful force for good in the world, working towards social justice and social change through research and practice. SP2 contributes to the advancement of more effective, efficient, and humane human services through education, research, and civic engagement. The School offers five top-ranked, highly respected degree programs along with a range of certificate programs and dual degrees. SP2's transdisciplinary research centers and initiatives — many collaborations with Penn's other professional schools — yield innovative ideas and better ways to shape policy and service delivery. The passionate pursuit of social innovation, impact, and justice is at the heart of the School's knowledge-building activities.
People
Joretha N. Bourjolly, MSW, PhD

Associate Professor/Clinician Educator

Contact

office: 215.898.5524

fax: 215.573.2099

Email

Sara S. Bachman, PhD

Dean

Contact

office: 215.898.5512

fax: 215.573.2099

Email