News Details
Who, What, Why: Tyra Moore on her commitment to mental health care for Black Americans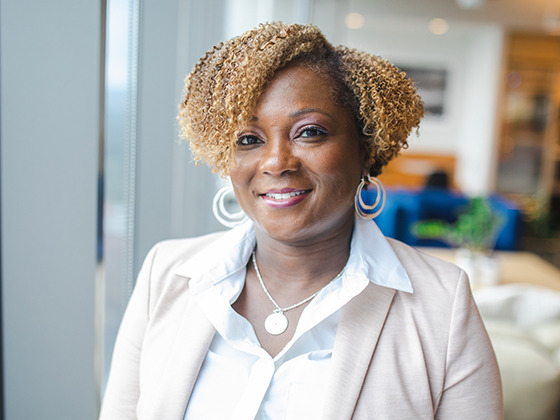 Authored by: Kristina García
Photography by: Jordan Lynam, Lynam Up Media
The doctoral student in the School of Social Policy & Practice received the Joy Award from the Boris L. Henson Foundation and is writing a dissertation on teen parenting within the foster care system.
Who
Tyra Moore grew up watching her mother practice social work in the foster care and public school systems in Charlotte, North Carolina. "She and I often saw the world in the same way," Moore says. "I was always trying to put the pieces together in my mind. How did a person get to this place? Why is the person suffering like this? And what are we doing to help make change?" Those questions, Moore says, shaped her education. "I was drawn to social work because I wanted to figure out how to help better, how to help differently, and how to help people feel more understood and seen," she says. Now a doctor of social work candidate at the School of Social Policy & Practice, Moore is finishing her dissertation on relationships between social workers and teen clients in the foster care system who are parenting their children.
What
This summer, Moore received the Joy Award from the Boris L. Henson Foundation, founded by actress Taraji P. Henson, for her commitment to mental health care for Black Americans. Moore was nominated by the Children's Law Center in Washington, D.C., where she was a founding member of their social work project. "There's a problem we were trying to solve: Children and families need broader access to an array of services that can be tailored to their needs. It's important to operate beyond what 'seems' like the realm of possibility and to instead position care to serve the families' best interests," she says. Through partnering with other clinicians, behavioral health providers, lawyers, and social workers within the Child & Family Services Agency, "we pushed boundaries and challenged the system to do better for each child and family," Moore says. The Foundation also acknowledged Moore's contributions to mental health treatment in marginalized communities through her private therapy practice.
Why
"The foster care system is definitely broken," says Moore. "There's a pattern of multiple generations interacting with the system in ways that continue to perpetuate trauma." Moore is researching the element of surveilling and policing with teens parenting in foster care. "We have to continue to ask ourselves, 'Where are we failing these families?'" she says. Moore, who has spent seventeen years working in the foster care system, believes that there is critical work to be done around prevention and intervention to interrupt this cycle. After she defends her dissertation in November, the first thing she'll do is take a nap, Moore says. When refreshed, she plans to continue her research. "I hope to craft or re-craft evidence-based practices in ways that are increasingly respectful and inclusive of the voices and experiences of people of color," she says. Moore hopes to leverage her degree to expand her clinical impact in marginalized communities. These interactions have driven her work, Moore says, with one experience propelling her into the next.
View the original article on Penn Today.