News Details
Urban Institute Teams with AISP to Use 1.05 Mill Grant for Admin Data, Gov't Org Operations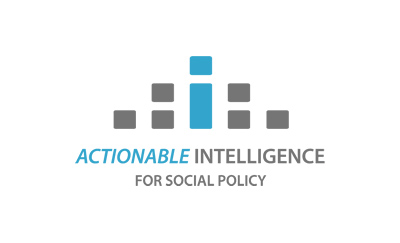 Faculty & Research
01/05/17
The Urban Institute has been awarded $1,050,000 over 3 years to provide technical assistance along with their collaborator Actionable Intelligence for Social Policy (AISP).  The Social Innovation Fund (SIF) Pay for Success (PFS) Administrative Data Pilot (ADP) Award will be matched by non-federal sources to become a $2.1 million project housed at the Urban Institute.
The award seeks to support projects by providing improved access to high quality, inexpensive administrative data for program evaluation purposes. As a collaborator on the grant, AISP will work with the Urban Institute to provide technical assistance to current and future PFS grantees, helping governments and organizations working on PFS projects to more effectively and efficiently use various forms of administrative data.
AISP, housed at the University of Pennsylvania and founded in 2009 through funding from the John D. and Catherine T. MacArthur Foundation, is co-directed by Dennis Culhane, the Andrew Stone Chair in Social Policy at Penn's School of Social Policy & Practice (SP2) and John Fantuzzo, the Albert M. Greenfield Professor of Human Relations at Penn's Graduate School of Education.  Since its inception, AISP has fostered the development, use, and innovation of integrated data systems (IDS) for policy analysis and program reform. IDS link administrative data across multiple agencies to improve education, health and human service policies and practice and also helps solve social problems more effectively.
Culhane explains that integrating administrative data reduces inequality and spurs development of results-oriented programs and will increase opportunity and lift individuals out of poverty.
"In order to truly be able to know what programs work, we must be able to look at outcomes across multiple systems," said Culhane. "We're excited to partner with Urban Institute to expand the capacity to do so using linked administrative data."
AISP, in collaboration with the Urban Institute, will help PFS grantees identify, negotiate access to, house, format, and protect sources of administrative data for program evaluation purposes.
Fantuzzo said, "Integrating administrative data is a vital component for both planning PFS projects and being able to accurately measure project outcomes."
Culhane and Fantuzzo will work with Urban Institute project co-leads Martha Galvez and Kelly Walsh to develop the overall project plan, identify the skill sets and consultants needed to respond to inquiries for assistance, and connect PFS projects and stakeholders with AISP resources.
AISP will provide technical assistance to current and future PFS grantees, helping governments and organizations working on PFS projects to use various forms of administrative data more effectively and efficiently.
In early 2017, the Urban Institute will release a Notice of Support Availability (NOSA) an open competition, that will invite applications from organizations engaged in PFS activity to receive training and technical assistance services related to administrative data for PFS initiatives in three areas: (1) youth development, (2) increasing economic opportunity for economically disadvantaged communities, and (3) promoting healthy lifestyles and reducing the risk factors that can lead to illness.
The Corporation for National and Community Service (CNCS) is the federal agency that engages Americans in service through its AmeriCorps, Senior Corps and Volunteer Generation Fund programs and leads President Obama's national call to service initiative, United We Serve. The Social Innovation Fund is a program CNCS created in 2009 to empower organizations to identify and support sustainable solutions that make a significant impact in transforming communities. It has grown into nearly a $1 billion social impact incubator within the federal government, creating more than 450 public-private partnerships that deliver high-impact, community-based solutions that work. More information is available at nationalservice.gov.
The SIF is a powerful approach to transforming lives and communities that positions the federal government to be a catalyst for impact – mobilizing private resources to find and grow community solutions with evidence of results. In 2014, the SIF reinforced its commitment to support innovative solutions and change how public and private sector investors allocate philanthropic resources by launching its SIF PFS program. The $30 million grant making initiative was designed to help cities, states, and nonprofits develop PFS projects and ties funding for social services to its impact in the community.