News Details
Two SP2 Students Named Among Inaugural Presidential PhD Fellows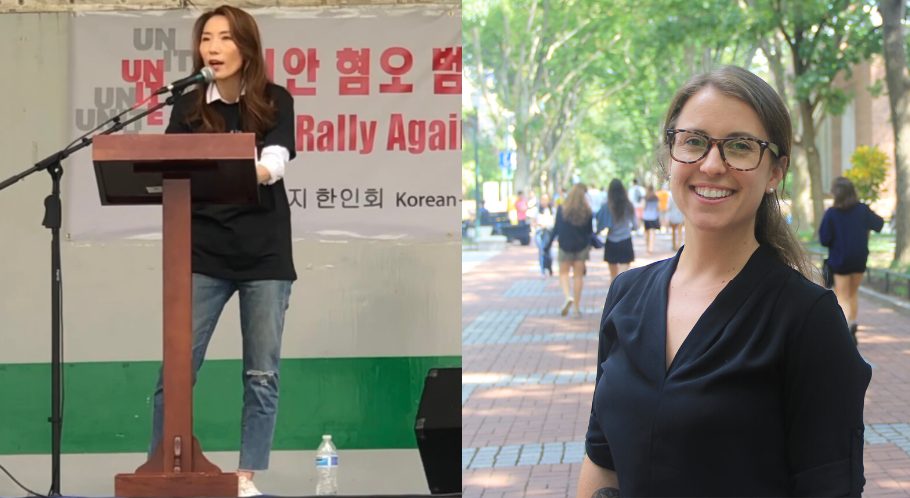 Authored by: Alina Ladyzhensky
Photography by: Provided
In May 2021, Penn President Amy Gutmann, Provost Wendell Pritchett, and Deputy Provost Beth Winkelstein announced the inaugural cohort of Presidential PhD Fellows. Representing a range of disciplines and research interests, the list of Fellows spans the nine schools at Penn that offer PhD programs. Two of the 2021 Fellows, Jessica C. Kim, LCSW, CCTP, and Sharon Zanti, MSW, are PhD students at Penn's School of Social Policy & Practice (SP2).
The Presidential PhD Fellowship awards three years of funding, including summer support, and renews automatically for students in good academic standing. The Fellowship also includes a 12-month stipend, tuition, fees, student insurance coverage, and research funds. As Kim and Zanti both shared, being named among the recipients of this impressive award is momentous in ways that meaningfully extend beyond its monetary benefits.
Zanti earned a Bachelor of Science in Commerce from the University of Virginia before deciding to enter the social work field, completing her Master of Social Work degree at the University of Denver. Initially intending to pursue more of a clinical track when she began the program, a research fellowship with the Colorado Department of Human Services compelled her interest in research.
"I worked a lot with performance data for child welfare, juvenile justice, and domestic violence programs, and I got really interested in this idea of how different human services programs talk to each other with data, and how we can understand what's happening for people who access social services across all of the different systems that they touch, versus just looking at it by silo— because human services clients are interconnected and often touch multiple systems," she said. "And so, I started applying and looking to grad schools with that idea in mind, of what's happening cross-system for people who access human services."
This search led Zanti to SP2, where she began working with her advisor, SP2 professor Dennis Culhane, PhD, and Actionable Intelligence for Social Policy (AISP), a Penn-based initiative co-directed by Culhane that focuses on the development and use of integrated data systems.
"AISP is doing that exact work of helping state and local human services systems bring together their data across different systems and integrate them to make better policy and program decisions," Zanti said. "It's a very unique, niche type of field in social work and SP2 is sitting at the heart of it."
She describes her research agenda as two-fold. The first prong is, at a high level, trying to understand how organizations and institutions integrate their vast administrative data to make research, program planning, and policy decisions. This includes the governance, legal, and ethical frameworks under which they operate; racial bias and issues of equity; and how local context, politics, and geography shape government data practices. The second prong is working with state and local agencies on research questions that they have, and how to navigate utilizing and making the most of quality data in principled and ethical ways.
Zanti recently worked on an integrated data and governance landscape analysis funded by the Bill & Melinda Gates Foundation, and co-authored AISP's Toolkit for Centering Racial Equity Throughout Data Integration. Currently, she is working on a project with the City of Philadelphia that is simultaneously building a governance process to facilitate external researcher access to their integrated data and leveraging those data to address the City's disproportional placement of youth of color in institutional settings. Over the next several years, Zanti aims to advance this scholarship by partnering with a state human services system to build out their data governance and conduct policy analyses with their integrated data. She is also developing proposals to qualitatively study the experiences of low-income families accessing Unemployment Insurance and other public benefits during the COVID-19 pandemic.
These projects and others will allow Zanti to further her knowledge contributions a unique intersection of fields, including social work, public policy, data science, and implementation science— and ultimately, facilitate government data being leveraged for social good and the promotion of equitable systems.
"I was so honored to receive the fellowship—it's the inaugural group of fellows, so I had no idea what to expect when I applied. I was really happy and overwhelmed to be selected for it," Zanti said. "There are the tangible resources, which can support dissertation work and open the pathway for me to do more with my dissertation and my research at Penn. This is the first time I am getting a budget for my research projects, and that allows me to totally expand my thinking and go bigger, and hopefully make more of an impact with whatever I do.
"But also, it's always really nice to be recognized for the work that you have been doing. I feel validated that this work is meaningful to people other than my small circle, and that people outside of my field see why this is so important and connected to a lot of social policy issues."
Like Zanti, Kim's academic and research pursuits underwent a transformative shift from her initial areas of interest. She earned a Bachelor of Arts in psychology from Rutgers University with a minor in East Asian studies, followed by a Master of Science in social work from Columbia University with a focus in advanced clinical practice. She then pursued a post-master's clinical fellowship in child adolescent mental health from the Yale Child Study Center at Yale University's School of Medicine, which provided intensive training in diagnostic assessment and evidence-based interventions.
A certified clinical trauma professional with 15 years of experience as a therapist in multiple settings, Kim's transition from a practitioner to a researcher in social welfare was spurred by a personal call to work in tandem with both micro- and macro-level initiatives. As she recalled, SP2 stood out among the other doctoral programs she considered because the faculty approaches social welfare issues from numerous vantage points, including clinical, economic, and social lenses.
"SP2 combines the discipline of social work with other fields committed to enacting policy changes," Kim said. "My social work values of 'person-in-environment' combined with my clinical training in mental health undergird my appreciation for how larger systems like healthcare, education, criminal justice, and government have institutional and cultural authority to shape our discourses and impact our well-being."
Kim's primary research interests intersect around Asian American mental health and culturally reflexive practice and policy. This includes how research is conducted and funded, how mental health issues like racialized trauma are understood, and how systems like schools can unwittingly disempower immigrant parents who are non-English proficient.
"I'm interested in understanding how our predominantly white hegemonic institutions have determined social problems and remedies in ways that leave the mental health needs of various Asian American communities unmet," she said. "I've also been fortunate to have collaborated with various faculty research projects focused on mental health in the general population including trauma interventions, co-occurring substance use and mental health disorders, depression among women with low income, and programs for incarcerated women with children."
Kim's personal and professional goals shifted significantly in the aftermath of a blog post she wrote titled, "A Call to Healing Asian Racialized Trauma", following the horrific March 2021 mass shootings in Atlanta in which six Asian American women who worked in massage spas were murdered in a racist and misogynist act of violence.
"It was a deeply painful reckoning with my own racialized trauma that helped me see how much Asian Americans do not understand our own mental health needs, much less communicate these needs to our institutions," she said. "The piece circulated widely and has continued to garner multiple speaking invitations across the country to provide education and training to healthcare providers, academic departments, non-profits, and corporations. It even led to perhaps the most public, out-of-my-comfort-zone event which was speaking at a Unite rally to stop Asian hate and violence, where I was among multiple esteemed speakers, including Congressman Andy Kim of New Jersey's 3rd district."
Amid this increased recognition and visibility regarding her work, receiving the Presidential PhD Fellowship award came during a particularly introspective and conflicted-feeling time in Kim's academic career. As she explained, less than 0.2 percent of philanthropic grantmaking, or research funding from the National Institute of Health (NIH), focuses solely on Asian American and Pacific Islander (AAPI) communities.
"As an Asian American PhD student, one of the primary ways I've felt marginalized is by the lack of social science research invested in understanding our communities. For three years, I grappled with the conflict I felt between molding myself in pursuit of prestigious federal grants versus serving the needs of my community while jeopardizing a competitive tenure track R1 faculty post," Kim said. "During this traumatic racialized pandemic, I decided I'd rather lead with my authentic self and be jobless but in my own skin than subject myself to further erasure, invisibility, and code switching within an ivory tower."
"When I learned that I had received this timely and healing Presidential Fellowship award from Penn, it was an enormous affirmation of my personal and professional evolvement," she continued. "The social and financial support will empower me to pursue community based participatory research that typically never sees the light of day because the incentives are not traditionally aligned with the story of academia."
People
Sharon Zanti, MSW

Student, PhD in Social Welfare

Contact

Jessica C. Kim, LCSW

Student, PhD in Social Welfare

Contact

Email