News Details
SP2's three Presidential PhD Fellows poised to improve human services through research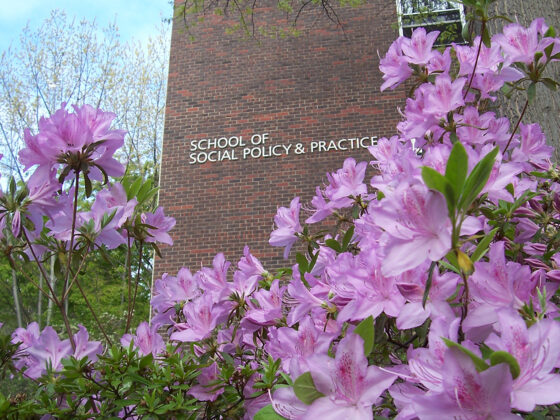 Faculty & Research
10/31/22
With research interests spanning health care, citizenship, and economics, the three PhD in Social Welfare students named to the University of Pennsylvania's 2022 cohort of Presidential PhD Fellows are embarking on their doctoral studies ready to advance a shared aim of improving human services.
As recipients of the three-year fellowships, Rebecca Pepe, Mira Philips, and Christopher Wodicka represent one-third of the incoming PhD class at Penn's School of Social Policy and Practice (SP2).
"Our PhD students come in with very unique backgrounds and research interests drawn from their work on the front lines of social policy and practice," says Professor Irene Wong, interim director of SP2's PhD in Social Welfare program. "It's very indicative of the strength of our students that Penn has named such a significant portion of our incoming class Presidential PhD Fellows."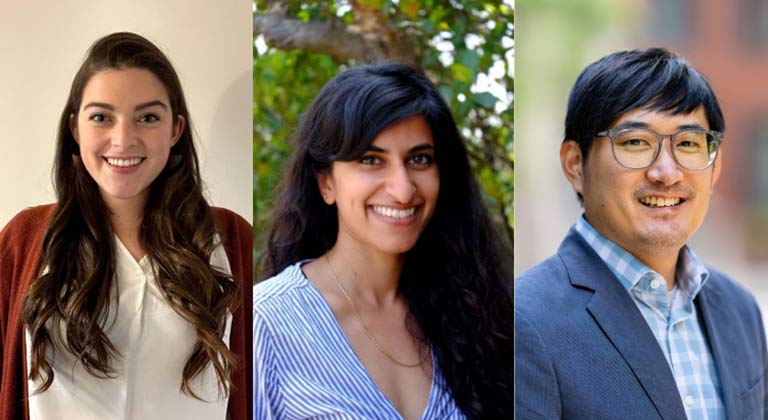 The aim of improving health care access for those without secure housing brought Rebecca Pepe to SP2 to work with Professor Dennis Culhane, Dana and Andrew Stone Chair in Social Policy, whose research focuses on homelessness and assisted housing policy. During Pepe's years working in medical research and project management, including five years at the Perelman School of Medicine, she observed the critical role of housing in health.
"In my understanding, housing was always the most basic element that was required to access any care," she says. "It just felt so foundational to doing anything related to health, and the unfortunate truth that those who don't have secure housing have such an intense constellation of mental and physical health concerns."
This semester, Pepe is learning more about how municipal data can be used to improve human services through her work as an intern with the City of Philadelphia's Office of Integrated Data for Evidence & Action. The office is part of the national integrated data network of Actionable Intelligence for Social Policy, co-directed by Dr. Culhane to help state and local governments responsibly use data to improve lives.
Reflecting on her research topic, Pepe says, "If any part of the pathway to a person receiving care can be made a little bit clearer, or a little bit easier, I think that would be a huge success."
A desire to advance policies that better support immigrant women in her home country of Canada brought Mira Philips to SP2 following work and studies that included time in Sri Lanka researching post-war development. In the PhD program, Philips plans to research how minoritized women in Canada navigate the informal labor sector and jobs that are often undervalued.
"In particular, I would like to look at migrants who work as care workers, because care work is very undervalued, despite the fact that it's necessary to keep society moving," says Philips. "Without caregivers, so much of our economy would be very slow, and child development would be very difficult."
This semester, Philips is working with SP2 Associate Professor Amy Castro as a research assistant at the Center for Guaranteed Income Research, which conducts scholarship on cash, economic mobility, and poverty. "It's really exciting to explore how guaranteed income impacts people socially and economically, because that definitely ties into the research that I will be doing," says Philips.
Overall, Philips hopes to contribute to empathy towards immigrants. "I hope that we start to conceive of citizenship not just as obligations to the state, but also as obligations to each other. We need to prioritize supporting individuals who are trying to make a better life for themselves, and move away from policies that punish people, especially for where they're from and the work that they choose to do," she says.
Significant U.S. tax policy changes in response to the pandemic inspired Chris Wodicka to undertake research to document their impact, particularly on families and children in Virginia, where he worked in policy analysis for The Commonwealth Institute for Fiscal Analysis, an organization led by Ashley Kenneth, SPP'08, a graduate of SP2's Master of Science in Social Policy program.
"There were some really big, notable improvements to both the Earned Income Tax Credit and the Child Tax Credit, and I think there are some opportunities to learn what such changes could mean if they were revisited at some point," says Wodicka, who also worked in state policy in Wisconsin.
He decided to pursue a PhD in order to dig deep into the effects of the policy changes. "I gravitated toward being able to really sit with research, and to learn more rigorous methodology and sophisticated methods to account for different factors that might be at play in order to try to isolate some of the impacts," Wodicka says.
He looks forward to working with SP2 Associate Professor Ioana Marinescu, whose research on policies supporting economic security, such as unemployment insurance and the Alaska permanent dividend, drew him to the School. Another aspect of SP2 that appeals to him is the opportunity to learn from his classmates.
"I feel like there's a really good mix of research interests and approaches, and that adds to the kinds of conversations that we have in class and outside of class. Having that broader perspective is something that attracted me to the School," Wodicka says.
Under The President's PhD Initiative, the Presidential PhD Fellows are chosen from the University's incoming class of PhD students on the basis of several factors: demonstrated leadership potential, exceptional academic promise, an exceptionally innovative and/or impactful research agenda, and the capacity to contribute to increasing diversity in one's field as an historically under-represented person in higher education and/or through scholarship that contributes to better understanding issues of diversity/inclusion/inequity or interdisciplinary areas. Each Presidential Ph.D. Fellowship includes a 12-month stipend, tuition, fees, Penn Student Insurance coverage, and research funds.
About SP2
For more than 110 years, the University of Pennsylvania School of Social Policy & Practice (SP2) has been a powerful force for good in the world, working towards social justice and social change through research and practice. SP2 contributes to the advancement of more effective, efficient, and humane human services through education, research, and civic engagement. The School offers five top-ranked, highly respected degree programs along with a range of certificate programs and dual degrees. SP2's transdisciplinary research centers and initiatives — many collaborations with Penn's other professional schools — yield innovative ideas and better ways to shape policy and service delivery. The passionate pursuit of social innovation, impact, and justice is at the heart of the School's knowledge-building activities.
People
Irene Wong, PhD

Professor

Contact

office: 215.898.5505

fax: 215.573.2099

Email