News Details
SP2's Newest Cohort, Social Change Agents Off to Energetic Start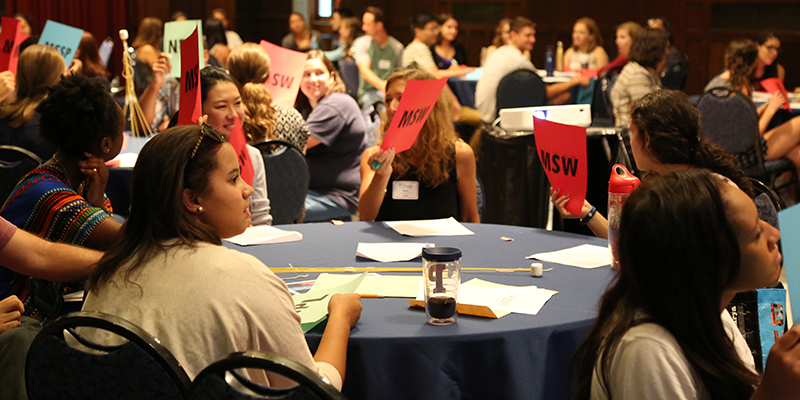 Authored by: Jessica Bautista
Faculty & Research, Student Life
08/29/16
The School of Social Policy & Practice's newest cohort started off the academic year with a series of orientation activities this month, including an inter-program team building and social justice discussion, scavenger hunts, a student networking event, and the 2016 SP2 Convocation.
This year's incoming students hail from 30 states and 14 countries. Though undeniably unique in their respective ways, each of the students enrolled in the School's five degree programs still have one thing in common – social justice.
"You're all walking into the same building at SP2 for very similar reasons," said Eda Kauffman, MSW '91, SP2's associate director of Field Education. "The thing that brings all of you together is social justice. And we will be talking about community, equity, and advocacy no matter what."
As part of the planned orientation events, students converged at Penn's Houston Hall on Friday to discuss what social impact, ingenuity, and entrepreneurship means to them. The group was also introduced to the School's newest multimedia initiative – SP2 Penn Top 10 Social Justice & Policy Issues for the 2016 Presidential Election – and discussed mass incarceration, gun policy, homelessness, and other pressing issues facing the nation.
New students also learned more about Philadelphia, what the University of Pennsylvania has to offer, as well as participated in a "spaghetti tower marshmallow" challenge – which was the first, but certainly not last, time the cohort will explore critical thinking and execution as a team.
"This was definitely a great way to interact with people from different programs," said Walter Jean-Jacques, Master of Science in Social Policy candidate. Jean-Jacques, a Columbia University alum, says he has been looking forward to his return to campus since he visited in 2015. "I am truly excited to join SP2."
With one day to spare before the first official day of SP2 classes, more than 250 of the School's incoming students came together on Monday morning for the time-honored convocation ceremony.
Members of the faculty and staff offered remarks to entering students on what's to come – and who they can expect to be by their side – as they embark on a new, transformative journey.
"Make sure your Dean knows you. All of our doors are open here," said Dean John L. Jackson, Jr., emphasizing that the staff and faculty are available to ensure all of SP2's students thrive. "I don't know what's on the horizon for us, but I do know you're equipped to be nimble, thoughtful, caring, generous and committed."