News Details
SP2's Center for High Impact Philanthropy highlights the benefits of gender diversity in financial decision making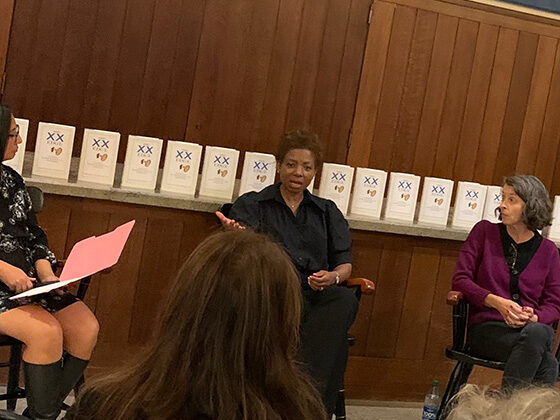 Authored by: Juliana Rosati
Photography by: Kelly Andrews
Faculty & Research
11/22/22
How can organizations and teams make better investments? By ensuring that gender diversity puts women at the center of financial decision making, according to Patience Marime-Ball, founder and CEO of Women of the World Endowment, and Dr. Ruth Shaber, M'86, founder and president of the Tara Health Foundation.
The two authors of the book The XX Edge: Unlocking Higher Returns and Lower Risk shared their insight on women's strengths in financial decision making in a fireside chat with Kat Rosqueta, founding executive director of the Center for High Impact Philanthropy (CHIP) at Penn's School of Social Policy and Practice (SP2).
Marime-Ball and Shaber seek to counter a status quo cited by Marime-Ball: "As you get higher in finance, there are fewer women." They discussed evidence that women possess strengths that are particularly valuable in financial decision making, such as a tendency to take a risk-aware, long-term view and a low-ego approach. "Too often we see women as beneficiaries, not actors," said Marime-Ball. "In capital markets broadly, money goes to actors. We need capital markets to see women as actors and solution builders."
Evidence examined in their book shows that including women on financial decision making teams results in better performance. The authors cited a Vanguard study that looked at 26,000 venture fund managers and found that gender-diverse teams performed better than single-gender teams, and woman-majority teams performed best of all. Marime-Ball and Shaber pointed to similar patterns in entrepreneurship and innovation.
Said Shaber, "Is the difference biological or cultural? Who cares? It's important to have diversity either way." Shaber cited My Safetipin, an app founded by women in India, that identifies the safest walking paths from point to point, as an example of a business that benefited from the unique perspective of its founders on a societal problem, in this case, violence against women. Shaber and Marime-Ball emphasized the idea that any kind of diversity in the room, including gender diversity, makes teams stronger by providing the benefit of lived experience that not everyone has.
The conversation, which took place at Café 58 of Irvine Auditorium, was CHIP's first in-person event since a 2019 occasion where Rosqueta and Marime-Ball crossed paths and discussed their collaboration on CHIP's Women's Index, a project from which The XX Edge originated. Supported by both Women of the World Endowment and Tara Health Foundation, the Women's Index is a part of CHIP's commitment to providing actionable and evidence-based guidance for individuals who want to ensure that their philanthropic funds make the greatest possible difference in the lives of others.
About CHIP
The Center for High Impact Philanthropy (CHIP) is a trusted source of knowledge and education to help donors around the world do more good. Founded in 2006 as a collaboration between Penn's School of Social Policy & Practice and alumni of the Wharton School, it is the premier university-based center focused on philanthropy for social impact. In areas as diverse as closing the achievement gap in the U.S., effective disaster relief, and major global public health issues such as malaria and child mortality, the Center translates the best available information into actionable guidance and educational programs for those looking to make the greatest difference in the lives of others.
About SP2
For more than 110 years, the University of Pennsylvania School of Social Policy & Practice (SP2) has been a powerful force for good in the world, working towards social justice and social change through research and practice. SP2 contributes to the advancement of more effective, efficient, and humane human services through education, research, and civic engagement. The School offers five top-ranked, highly respected degree programs along with a range of certificate programs and dual degrees. SP2's transdisciplinary research centers and initiatives — many collaborations with Penn's other professional schools — yield innovative ideas and better ways to shape policy and service delivery. The passionate pursuit of social innovation, impact, and justice is at the heart of the School's knowledge-building activities.
People
Katherina M. Rosqueta, MBA

Founding Executive Director, Center for High Impact Philanthropy

Contact

Email