News Details
SP2's 2023 Commencement highlights need "to improve the well-being of all people"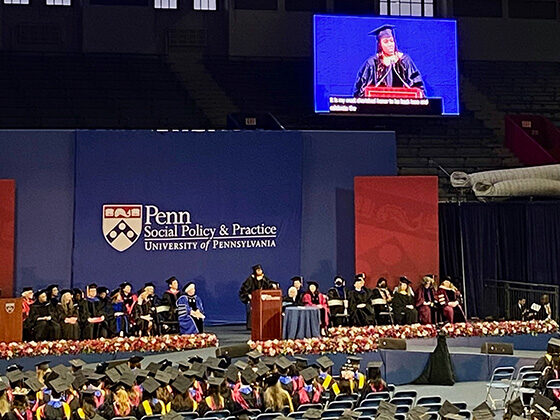 Authored by: Juliana Rosati
Photography by: Carson Easterly
Student Life, Alumni
05/15/23
Themes of humanity, justice, and joy took center stage at the 2023 Commencement of Penn's School of Social Policy & Practice (SP2). In an evening ceremony at the Palestra on Saturday, May 13, graduates and their families and friends heard from SP2 Dean Sara S. Bachman and Commencement Speaker Amber Hikes, MSW'08, before cheering on the presentation of graduates across SP2's five degree programs.
"The world needs your vision, it needs your brilliance, it needs your humanity, and it needs your solutions," said Hikes during a speech that underscored the need for justice for all people. "You signed up again and again and again as the resistance. . . . You are innovating. You are committing to changing systems. You are moving resources so that we can keep up the fight in this critical time. And you are still here."
In addition to being an accomplished SP2 alum, Hikes is a tireless advocate for equity, diversity, and inclusion in all aspects of society. Highlights of their career include serving in their current role as Deputy Executive Director for Strategy & Culture for the ACLU; becoming the ACLU's first Chief Equity and Inclusion Officer; introducing the More Color, More Pride flag; and releasing a Ted Talk that has gained more than 2 million views.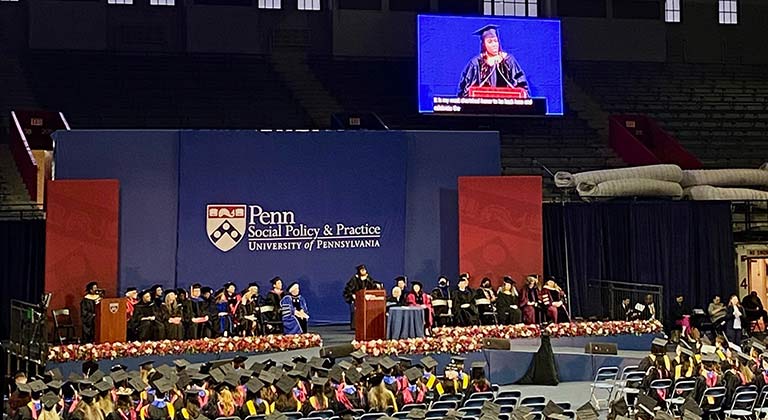 Dean Bachman's address highlighted the role that graduates will play in advancing more effective, efficient, and humane human services. "You will be engaged in activities meant to alleviate human suffering and mitigate the structural inequities that make it hard for many to gain and sustain well-being," said Dr. Bachman. "I hope you are proud of what you've done here, and proud of what you are going to do. . . . Be proud that you are working to develop and implement systems, supports, and interventions to improve the well-being of all people."
SP2 conferred a total of 323 degrees during the Summer 2022, Fall 2022, and Spring 2023 semesters.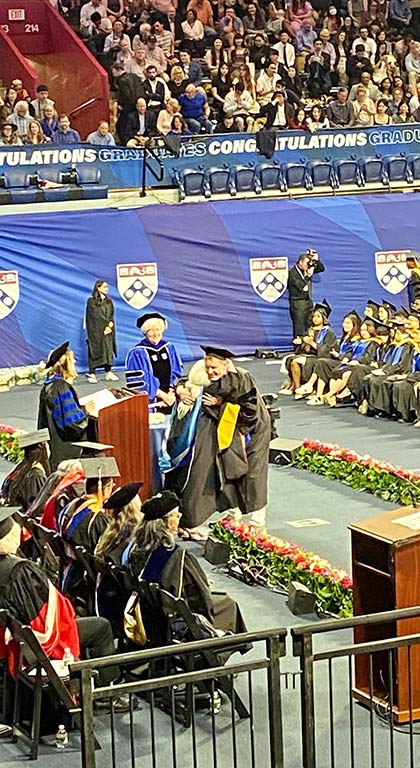 Catch up on the ceremony:
About SP2
For more than 110 years, the University of Pennsylvania School of Social Policy & Practice (SP2) has been a powerful force for good in the world, working towards social justice and social change through research and practice. SP2 contributes to the advancement of more effective, efficient, and humane human services through education, research, and civic engagement. The School offers five top-ranked, highly respected degree programs along with a range of certificate programs and dual degrees. SP2's transdisciplinary research centers and initiatives — many collaborations with Penn's other professional schools — yield innovative ideas and better ways to shape policy and service delivery. The passionate pursuit of social innovation, impact, and justice is at the heart of the School's knowledge-building activities.
People
Sara S. Bachman, PhD

Dean

Contact

office: 215.898.5512

fax: 215.573.2099

Email