News Details
SP2 Students Win Policy Competition with Proposal to Prevent Opioid Disorder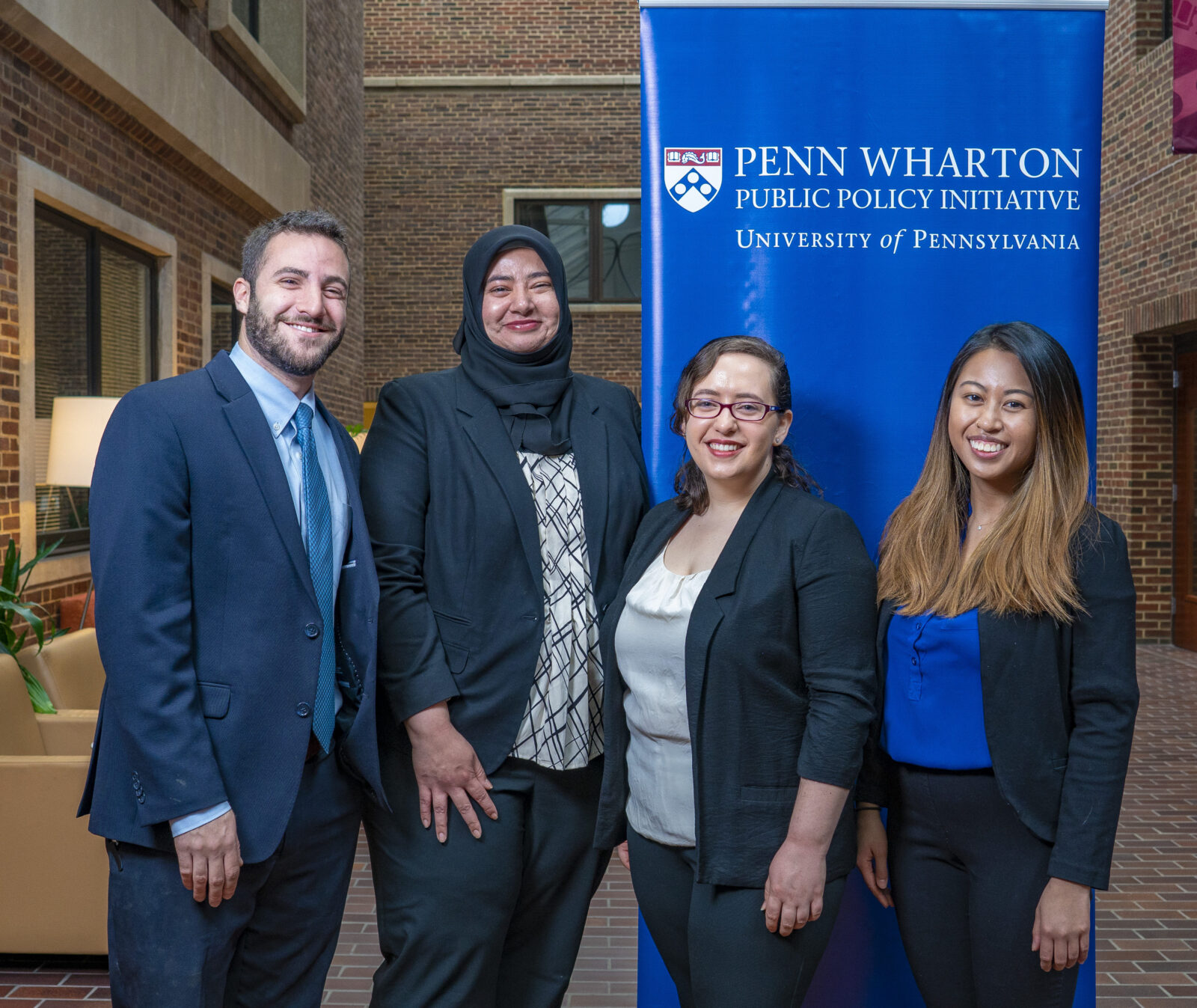 Authored by: Jessica Bautista
Photography by: Provided
This year, Penn Wharton Public Policy Initiative ran its 5th annual Public Policy Case Competition, focusing on the opioid crisis. The competition challenged students to work in small teams to address the following prompt: Develop a specific government policy or program (at the local, state, or federal level) that would prevent (as opposed to treat) opioid use disorder.
Proposals were allowed to either focus on the supply side, i.e., the pharmaceutical industry, medical professionals, insurance companies, or other purveyors/distributors, or on the demand side, i.e., potential licit and illicit opioid consumers, and can address business or government policy.
Out of 26 team submissions, it was a group of students from the School of Social Policy & Practice who took first place and a $5,000 grand prize for a comprehensive proposal that would use the treatment of childhood trauma within the public school system as means of reducing the risk of opioid abuse and addiction.
If implemented, the program would call for social workers to provide group therapy in Philadelphia schools with students who have identified trauma histories. The proposed schools for the pilot year were identified based on high scores in the city-wide adverse childhood event (ACE) study as well as community health assessment data demonstrating the highest neighborhood rates of poverty, unemployment, and opioid overdose fatalities.
Before formulating their winning idea, members of We Rise— Blanca Castro, Jenessa Irvine, Nadia Malik, and Sam Margolius—discussed why they cared about this project and researched current best practices.
"The team considered a range of strategies for prevention, including policies to reduce the proliferation of prescription opioids, but could not escape the statistic that 90% of addictions begin in adolescence," Castro said.
"Digging deeper into the question of 'Why' people use, [we] discussed the direct link between experiences of childhood trauma and future substance use as a means of coping with severe emotional and physical pain. Because Philadelphia County is one of the hardest-hit by the opioid epidemic in the nation, the team designed its program for the city of Philadelphia."
As social workers, Castro says the team also made a concerted effort to ensure the program would operate at every level of SAMSHA's socioecological model: individual, relationships, community, and society.
We Rise has since presented to the national meeting of SAMHSA Regional Administrators and continues to meet to discuss future program implementation.