News Details
Students Present Policy Research on Housing, Immigration, Harassment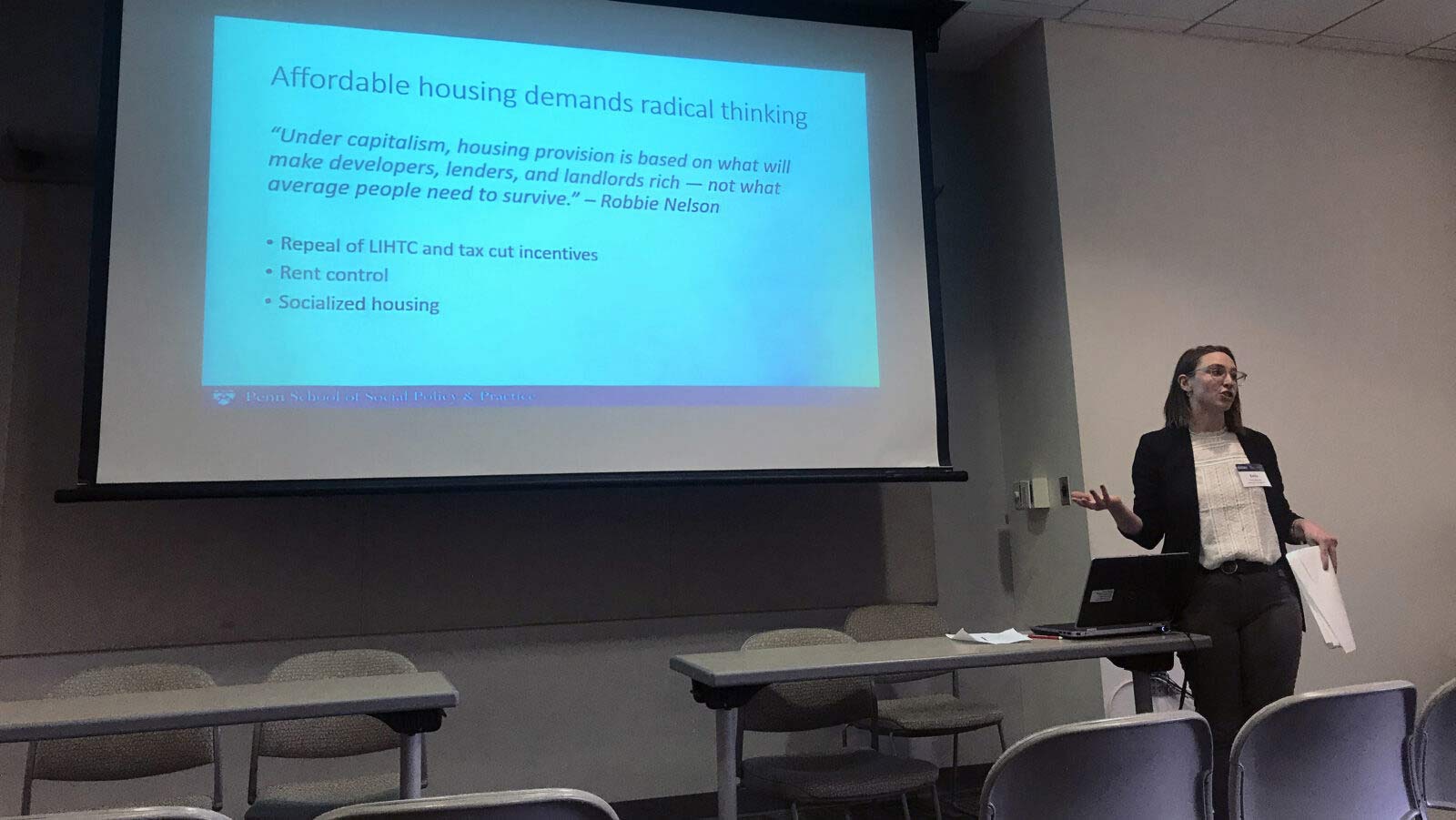 Authored by: Alina Ladyzhensky
Photography by: Provided
Four students from the Penn School of Social Policy & Practice (SP2) shared their research across a wide range of policy areas at the recent Association for Public Policy Analysis and Management (APPAM) Regional Student Conference, held in Washington, D.C.
APPAM is a non-profit focused on improving public policy and management through research, analysis, and education. The Regional Student Conference, which takes place twice a year, enables students to share and discuss their research with their peers, as well as attend workshops and professional networking events.
Emily Berkowitz, MSSP/MSW '19, an attendee and panelist at the conference, was particularly excited to witness so many social work students sharing their work.
"Too often, our field is misunderstood as only case management or clinical work—which is urgent, important work—but there are a growing number of graduate-level students doing meaningful, client-centered research and policy analysis," Berkowitz said. "I hope more students will enter into the field of social work and social justice knowing that the macro track is available to them."
Berkowitz was selected to participate in the Life in Public Housing panel, which featured research about the experiences of individuals in government-run housing, both in the United States and India. Her presentation focused on policy analysis of the Low-Income Housing Tax (LIHTC) credit, which is the leading provider of affordable housing in the U.S.
"LIHTC units are being built most often in gentrifying neighborhoods, and these units are more likely to convert to market-rate prices after the mandatory affordability period expires. The people benefiting most from the program are developers and private equity investors, rather than the renters the program was supposedly designed to support," she explained.
"My recommendations are to remove profit-motive from unit development and the housing market largely; instead, I argue we should finance housing as a right through tax dollars that go directly into construction and development of safe, affordable places to live (socialized housing), as well as prioritize policies like rent control that protect renters currently living in gentrifying neighborhoods. I believe that affordable housing demands radical thinking."
The analysis Berkowitz presented at the APPAM panel was part of her final paper for a social work and social policy course taught by SP2 faculty members Amy Castro-Baker, PhD, assistant professor, and Erin Coltrera, LSW, MSW, MSSP, lecturer.
"Both of these professionals are exceptional in their field, provided me with necessary tools, and inspired me to push myself in researching this topic. I also attended APPAM with the generous support of my field placement, Actionable Intelligence for Social Policy—an SP2 initiative," Berkowitz said. "The support I have received from these professors and professionals has been invaluable. I am grateful for their support as I continue to advocate for radical systems-change through a social work lens."
Another student who was invited to present at the conference, Vineesha Badabhagni, MSSP '19, participated in a panel entitled Harassment and Violence in Society, which included presentations on sexual violence on college campuses with particular attention toward international students.
Badabhagni shared her paper, "Kaabil – to Build a Harassment-Free Society for Women", which was initially written for Research and Evaluation Design, an SP2 course she took in the fall. As she explained, the Kaabil program, currently operating at two private schools in India, "focuses on providing self-defense classes to girls and positive masculinity classes to boys going to school."
In addition to gaining conference presentation experience, presenters had the opportunity to receive constructive feedback on their work from academics, practitioners, and other policy professionals.
"I received critical and amazing feedback for my paper. It was a great opportunity for me to present my work," Badabhagni said. "We sometimes think that the projects we do through coursework may not be up to the mark for presenting in conferences outside, but that is not true. It is always important to believe in our work, however small it might be, and present it to the world."
Additional SP2 student panelists at APPAM included Blanca Lontok Castro, who shared an analysis of immigration policy and family separation in the United States, and Christine Pappas, who presented a policy analysis and legislative strategy to improve outcomes for family caregivers.