News Details
SP2 researchers study women's empowerment in high-risk region through pioneering virtual approach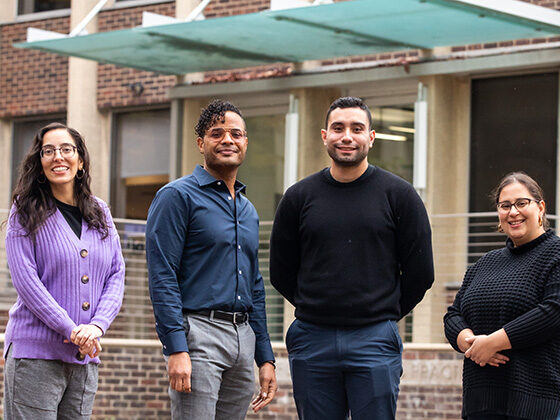 Authored by: Lini S. Kadaba
Photography by: Eddy Marenco
Faculty & Research, Gifts & Giving
12/14/22
Recognized for addressing gender inequities through a technology training program that has graduated an estimated 15,000 marginalized women in Venezuela, the nongovernmental organization Aliadas en Cadena aims to replicate its model in other Latin American countries. To this end, Victor Simon Gill, C'06, and Dr. Amanda V. Lewis, C'07, turned to a research team at Penn's School of Social Policy & Practice (SP2) led by Associate Professor Ezekiel Dixon-Román for a formal evaluation of Aliadas en Cadena's effectiveness.
Dr. Dixon-Román and his team set out to conduct on-the-ground data collection and documentary filmmaking through the SP2-Aliadas en Cadena Initiative established through the generous support of Gill and Lewis. However, the researchers had to pivot instead to a virtual format for their work — several years before the COVID-19 pandemic made such shifts widespread. Due to Venezuela's ongoing human rights crisis, the researchers' travel was prohibited in 2016, and the team pioneered virtual approaches of sociological study that may have international applications.
"There are places designated as high risk around the world," says Dixon-Román, noting Iran and North Korea as examples. "As social scientists, how do we collect information that helps us grapple with those complexities? The way we went about this project is a way of doing this work, even with the lack of capacity to be there in person on the ground."
The team's research process will be laid out in a chapter of a forthcoming edited book, "Postfoundational Approaches to Inquiry," due to be published in 2023. Their virtual case study of Aliadas en Cadena will be disseminated via a forthcoming book-length report and an interactive website.
"The case study illustrates Aliadas' huge commitment to providing a social and educational opportunity for women from precarious conditions," says Dixon-Román, who has researched Cuba's comprehensive education system and has spent more than three years as director of SP2's Master of Science in Social Policy (MSSP) program. "I think what makes the organization even more compelling is that it's working under austere conditions. That's quite impressive."
Founded in 2005, Aliadas en Cadena, whose name translates to "Allies Together," helps marginalized women through programs meant to provide them with tools for physical and emotional well-being and economic independence. Its flagship program, Escuela Taller, helps women with limited schooling develop marketable skills in entrepreneurship or information communications technology (ICT) through three-to six-month technical diploma programs. Students are placed in internships that often turn into jobs. Perhaps most important, the program's basis in feminist principles empowers students by helping them build confidence through the training.
"Aliadas is very transformational," says Gill, a financial adviser in New York City who was an economics and literature major at Penn when his mother, Ileana La Rosa Oramas, saw vulnerable, young mothers in her country without access to resources and founded the organization to help. "Throughout all these years, no matter the circumstances, no matter the crises around them, the staff of Aliadas never stopped. People like that allow the society to still stand."
Over its seventeen years, Gill reports, Aliadas has grown to seven locations in Venezuela with a staff of 100, graduated an estimated 15,000 students, and helped 100,000 women through community-based programming that includes health screenings and information on birth control and domestic violence. Gill also notes that the organization has won global recognition, including from the United Nations, and received grants from foreign governments and major corporations. "People everywhere want self-improvement, to grow," he says. "What you need is the opportunity presented in front of you, and you'll take it."
Gill and Lewis, an anesthesiologist, established a fund to support SP2's evaluation of the Escuela Taller program following Lewis' years of working in medicine in New York City's urban hospitals. Gill and Dixon-Román traveled to Venezuela in January 2016 to begin making arrangements for the study. But just a few months later, in May, both Penn and Aliadas deemed conditions in Venezuela too dangerous for on-the-ground research. At first, everyone thought the study would be scrapped. But then Dixon-Román and his graduate students hashed out other ways to get at the information they needed.
"The consensus was that we had the technology to do this," says Dixon-Román, whose research team includes Julian Quiros, SPP'17, a graduate of SP2's MSSP+DA program and a student in SP2's PhD in Social Welfare program; Melissa Skolnick-Noguera, a dual PhD student with SP2 and the Annenberg School for Communication; and Arlene Fernández, C'07, SPP'17, a graduate of SP2's MSW program and a PhD student at the Annenberg School.
From 2017 to 2018, they conducted 44 one- to two-hour Zoom interviews in Spanish with the program's students, alumni and staff, amassing a treasure-trove of data. Plan B, though, was not without its challenges. Their Internet connection was unstable, at times, forcing the researchers to turn off their cameras and conduct audio-only interviews. "When you can no longer read participants' expressions, and they can no longer read yours, how does the data collection shift?" Dixon-Román asks, a question the team debated.
Limitations aside, the team found much to analyze and plans to make several recommendations to Aliadas as the organization prepares to increase its footprint. These include a labor market needs assessment to determine whether basic skills training in computer repair is still in high demand.
Perhaps one of the most salient findings was the impact of Aliadas on women's self-confidence — no small matter in a culture where machismo is still widespread. "What you hear from the women is that what they learned in the program contributed to their own sense of confidence, to being resilient in these circumstances," says Dixon-Román. "They can be autonomous and independent and not dependent on a man. By the end of the program, you notice a shift in how they hold themselves, how they comport themselves. You almost get a sense of the shift in confidence in their very body language." In fact, he notes, some women found that their husbands or boyfriends did not support their participation in the program, and in some cases, relationships ended.
As Dixon-Román embarks on a new chapter of his career in January, joining the faculty of Teachers College Columbia University after 14 years at SP2, the research team's work is poised to support an expansion of Aliadas' impact.
"ICT training is great," Dixon-Román concludes. "Yet, arguably, what is most formative is the focus on feminist values — empowering these women against the forces of violence and patriarchy."
About SP2
For more than 110 years, the University of Pennsylvania School of Social Policy & Practice (SP2) has been a powerful force for good in the world, working towards social justice and social change through research and practice. SP2 contributes to the advancement of more effective, efficient, and humane human services through education, research, and civic engagement. The School offers five top-ranked, highly respected degree programs along with a range of certificate programs and dual degrees. SP2's transdisciplinary research centers and initiatives — many collaborations with Penn's other professional schools — yield innovative ideas and better ways to shape policy and service delivery. The passionate pursuit of social innovation, impact, and justice is at the heart of the School's knowledge-building activities.
People
Ezekiel Dixon-Román, PhD

Associate Professor

Contact

office: 215.898.5512

fax: 215.573.2099

Email