News Details
SP2 Professor Addresses Geriatric Depression and Mental Health in Hong Kong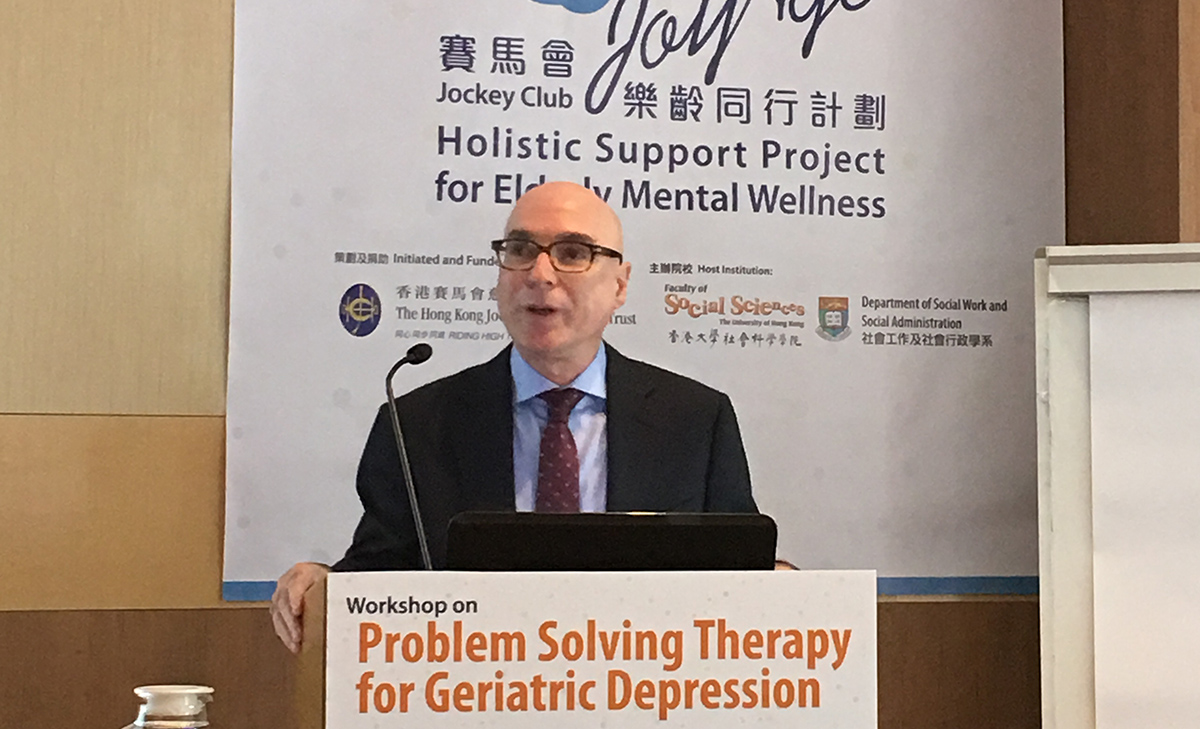 Authored by: Jessica Bautista
Faculty & Research
04/24/17
This spring, School of Social Policy & Practice Professor Dr. Zvi Gellis delivered a keynote speech to over 350 participants for the Inaugural Ceremony and Symposium of the Hong Kong Jockey Club Foundation and the University of Hong Kong JoyAge research project on geriatric depression and mental health.
An internationally recognized expert in geriatric mental health, Dr. Gellis is also director for the Center for Mental Health and Aging Research and is the international research and training consultant to JoyAge – a three-year undertaking.
According to research linked to the project, Hong Kong is aging rapidly with population estimates of people 65 years and older reaching 33 percent by 2040. Prevalence rates of late life depression are 9 percent in Hong Kong with high suicide rates – 24 percent. Moreover, the consequences of depression, if left untreated, will lead to increased risk for decreased functioning, increased risk of mortality and increased health costs.
Gellis said health care systems look to social workers to assist clients in navigating those very systems.
"The aim of the research project is to design and develop a well-coordinated medical and mental health service delivery program for older adults in four districts of Hong Kong," he said.
"Components of the new service include training social workers in problem solving and cognitive behavioral therapies for depression, and interprofessional collaboration with the health and senior services system. The objective is to change current service delivery to newly modified care that includes evidence-based assessment and depression treatment. Social workers are well-positioned to offer synergistic and integrated services for isolated older adults in Hong Kong. This will increase accessibility and timely services for evidence-based mental health services."
During the week of the ceremony, Dr. Gellis also trained 130 social services professionals in the assessment and evidence-based treatment of late life depression at the University. Training included an introduction to problem solving therapy – a type of cognitive behavior therapy – for depression. As well, Gellis expects to provide a train-the-trainer depression care program for social workers in the near future.