News Details
SP2 celebrates five accomplished changemakers at Alumni Hall of Fame Induction Ceremony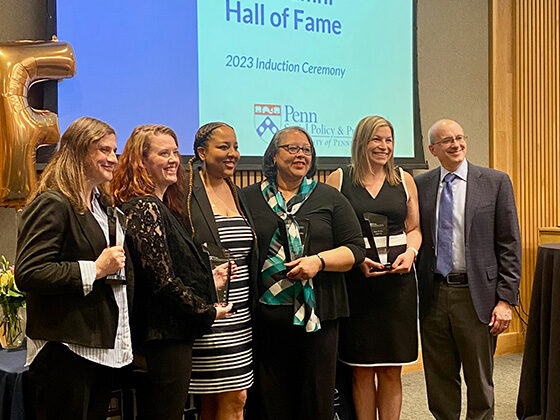 Authored by: Juliana Rosati
Photography by: Carson Easterly
Five distinguished alumni of Penn's School of Social Policy & Practice (SP2) spoke about their aims of creating justice, community, and hope at the 2023 SP2 Alumni Hall of Fame Induction Ceremony. The evening event on Thursday, May 11, marked the fifth year that the School has honored alumni through the SP2 Hall of Fame.
The event began with remarks from Penn Vice President of Development & Alumni Relations Jim Husson and SP2 Dean's Alumni Advisory Board chair Halcyon Francis, MSW'03, DSW'15.
SP2 Director of Alumni Engagement & Annual Fund Donkey Dover, Jr., NPL'15 introduced the 2023 honorees, who are listed below. Representing each of SP2's five degree programs, they were chosen for professional accomplishments and contributions that benefit the Penn community and the lives of students, colleagues, and clients.
SP2 Alumni Hall of Fame 2023 Inductees
Dr. Tricia Bent-Goodley, MSW'94
Dr. Tricia Bent-Goodley is the Team Clinician for the Baltimore Ravens. In her role, she provides clinical care, crisis management, program development, mental performance support, and organization-wide mental health education. Dr. Bent-Goodley is a member of the NFL Team Clinician Advisory Council and a Board Member of the NFL Player Care Foundation. Dr. Bent-Goodley is a nationally known speaker, author, and expert in areas of interpersonal violence and mental health. Dr. Bent-Goodley retired as a Professor Emeritus and maintains an academic appointment in the Public Health Program at Howard University. Prior to coming to Howard, Dr. Bent-Goodley served as the administrator of a countywide family violence prevention program, school social worker, and mental health clinician. Since then, Dr. Bent-Goodley obtained external funding and served as the Founding Director of the Howard University Interpersonal Violence Prevention Program, developing policies, programs, and practices to address domestic and sexual violence. The program was noted as a national model during her tenure as director.
Dr. Bent-Goodley is the Immediate Past Editor-in-Chief of Social Work, the flagship journal of the National Association of Social Workers (NASW). She is the second African American woman to serve in this role in the journal's nearly 60-year history. She currently serves as Associate Editor for the Journal of Interpersonal Violence. She has many scholarly books and publications in the areas of marriage, social policy, domestic and interpersonal violence, and social work entrepreneurship. Believing in the importance of service, Dr. Bent-Goodley volunteers and leads in multiple national and local roles and board memberships. She has received numerous county, state, and national awards for her scholarly achievement, mentoring of students, and commitment to service, including CSWE Distinguished Recent Contributions in Social Work Education and NABSW Distinguished Service in Social Work Education.
Dr. Bent-Goodley received her BA from Queens College of the City University of New York, her Master of Social Work from the University of Pennsylvania, and her PhD from Columbia University in Social Policy, Planning, and Analysis with a specialization in public health. She is proudest of being a wife and mother. 
Dr. Danna Bodenheimer, DSW'10
Dr. Danna Bodenheimer, LCSW, is the founder of Walnut Psychotherapy Center and the executive director of the Walnut Wellness Fund. A social worker, teacher, author, consultant, supervisor, and businessperson, Danna is above all else a therapist at heart. Danna uses social work theory to understand both her personal life and her professional life, strongly believing that social work is the field that will lead us forward into a more equitable and just future. Danna's love of and commitment to social work deepens steadily over time as she uses Philadelphia as a landscape to study issues of oppression, intersecting identities, and complex socioeconomic struggle.
Danna graduated from Smith College, earning her bachelor's degree in Women's Studies. After wholeheartedly planning on attending a PhD program in psychology, going so far as to get her post-baccalaureate degree in psychology from Columbia University, Danna discovered the intricate beauty and possibility that social work offers. Turning down psychology programs to receive her MSW from Smith College, and returning to her educational roots in Northampton, Danna found her clinical self. After completing two internships in Philadelphia, one in a partial day treatment program and another at a school for psychoanalysis, Danna began her career at the Tuttleman Counseling Center at Temple University.
Three years later, while in the middle of her doctoral studies at Penn's School of Social Policy & Practice, where she received her Doctorate in Clinical Social Work, Danna began a teaching career and her own private practice. She has taught at Rutgers, Temple, Penn, and Bryn Mawr. In 2015, Danna founded Walnut Psychotherapy Center to address the need for long-term trauma-informed psychotherapy for the LGBTQ community. The practice is now a leader in Philadelphia for its work supporting LGBTQ mental health and was the recipient of the 2020 PNC Bank LGBT Business Award. Danna also founded the Walnut Wellness Fund, a 501(c)3 nonprofit dedicated to providing financial support to under-resourced trans people seeking mental health treatment. Danna received the 2011-2012 Award for Excellence in Teaching from Penn. She was also selected as a fellow for the American Psychoanalytic Association for 2012-2013. In 2018, she was a semi-finalist for Philadelphia Magazine's Health Hero Award. She is the author of two books with The New Social Worker Press. She lives in Philadelphia with her wife and two children.
Dr. Alisha Martinez, MSSP'07
Dr. Alisha Martinez has been in the field of education, both public and private, for the last 20 years. She began her career as a third-grade classroom teacher in a Title I school in the Atlanta Public Schools. She has been fortunate to work in a variety of settings, experience that has broadened her perspective about how to gather and present data, work with senior officials, and engage families. She currently serves as the lead project manager of the strategic planning process in the superintendent's office of the Fairfax County Public Schools, the eleventh largest school district in the United States.
Prior to taking on this role, she served as a Project Manager in the Chief Equity Office and as a Data Specialist in the Office of School Support, both within the Fairfax County Public Schools. Alisha's favorite job was serving as a Senior Director of Research and Business Analytics at the educational technology firm K12 Insight, where she led large-scale projects for school districts. She served as the primary investigator on program evaluations, research design, data collection, analytics, and reporting on stakeholder engagement projects like family engagement, school climate, and strategic plans. In Dr. Martinez's free time she enjoys teaching methods courses at George Mason University and here at Penn's School of Social Policy & Practice, as well as volunteering in her community.
Dr. Martinez received her bachelor's degree from Haverford College and her Master of Science in Social Policy from Penn's School of Social Policy & Practice. She has a PhD in Education from George Mason University. She also has her Administration and Supervision Endorsement PreK-12 from Longwood University. She is originally from Brookline, Massachusetts, and currently resides in Virginia with her husband, Oscar, and their two children, Isabella and Sofia. She attributes her professional and personal success to her husband and their two daughters, whom she loves very much.
Robin Rich, NPL'08
Robin Rich (she/her) is a C-level leader with 20 years' experience in mental health, education, and working with Gen Z. Most recently, Robin was the President of the Youth Innovation Lab at Peer Health Exchange (PHE). In response to the youth mental health crisis, she led the organization to build a digital mental health product (selfsea) for youth, which quickly reached >169K users, with ~75% of them reporting a decrease in loneliness. As the Lab's co-founder, she ran it as a separate business from PHE, overseeing an $8M budget, securing >$1.1M of funding in nine months, and consistently exceeding the growth, culture, and operational goals under the guidance of the board.
Previously, Robin led PHE in COO roles for six years, building out multiple teams and functions. She grew PHE's school-based reach from 7 to 15 cities, established partnerships with TikTok, Brightline, and Headspace, and delivered groundbreaking adolescent mental health content on TikTok during the pandemic.
Robin holds a Master of Science in Nonprofit Leadership from Penn's School of Social Policy & Practice, where she was awarded the inaugural Dean's Emerging Leader Award for "demonstrating excellence in collaboration, motivation, community building, integrity, innovation, and leadership while exhibiting significant growth." She has a bachelor's degree from Macalester College and is an alum of The Leadership Consortium program. She was a ranking member of the Boards of Casa Myrna and Women Helping Women, served as an executive advisor to Cloverleaf and Cintrifuse, owned a wine store, and coached youth soccer teams.
Micheal Shier, PhD'14
Dr. Micheal Shier is Associate Professor at the Factor-Inwentash Faculty of Social Work, University of Toronto. He is the MSW Program Director and the Field of Study Coordinator for the Human Services Management and Leadership field of study. He is also the coordinator for the certificate program in Human Services Management and Leadership with the School of Continuing Studies, University of Toronto, and the faculty lead for the FIFSW Student Leadership and Mentorship co-curricular program. Dr. Shier joined the faculty in 2014 following completion of a PhD in Social Welfare at Penn's School of Social Policy & Practice. He has been the recipient of several research awards, including the Government of Ontario's Ministry of Research and Innovation Early Researcher Award (2017-2022), and is appointed as a Canada Research Chair holder in Social Innovation and Social Entrepreneurship in the Human Services.
Dr. Shier's program of research helps to optimize social service delivery and improve social outcomes for vulnerable social groups, enhances the capacity of nonprofit leadership within the community, and supports local social welfare and community economic development. Specifically, his research focuses on organizational development in human service organizations, with an aim to support outcomes and strategies that lead to 1) social innovation and social entrepreneurship (including development of leadership capacity, organizational, culture, positive partnerships dynamics, and for-profit market-based activities), 2) equity and inclusion, 3) workplace health and safety, and 4) trauma informed organizational environments. His current funded research is aimed at 1) developing socially innovative organizational strategies within the nonprofit and voluntary sector to promote equitable and inclusive human service organizational environments, and 2) understanding the mechanisms that promote social-purpose driven for-profit activities within and among non-profit and for-profit organizations across Canada. Dr. Shier also works extensively with nonprofit human service organizations to develop and implement models of evaluation that support the identification and implementation of social innovation efforts.