News Details
SP2 at the Penn Wharton China Center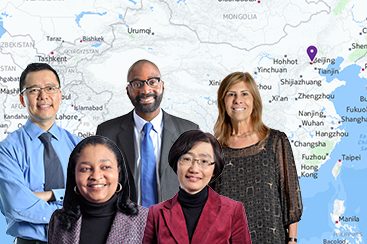 Authored by: Ryan Hampton
Dean Jackson, members of the faculty, and staff members of SP2 will visit the Penn Wharton China Center (PWCC) on Wednesday, June 3rd as part of the center's opening celebration. PWCC officially opened on March 10, 2015.
The visit will be a continuation of Dean Jackson's introductory tour, which wrapped up in the United States on May 17th. Dr. Jerri Bourjolly, Associate Dean for Academic Affairs, Dr. Chao Guo, Associate Professor of Nonprofit Management, Dr. Irene Wong, Associate Professor, and Dr. Mary Mazzola, Associate Dean for Enrollment & Global Outreach, will be in attendance.
Dr. Mary Mazzola will provide an information session for prospective students of the School's five degree programs from 3pm to 4pm. Interested students should register here: https://sp2.upenn.edu/admissions/admissions-information/information-sessions/.
In the evening, Dean Jackson and the faculty will hold a reception on "Addressing Social Needs in the Global Context."
For more information, please contact Ms. Yuyuan Liu at yuyuanl@sp2.upenn.edu.