News Details
SP2 Alums Making a Difference – Winter 2016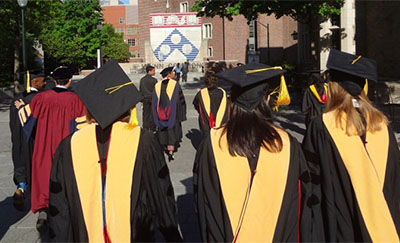 SP2 alum Noa Padowitz, MSW'08, has recently been promoted and now serves as the Dean of Students & Community at Suder Montessori Magnet School, a Chicago Public School. Padowitz also wanted to share that she recently celebrated the 5th year of the Chicago GSA Prom, a non-profit Padowitz founded that partners with Chicago Public Schools to organize an annual city-wide prom for LGBTQ students and their allies each May. Through community partnerships, dance tickets and a hot dinner are provided for $20 or less and no student is ever turned away due to inability to pay. Padowitz is also excited to announce that she is getting married to her partner in March 2016.

SP2 alum Jed Johnson, MSW'85, now serves as Vice President of Strategic Initiatives for Easter Seals in Washington, DC. As part of the Easter Seals management team, Johnson is spearheading and supporting national efforts in caregiving, adult, respite, and elder services. At the national level, he serves / has served as a board member and in other leadership roles with the American Society on Aging, National Adult Day Services Association, Generations United, National MS Society, CARF, and the Oberlin College Alumni Association.
Christopher Lyddy, MSW'06, currently serves as the Chief Operating Officer of a national behavioral health and training company that partners with state agencies and corporations committed to building and maintaining vibrant and highly focused workforces. In this role, Lyddy is also responsible for the dissemination and implementation of the TARGET treatment model, an evidence-based approach to working with youth and adults with histories of complex trauma. Since graduating from SP2 in 2006, Lyddy served as the state Representative for the Town of Newtown, CT in the Connecticut General Assembly. He is the co-author of the report, "Shooting at Sandy Hook Elementary School: Report of the Office of the Child Advocate" and served on Governor Dannel P. Malloy's Sandy Hook Advisory Commission, a 16-member panel of experts created by Governor Malloy to review current policy and make specific recommendations in the areas of public safety, with particular attention paid to school safety, mental health, and gun violence prevention. Lyddy maintains his involvement in his hometown through his membership on the Board of Directors for the Newtown Parent Connection, Inc. and Ben's Lighthouse. As a licensed clinical social worker, Lyddy maintains a small private practice in New Haven, Connecticut where he lives with his partner.
SP2 alum Geoffrey Greif, MSW'74, released a new book in December 2015. "Adult Sibling Relationships" was published this week by Columbia University Press. Greif is the co-author along with Michael Woolley. Find out more about the book here.
Share your latest news and accomplishments with SP2 Alumni. Make a submission to Alumni Notes.