News Details
SP2 Alumna Earns National Cancer Institute's Cancer Research Training Award Fellowship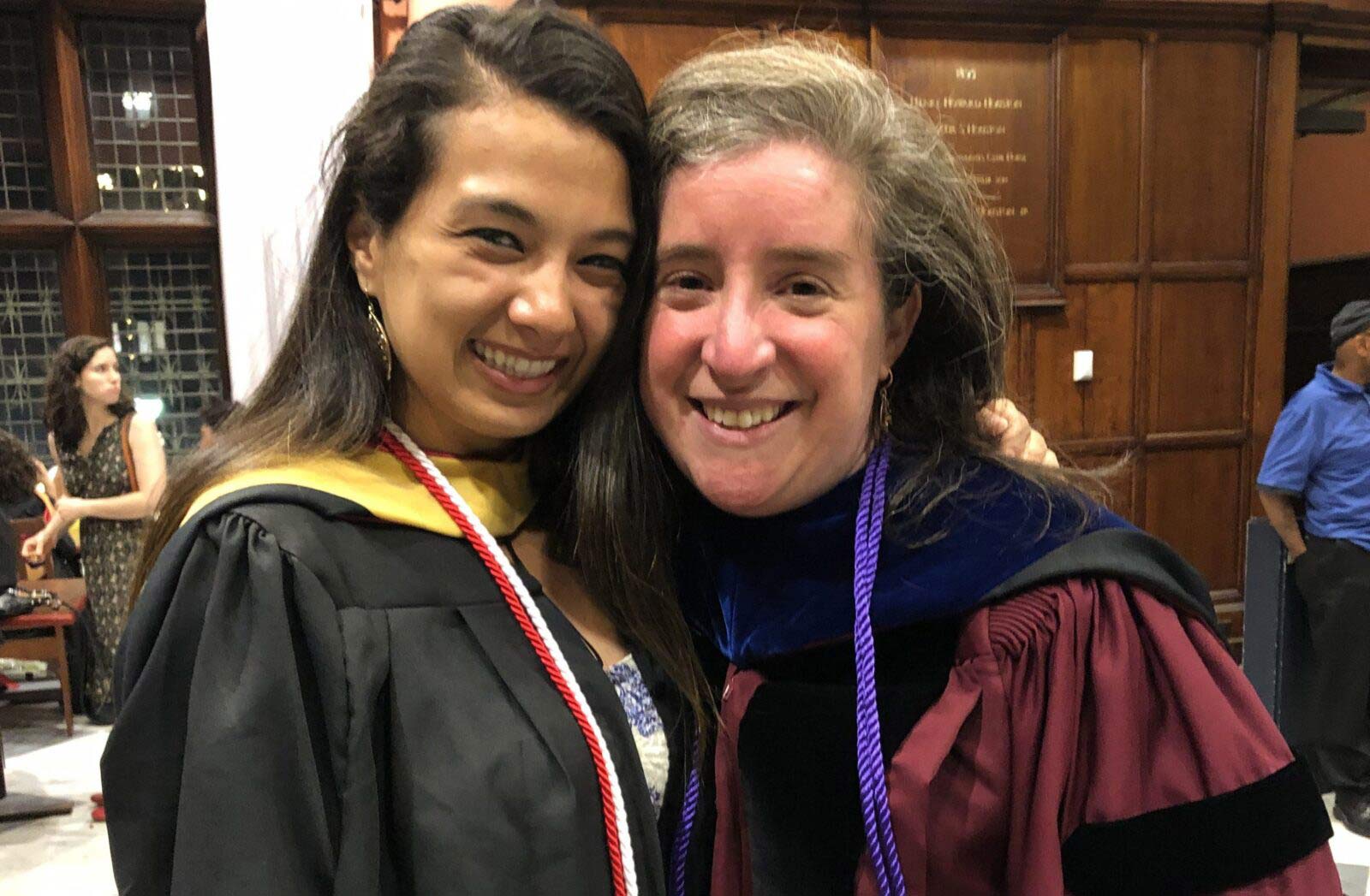 Authored by: Alina Ladyzhensky
Photography by: Provided
Faculty & Research, Alumni
06/18/19
For the last decade, Allison Werner-Lin, PhD, LCSW, associate professor at Penn's School of Social Policy & Practice (SP2), has partnered with the Clinical Genetics Branch of the National Cancer Institute's (NCI) Division of Cancer Epidemiology & Genetics, an intermural research program dedicated to studying families at increased genetic risk of cancer.
In 2017, Werner-Lin was appointed as Senior Advisor, a role in which she oversees the program's portfolio of psychosocial research and supervises predoctoral, postdoctoral, and masters-level students as they establish independent research careers. Through identifying the most pressing research questions and assembling teams around them, Werner-Lin matches emerging researchers with projects that help prepare them for the competitive academic job market.
"For the last few years, [NCI investigators] have really been looking to grow their portfolio of psychosocial research in the branch, but they haven't had enough independent, student-level investigators who are able to dedicate time to this," Werner-Lin explained. "Once they put me on staff, I started gathering a team. About a year ago, I asked whether they would be open to a recent MSW graduate coming on as a fellowship recipient and staff member."
That recent graduate is SP2 alumna Catherine Wilsnack, MSW '19, who had opted for a specialized independent study with Werner-Lin on qualitative health research in social work, in lieu of typical second-year MSW research electives. For over a year, Wilsnack worked closely with Werner-Lin on analyzing data collected by the NCI on families with Li-Fraumeni Syndrome (LFS), a rare hereditary cancer predisposition syndrome.
As the independent study drew to an end— and graduation season approached— Werner-Lin spoke with Wilsnack about her interests moving forward.
"Catherine has a great set of skills from her foundation course and our independent study. She mentioned that she wanted to stay involved in research, so I thought this might be a match made in heaven," Werner-Lin said. "I got her CV and approached my colleagues at the NCI, and they were really excited—not only that I had someone who was interested, motivated, and had the right skills, but also someone who has been working on their data for a full year. The process took off rapidly from there."
After Werner-Lin approached her NCI colleagues, they reached out to Wilsnack and arranged for her to visit the clinical center in Bethesda, MD and meet the team.
"I even got to meet one of the families whose interviews and qualitative data I worked with in the study. It was a surreal experience, learning so much about a family and then actually putting faces to the names. I met with the Principal Investigator of the LFS study, as well as Dr. Sharon Savage, chief of the Clinical Genetics Branch, and other investigators who lead studies," Wilsnack recalled.
"It was a really exciting experience, especially after graduating from my MSW program and the uncertainty of my job prospects and where I was going to end up—then the opportunity to continue doing this research that I really fell in love with."
Werner-Lin's research matchmaking led to a positive outcome for all: the NCI offered Wilsnack a Cancer Research Training Award fellowship beginning in July 2019, with Werner-Lin continuing to serve as her research mentor.
"Catherine is at the pre-doctoral level of the award, which is really exciting, since she is not enrolled in a doctoral program presently. It's for an unspecified amount of time, but for a minimum of two years. She will be able to continue to charter her own course in an area that has been completely understudied, and really make a name for herself within the NCI and through their connections with patient-consumer groups," Werner-Lin said. "Also, it fills a unique niche in the field, if Catherine does decide to pursue doctoral work. One of the challenges right now with the professoriate is training people both clinically and in research so that they're prepared for the rigors of the academic job market."
As Wilsnack explained, many of her fellow early-career researchers at the NCI have backgrounds in bench science, epidemiology, or public health—with social work vastly underrepresented in the group. For their part, the branch has been flexible in configuring Wilsnack's fellowship to line up with both her academic background and future ambitions.
"The NCI is super accommodating and want to make it as much of a positive experience for me as possible. They're going to make it a hybrid position— not only research, but also opportunities for me to continue in a clinical social work capacity, which is important to me after taking my licensing exam and knowing that I still want to earn my LCSW. The hybridity is even more special in my eyes because I get to continue conducting research, but I also get the clinical opportunity to receive my supervised hours from Allison."
Wilsnack looks forward to continuing her research around not only LFS, but other rare and understudied hereditary cancer syndromes as well. During her visit to the NIH, she discussed potential future projects pertaining to research in inherited bone marrow failure syndromes (IBMFS), including the disorders dyskeratosis congenita (DC) and Fanconi anemia (FA). There is scant published research available around IBMFS, allowing Wilsnack an opportunity to establish herself as a lead psychosocial researcher in this area.
"There is very limited behavioral and psychosocial research about how to support families with these hereditary cancer syndromes, but also how they navigate their day-to-day lives in facing illnesses that can ultimately become terminal," Wilsnack said. "Not only am I going to continue working on Li-Fraumeni Syndrome, but I'm also taking everything I learned from that research framework and hopefully applying it to this new population to gear up this new area of research."
"It's a dream come true in terms of what I eventually want to move my career towards," she continued. "Working with Allison over the past year and having this research fill my second-year requirement course was one of the best things that could have ever happened to me to jump-start my career."
People
Allison Werner-Lin, PhD, LCSW

Associate Professor

Contact

Email