News Details
SP2 Alum Named Executive Director of PA Human Relations Commission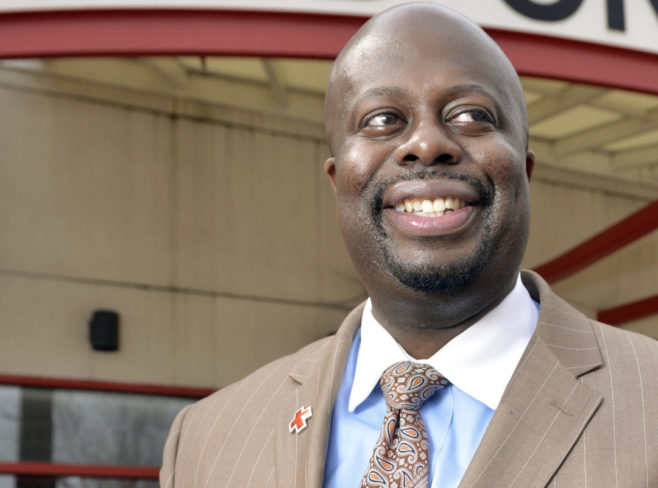 Authored by: Jessica Bautista
Photography by: Candace DiCarlo
Faculty & Research, Alumni
07/10/18
Chad Dion Lassiter is no stranger to discrimination – in fact, he's spent much of his career trying to dismantle it. Now, Lassiter, who was recently named executive director of the Pennsylvania Human Relations Commission (PHRC), will apply his life's work – his calling – to advance fair housing, employment, and education in the state.
Lassiter, who holds a Master of Social Work degree from the Penn's School of Social Policy & Practice (SP2), assumed the new role on May 24. He carries more than 20 years of experience in the fields of race relations, conflict resolution, mediation, teaching, counseling, research, re-entry, policy and prison reform.
As executive director, Lassiter's chief priorities are to ensure state laws designed to prohibit discrimination are enforced and to utilize research-driven, evidence-based practices to aide those who are disenfranchised.
"Intolerance exists and I've been called to this moment in our democracy to use my very skill set, expertise and training from SP2 and elsewhere to attempt to bring about equity, justice and tolerance to speak back to those shadows of hate in the tradition of great Civil Rights leaders of the past on all sides of the color line and gender line," Lassiter said.
It's a big job, but Lassiter finds himself uniquely prepared and up for the challenge.
"SP2 and my mentorship under great change agents like Walter Palmer, Dr. Arthur Schwartz, Dr. Ram Cnaan, former SP2 Dean Dr. Richard Gelles, and the intellectual and pragmatic approaches I received equip me for this and much more," said Lassiter, adding he also intends to rely on thought leaders at SP2 and in the broader University community for input, including SP2 Dean John L. Jackson, Jr. and Penn Provost Wendell Pritchett.
Prior to joining PHRC, Lassiter served as the executive director of the Red Cross House with the American Red Cross of Eastern Pennsylvania for more than seven years.
Since 2003 he has served as president of Black Men at Penn School of Social Work, Inc., an organization that serves as a conduit between the African American community and SP2.
Lassiter has worked with a variety of city, state and federally elected and appointed officials, as well as religious and community leaders while engaging in race dialogue and anti-racism training to foster diversity and tolerance in multiple sectors.
"I am humbled to be part of the fabric of the Commonwealth and of the Commission. I have inherited a staff of dedicated change agents and I look forward to the next five years of sojourning together to ensure equal protection under the law for all protected classes," he said.