News Details
Social Entrepreneur, SP2 Student Facilitating Healthcare & Education in Ghana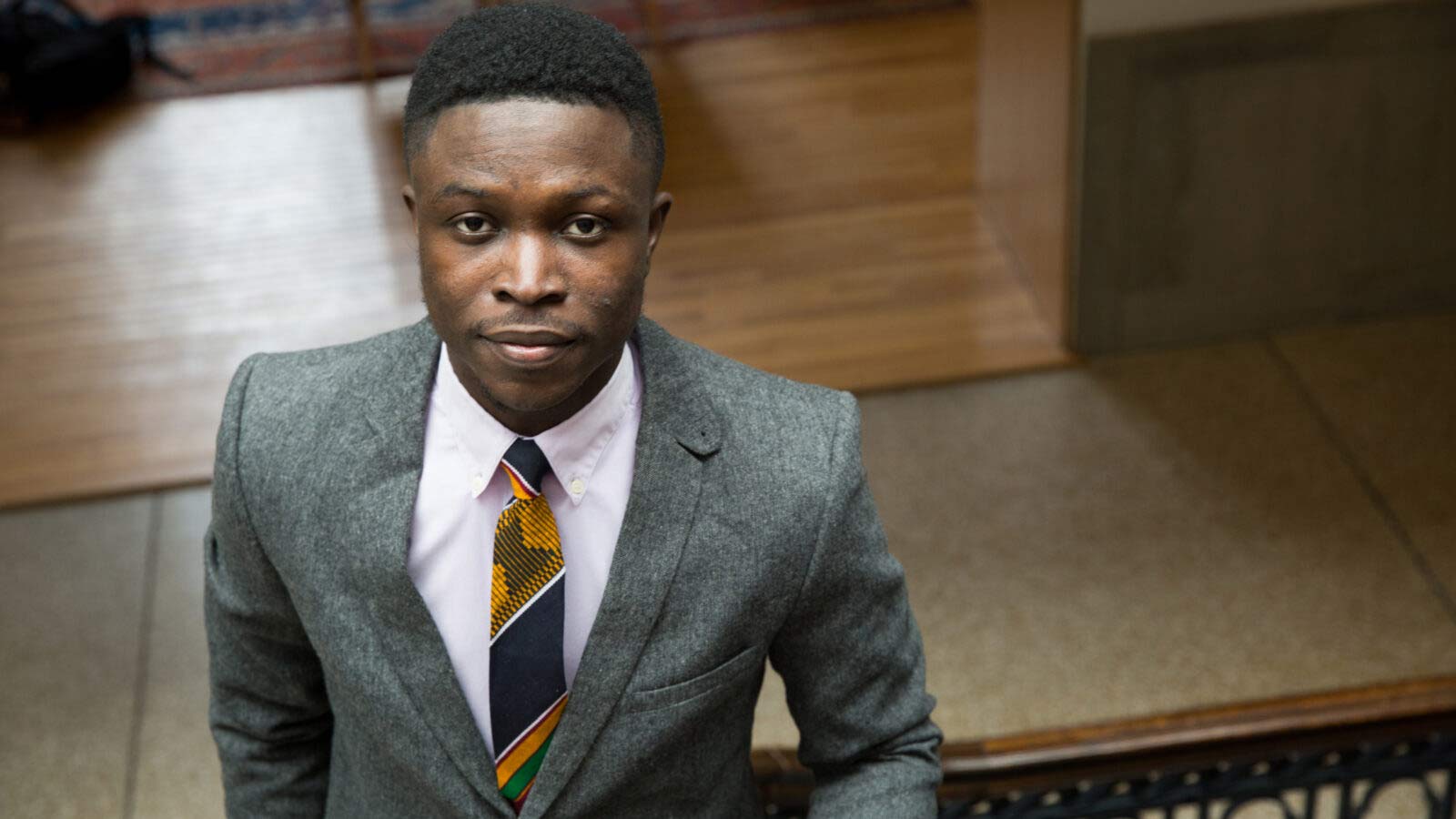 Authored by: Jessica Bautista
Photography by: Image provided / Penn Communications
Shadrack Frimpong was born and raised in Tarkwa Breman, a remote village in Ghana where he grew up without running water and electricity. Frimpong is the son of a charcoal seller and a peasant farmer. He is the recipient of the 2018 Queen's Young Leader Award. He is the founder and CEO of Cocoa360, he is currently enrolled in the School of Social Policy & Practice's (SP2) Nonprofit Leadership Program, and he is changing the world as we know it.
In 2015, Frimpong was one of only five undergraduates to walk away from Penn with one of the University's most prestigious accolades – Amy Gutmann's Presidents' Engagement Prize. In the same year, he funneled the $150,000 he was awarded into the creation of Cocoa360.
The 501(c)3 organization is said to be transforming the way sustainable development is done. By using revenue from community cocoa farms, Cocoa360 facilitates and funds a tuition-free school for girls as well as a health clinic in the village he grew up in.
"As a child, I watched my legs rot and nearly get amputated, because my parents who are cocoa farmers, had no money and therefore delayed in taking me to hospital. Years later, it hit me: why should millions of cash crop farming families, who contribute significant revenues to economic growth, struggle with poor health simply because they can't afford the cost of healthcare or its social determinants, like education?" Frimpong asked.
"That's a moral injustice – one that I have committed the rest of my life to fighting through our 'farm-for-impact" model. And my SP2 education is arming me with a firm foundation to do that."
Today, Cocoa360's projected annual impact already includes: 930 malaria clients in care, 120 girls enrolled in school, eight served communities, 240 children immunized, and 1720 family planning visits. And if Frimpong has his way, those digits may very well double and triple in the coming years.
The social entrepreneur and former biology major aims to empower other rural farming communities all over the world through similar self-sustaining models that provide consistent access to education and healthcare via agricultural success.
With his sights set on expanding the impact the Cocoa360 framework can have, Frimpong returned to Penn SP2 this fall for his master's in Nonprofit Leadership. Frimpong hopes to hone his leadership skills, organizational strategies, and best position his organization for future growth.
Read more about Frimpong in a recent articles by Face2Face Africa and The Daily Pennsylvanian and learn more about the Cocoa360 model here.