News Details
Smartphones to Permanent Homes: Revolutionizing the Way We Donate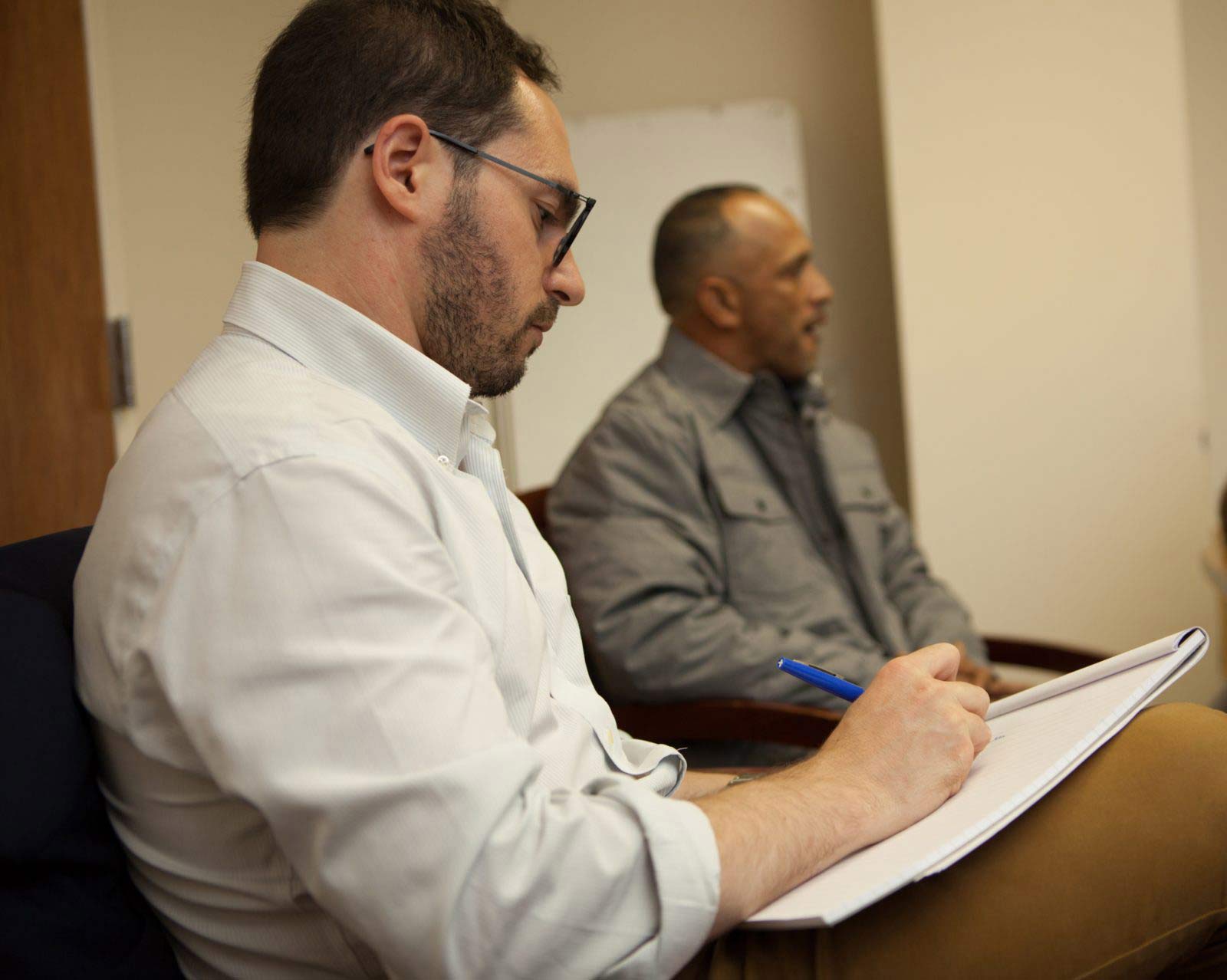 Photography by: Michael Scott Whitson
Faculty & Research
04/03/18
According to Project H.O.M.E., a Philadelphia advocacy organization committed to ending poverty and homelessness, on a single night in January 2016, there were almost 550,000 people experiencing homelessness in the United States; 68 percent sheltered, 32 percent unsheltered and 22 percent were children under the age of 18. In 2015, in Philadelphia, homeless outreach organizations engaged over 6,500 individuals living on the street, in cars, abandoned buildings, train/ bus stations, and other places not meant for human habitation. Additionally, about 15,000 people (including families) access shelter in Philadelphia each year and, sadly, numerous individuals are turned away from shelter due to capacity.
These statistics are heartbreaking, but out of every crisis comes opportunity and there are some creative minds tackling this problem through innovative measures. Enter StreetChange, a mobile crowdfunding application that allows anyone with a smartphone to donate necessities requested by Streetchange clients while advancing their progress toward better employment, healthcare and permanent housing.
Dan Treglia, Ph.D. '16, works collaboratively with the Mental Health Partnerships (previously named the Mental Health Association of Southeastern Pennsylvania) and outreach workers who recruit and engage people experiencing street homelessness. Collaboratively they build an online profile, including a small bio and photo (if agreed to by the client) and register for up to five short term necessities, like socks, shoes, or a jacket. Donors view the online profiles and donate to a certain item requested by a specific client. When an item is purchased, StreetChange notifies the person, who picks it up from a MHP Recovery Learning Center where they can begin to discuss long-term services. These "soft touches" are key to building trust and facilitating conversations about strategies to achieve stable housing, healthcare and job training.
In 2012, Dan entered Penn's School of Social Policy & Practice (SP2) after stints in Boston for school (Master's in Public Policy from the Kennedy School of Government at Harvard) and New York City as the deputy director of research at the New York City Department of Homeless Services, to pursue his doctorate in Social Welfare. It was during his year as a SP2 Senior Research Fellow that Dan started to envision how his homeless research could be translated into direct service for clients. As luck would have it, Dan was introduced to Dr. Andrew Siegel from Penn's Perelman School of Medicine.
Andrew was looking into applying behavioral economics to mental health and homeless services policy, specifically to address the dilemma he felt when approached by panhandlers asking for money. He wanted to help, but was not sure where the money would go and was worried that his donation could cause more harm than good. Bringing the initial program idea to Dan and Mental Health Partnerships, all involved yearned to make more people feel comfortable helping those experiencing homelessness and connecting those individuals with short-term supplies and long-term assistance. Together they began to fine tune StreetChange.
Conceived in mid-2015 and launched in the winter of 2016, StreetChange's first phase resulted in 35 clients signing on and raising $6,000, with the average donation being $10. There have also been some important tweaks. Originally, the idea was that if you encountered a person living on the street, you could check the app and see if they were registered and donate to their wish list. However, it greatly limited the donor base. Once the location aspect was removed and anyone anywhere could contribute, the StreetChange app was downloaded more than 5,000 times. Ultimately, though, the goal is to engage those for whom the existing service system isn't working by building a stronger relationship to facilitate transitions into better healthcare and permanent housing.
Dan explains that "someone can come in one day to pick up their items and it creates a conversation. And one conversation leads to another conversation and then you have developed a relationship."
And, indeed, there is clear evidence that StreetChange is making a difference. The initial pilot resulted in more than 300 items donated to those in need, and many of these people are making tangible steps toward their own long-term stability through each meeting to pick up a donated item. The next phase is to ramp up recruitment, ensure that StreetChange enrollees receive their goods in a timely fashion and create more service provider partnerships to extend beyond Center City.
In addition to expanding StreetChange, Dan wants to continue his quest for better integration of policy and practice. He envisions creating a space where research on social issues is available to practitioners in the field, academic institutions and the general public. Who knows what social practice remedies will emerge from such collaboration? After all, StreetChange started with a small donation for a street homeless citizen, which led to a new pair of socks and may, in the future, result in permanent housing and full-time employment.
People
Dan Treglia, PhD, MPP

Graduate, PhD in Social Welfare

Contact

Email