News Details
Senior SP2 Fellow Michael Nutter to Discuss New Book, a Life of Public Service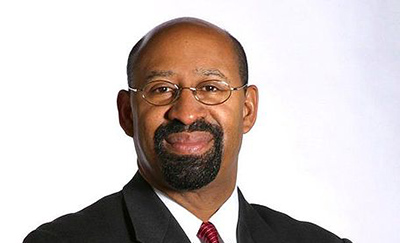 Faculty & Research
02/20/18
On February 27, from 5 to 7 p.m., Penn IUR, Penn's School of Social Policy & Practice (SP2), and Penn Press will host a talk with Michael Nutter, former Mayor of Philadelphia and Senior SP2 Executive Fellow at Penn IUR, to discuss his book, "Mayor: The Best Job in Politics," published by Penn Press as part of Penn IUR's The City in the 21st Century Book Series.
University of Pennsylvania Provost Wendell Pritchett will moderate a conversation with Mayor Nutter about the challenges of choosing a life of public service and deciding to run for office.
Additional remarks will come from Penn IUR Faculty Fellow and SP2 Dean John L. Jackson, Jr., Penn IUR Co-Director Eugenie Birch, and Penn IUR Co-Director Susan Wachter. Reception and book signing to follow.
The event will take place at Perry World House, located at 3803 Locust Walk. Philadelphia, PA 19104.
Excerpt from the book:

"This is a story, and a political autobiography, about commitment and perseverance, about the passion and desire to serve. If you enter the world of public service for the right reasons, it's the most incredible feeling that you will ever have. You will never make a lot of money in public service. Most of the people who try to make money end up going to jail. But there is something entirely unique about the opportunity, every day, to make somebody else's life better. It's a feeling that you can perhaps get in some other professions, but I know that it happens in this one. I would contend that being the mayor is the best job in politics, and possibly the best job in America."