News Details
Seeing the People Within the "Public"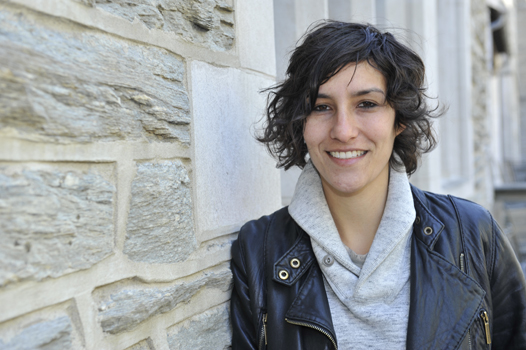 Authored by: Lisa Dugan
Photography by: Candace diCarlo
For MSW/MCP candidate Ariana Zeno, interdisciplinary learning comes naturally. She attended an interdisciplinary high school, where all of her subjects were taught across unifying themes. In college, her major in American studies also enabled her to examine issues through multiple lenses including anthropology, ethnic studies, and women's studies.
"The interdisciplinary approach is a comprehensive way of looking at an issue from various angles," she explains. "I found it to be a very powerful and impactful way to learn."
Given her educational foundation, it is not surprising that Zeno chose to pursue a dual degree program, but her decision to combine city planning with social work was somewhat unexpected. It wasn't until she began working at Policy Link, a public policy research and advocacy organization dedicated to advancing economic and social equity for vulnerable populations that city planning registered on her radar. "Until then I really hadn't even considered city planning," she says. "But most of the people at PolicyLink identified as progressive planners and because the work and mission of the organization resonated with me I wanted to do what they did."
While she was intrigued by the potential of city planning, she also found the systems-oriented focus of the discipline somewhat constricting. "City planning often takes a macro approach," she says. "It can be about the public but not the people. All too often planners use catch phrases such as 'people of color' to describe a group, but I'm also interested in the people in that group. I wanted to try and integrate an individual perspective into a public planning approach." Thus, adding social work to the mix was an obvious choice. "My mother is an MSW, so I grew up with those concepts," she says.
Zeno is particularly inspired by the Harlem Children's Zone (HCZ), an organization that aims to improve educational outcomes for low-income African American children in New York. In addition to providing a host of support services to families such as parenting skills classes, HCZ also utilizes a place-based approach. "They are very focused on how a place-based approach can impact their mission and have a positive effect on quality of life for children and families," she says.