News Details
School of Social Policy & Practice Calls Voters and Policymakers to Action, Launches "SP2 Penn Top 10"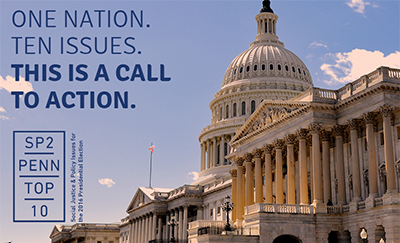 Authored by: Jessica Bautista
Faculty & Research, Student Life
01/26/16
With the 2016 presidential election ramping up, renowned experts from the University of Pennsylvania School of Social Policy & Practice (SP2) are identifying the nation's key social justice and policy issues – and how we can fix them.
The project – "SP2 Penn Top 10 Social Justice & Policy Issues for the 2016 Presidential Election" – analyzes and addresses crucial issues including the gun policy debate, child welfare, mental health treatment and mass incarceration.
This week, the School kicked off the much anticipated multimedia initiative with the release of the first essay by SP2 professor Dennis Culhane, PhD, Director of Research for the National Center for Homelessness Among Veterans.
Culhane's piece – one of 10 in the project – explores tangible and evidence-based ways the U.S. can end homelessness among veterans and nonveterans once and for all.
Each "Top 10" issue will be tied to an in-depth, thought-provoking essay and will be accompanied by educational animations, "Behind the SP2 Penn Top 10" faculty interviews, author biographies, abridged essays, and more. All the latest content can be found on www.PennTopTen.com.
In addition, each topic will be represented by an SP2 Penn Top 10 Fellow, all of whom are SP2 graduate students. These elite fellows will spend months analyzing and reporting on each topic as part of an online / on-the-ground course – Journalism for Social Change. Launched in 2012 by journalism nonprofit, Fostering Media Communications, the course requires Fellows to produce blogs, op-eds, and feature stories that have real impact on public and social policy.
Exclusive content and essays on the "Top 10" issues will be released on a monthly basis until the launch of the SP2 Penn Top 10 book in Washington, DC in May 2016. This dynamic, user-friendly workbook will feature all 10 abridged essays, statistics, policy recommendations, and voter resources to inform conversations and decisions leading up to the 2016 presidential election.
The mission of the SP2 Penn Top 10 Social Justice & Policy Issues for the 2016 Presidential Election seeks to educate, enlighten and empower a diverse audience of voters and policymakers from all walks of life.