News Details
Regional COVID-19 Response Dashboard Analyzes More than $40M in Giving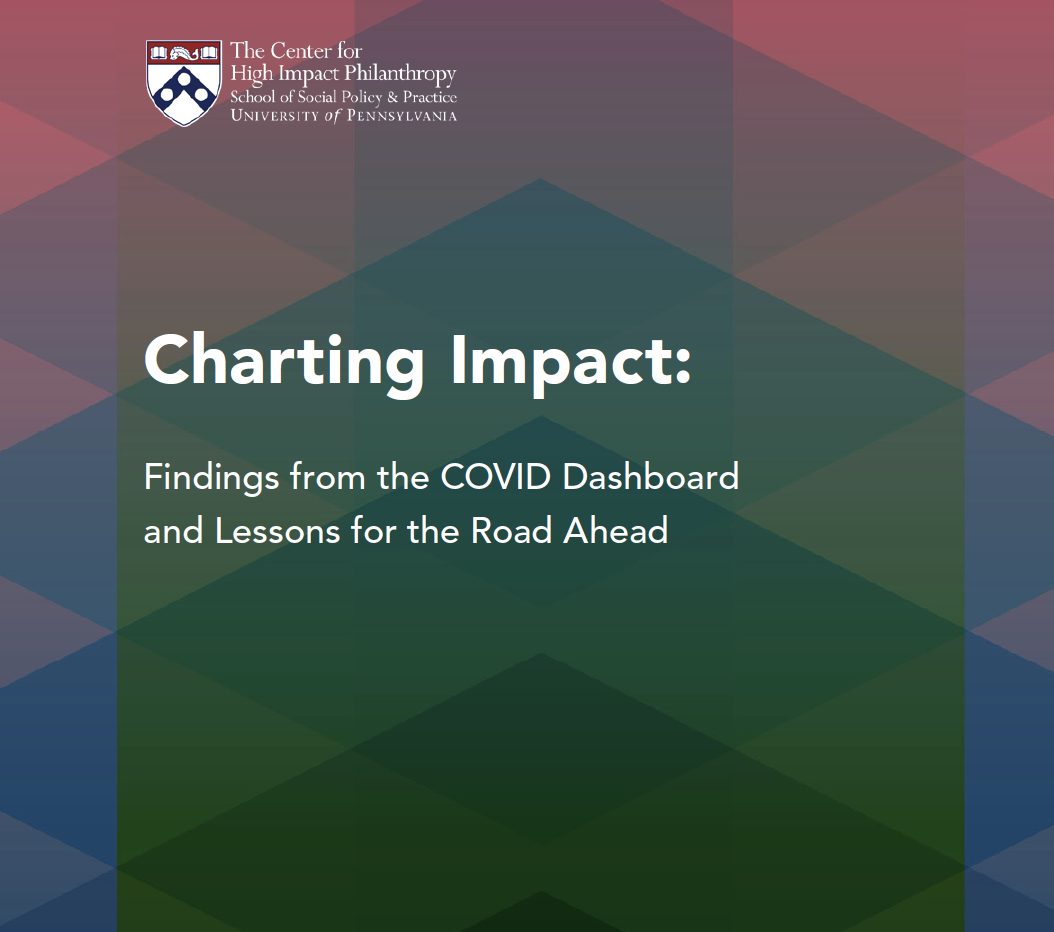 Faculty & Research, Gifts & Giving
11/12/20
The unprecedented and prolonged COVID-19 crisis led to the creation of more than a dozen shared philanthropic response funds in the Greater Philadelphia region, whose giving is measured by the new Regional COVID-19 Response Dashboard. Developed by the Center for High Impact Philanthropy (CHIP) at the University of Pennsylvania and Philanthropy Network Greater Philadelphia (Philanthropy Network) with support from William Penn and Lenfest Foundations, the dashboard is one of the first efforts to collect grants data from numerous pooled giving funds and share it publicly, mapped against demographic and economic data.
The regional dashboard was specifically designed for funders and nonprofits to answer questions about the flow of philanthropic support to address the effects of COVID-19 in Greater Philadelphia, including where grants were directed, who the funds were meant to help, what community needs were being addressed, which organizations received support and where there were gaps in funding.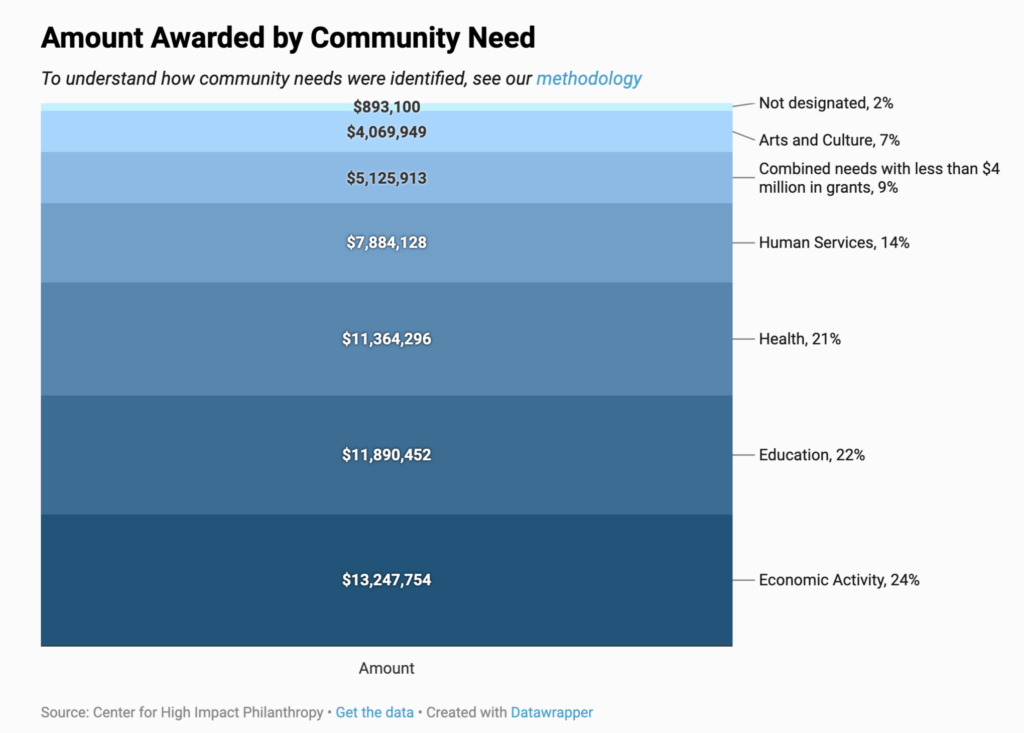 Data provided by 13 COVID-19 philanthropic response funds in Southeastern Pennsylvania and Southern New Jersey revealed 4,892 grants totaling $40,133,289 across 10 counties in the region were awarded between March 18 and June 29, 2020. These funds represent the majority of the collective funding launched to provide relief from the initial effects caused by COVID-19.
"This dashboard was created to help understand how resources in the region were prioritized in response to the COVID-19 pandemic, as well as inform future grantmaking as it relates to the region's recovery," said Hilary Rhodes, Director of Evaluation and Learning at the William Penn Foundation. "With this new collective data, we have a clearer sense of how funds across the region were allocated and can hold ourselves accountable to ensure grantmaking is distributed equitably in the future."
CHIP and Philanthropy Network released findings from the dashboard project on September 29 during a free webinar and in a companion report. One of the key lessons is that funders need better and more standardized demographic information in order to understand how well their grantmaking aligns with their social justice goals. Given the urgent community needs and time sensitivities associated with working in a crisis, speed and ease of application was prioritized, which limited the amount of demographic data collected.
Said Sidney Hargro, President of Philanthropy Network Greater Philadelphia, "Due to the urgent nature of crisis grantmaking, gaps in grantmaking processes are inevitable. COVID-19 has exposed the need to collect better data to ensure the equitable distribution of resources to address community needs."
The report also contains lessons learned and recommendations for how funders can strengthen their ongoing response to the COVID-19 pandemic and preparedness for future disasters.
"The current version of the dashboard provides a data-informed view of our region's initial philanthropic response to COVID-19," said Kat Rosqueta, Founding Executive Director of CHIP. "By visualizing what's been done, where need exists, and where gaps remain, the dashboard can also serve as a model for how funders might use data to inform decisions outside of COVID-19 response and recovery."
Additional Key Findings
Grant Size: Grant funding was distributed to many nonprofits, businesses, and individuals across the region. 95% of grantees received grants of $50,000 or less, with the majority under $10,000. The average grant size was $8,211. 93% of grantees received one grant, while 7% received two or more grants.
Community Needs: Grants were intended to address community needs that emerged during the pandemic. The top six needs that participating shared funds addressed were: Economic Activity ($13,247,754), Education ($11,890,452), Health ($11,364,296, including $5,120,265 for food, agriculture, and nutrition aid), Human Services ($7,884,128), Arts and Culture ($4,069,949), and Housing ($2,355,587).
Funding in Philadelphia:  Most grant funds (57%, $21,786,047)went to nonprofits based in Philadelphia. That level of response seemed well aligned for two reasons. First, Philadelphia is a county with high need. Of the 10 counties, Philadelphia is the county with the highest average Social Vulnerability Index (a CDC composite index of 15 social factors, including poverty, lack of vehicle access, and crowded housing) and the fourth highest COVID-19 death rate. Second, many nonprofits with Philadelphia-based addresses serve individuals and families in other counties as well.
Funding in Suburban Counties:  Giving in other counties was mostly commensurate with need and population, with some outliers. Bucks and Chester Counties had relatively high per capita grant awards ($8.04, 3rd highest, and $6.20, 4th highest, respectively), but low Social Vulnerability (9th and 10th ranked) and COVID-19 rates (7th and 10th ranked), compared to other participating funds. To contrast, rural Cumberland County in New Jersey had the 2nd highest Social Vulnerability, just behind Philadelphia, but the lowest granting, at just $0.62 per capita.
The project was developed by CHIP at the School of Social Policy & Practice (SP2) at the University of Pennsylvania, with additional collaboration from the University of Pennsylvania: Actionable Intelligence for Social Policy at SP2 and Urban Spatial at the Weitzman School of Design. A summary report is available here.
ABOUT THE PROJECT PARTNERS

The Center for High Impact Philanthropy | www.impact.upenn.edu
For over a decade, the Center for High Impact Philanthropy has served as an independent source of knowledge and education to help donors around the world do more good. CHIP is the only university-based center created with a singular focus on philanthropy for social impact. Its team has conducted analysis and provided guidance on a wide range of philanthropic issues and cause areas, and members of CHIP's team have been involved in multiple initiatives to support data-informed philanthropic decision-making.
Philanthropy Network Greater Philadelphia | www.philanthropynetwork.org
Philanthropy Network Greater Philadelphia is a trusted hub for funders, social investors, and philanthropy support organizations in the Greater Philadelphia region who wish to maximize their social impact while aligning with other philanthropic partners to achieve scale and sustainability. Philanthropy Network creates opportunities to learn, connect, and lead change that centers racial equity across all social impact priorities and in their operations. Together this network is a powerful force for progress in Greater Philadelphia, investing more than $500 million annually.
William Penn Foundation | www.williampennfoundation.org
The William Penn Foundation, founded in 1945 by Otto and Phoebe Haas, is dedicated to improving the quality of life in the Greater Philadelphia region through efforts that increase educational opportunities for children from low-income families, ensure a sustainable environment, foster creativity that enhances civic life, and advance philanthropy in the Philadelphia region. In 2020, the Foundation will grant more than $117 million to support vital efforts in the region.
CONTACT:
Kelly Andrews, Center for High Impact Philanthropy, 484-431-8302, kellyja@upenn.edu
Rebecca Morley, William Penn Foundation, 215-370-5619, rmorley@williampennfoundation.org
Amy Seasholtz, Philanthropy Network Greater Philadelphia, 215-790-9700 x2, amy@philanthropynetwork.org
People
Katherina M. Rosqueta, MBA

Founding Executive Director, Center for High Impact Philanthropy

Contact

Email