News Details
PhilaSoup wins Mobilize.org's reGenerate Philly Summit Award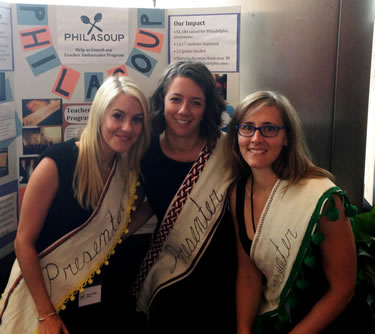 Authored by: Rose Bender
Photography by: Courtesy of Nikka Landau
"We are thrilled that PhilaSoup was one of the winners at the Mobilize.org reGenerate Philly Summit," Nikka Landau, NPL candidate and co-founder of PhilaSoup, said.
The three-day summit explored the economic and civic engagement challenges young people face in Philadelphia. The award, which includes a share of $25,000 and a year-long membership to the Mobilize.org Fellowship Program, provides Millennial entrepreneurs with resources to address those challenges. Over 100 teams and individuals submitted project proposals. Of these submissions, five solutions were selected as winners. Other winners included Philly Give & Get, founded by Lansie Sylvia, NPL'10.
PhilaSoup brings together various sectors of the Philadelphia education community in support of initiatives that enhance the learning experiences of students. PhilaSoup hosts micro-grant dinners to help fund innovative projects and ideas that foster mutual support among educators.
"We are going to use the grant money for our new Teacher Ambassador Program, which we launched in October," explained Landau. "We want teacher voices at the table as we steer PhilaSoup in the direction of its new strategic plan."
Teacher Ambassadors, individuals currently working in a Philadelphia school who believe in the PhilaSoup mission and want to become more involved, will act as an advisory committee. The three goals of the Ambassadors will be: encouraging the creation of sustainable, teacher-led soup dinners; increasing attendance of current teachers at each dinner; and increasing the number of high-quality micro-grant proposals received.
To learn more about PhilaSoup please visit their website, like them on Facebook, or follow them on Twitter.