News Details
Philadelphia Mayor Seeks SP2 Students' Expertise for Significant City Efforts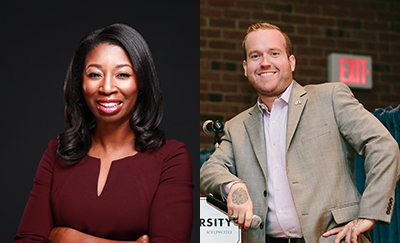 Authored by: Jessica Bautista
Faculty & Research, Student Life
01/13/17
Two graduate students from the School of Social Policy & Practice were recently selected by Philadelphia Mayor Jim Kenney to support integral endeavors that are expected to benefit the City of Brotherly Love.
Angelina Ruffin will serve as the City's new Director of Performance Management and Deputy Chief Administrative Officer, Kenney announced this month. Ruffin is currently completing her PhD in Social Welfare at SP2 and expects to graduate this May.
In this position, Ruffin will lead the office charged with building on existing performance management practices within and across city departments. She will refine and strengthen performance management strategies and processes where needed, and will work hand-in-hand with departments that are in the beginning phases of designing and/or implementing performance management systems.
"Improving how the city measures and manages the performance of its many programs and services is a crucial focus of my Administration," Mayor Kenney said in a press release.  "I'm thrilled that Angelina Ruffin is bringing her years of experience to the task, and I'm confident the city will benefit from her efforts."
Ruffin's research at SP2 focuses on culturally-relevant strategies that address violence against women in minority and marginalized communities.
"I'm excited to join the Kenney administration and look forward to partnering with leaders citywide to create a culture of quality and data driven policy," said Ruffin.
Another SP2 student, Robert Ashford, was recently invited by Mayor Kenney to become an intricate member of the Mayor's Taskforce to Combat the Opioid Epidemic. Ashford, who also leads the University of Pennsylvania's Quaker Peer Recover group, is pursuing his master's in social work at SP2.
Ashford will be focusing on how to best enable and support the interagency sharing of data that is necessary for monitoring and reporting of the opioid epidemic. In his role, he will also be making recommendations related to data analysis, as well as data monitoring, reporting, and sharing that would positively impact the opioid epidemic.
"I am very excited about working with the Mayor's Taskforce on this important issue. Over 900 people are projected to have experienced a fatal overdose in Philadelphia in 2016, and convening a city-wide taskforce is an important step in finding impactful solutions," Ashford said.
Mayor Kenney announced the formation of the Task Force to combat the opioid epidemic in Philadelphia in November. The epidemic of abuse, addiction and overdose from opioids is a national crisis that now claims the lives of more than 28,000 Americans each year, according to the Office of the Mayor.