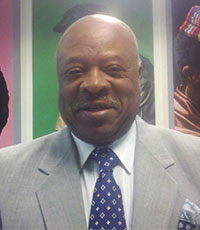 Walter Palmer, JD
Lecturer, MSW Program
Walter Palmer is the founder and director of The Palmer Foundation, and a lecturer at the University of Pennsylvania Graduate School of Social Policy and Practice; where he has taught foundation courses in American Racism and Institutional Racism and Social Change since 1990. Professor Palmer has won the distinction of "teacher par excellence" throughout his many years of teaching.
He created the Black People's University of Philadelphia (1954-1984) as an early prototype for preschool and adult independent and alternative education for contemporary America.
Walter Palmer is the founder and President of the Board of Trustees for The Walter D. Palmer Leadership Learning Partners Charter School, the first (national prototype) Pre school, middle and high school focus on leadership, social ­­­justice, and character development for students in pre-kindergarten through twelfth grade. Currently the school has a student population of over 1300, with a fifteen-million ($15,000,000) budget and in 2005 built a new (seven and half million dollars)  elementary school facility and a five million dollar high school facility.
He is also the founder of The Black Men at Penn, School of Social Work, Inc. and founder of The Center on American Racism and Social Justice at the School of Social Policy and Practice, where he is the driving force behind the campaign to raise one million dollars ($1,000,000) to endow the Center.
During the era of the civil rights and Black Power movements, Walter Palmer, was recognized nationally as the premiere grassroots organizer for successfully organizing city, state, and national political campaigns, protest campaigns, and grassroots community projects, such as, the MOVE crisis, Model Cities, public health, community mental health, gang and anti-violence projects in Philadelphia and across the country.
In 2005 Walter Palmer worked on a health literacy project with the Philadelphia College of Physicians, the University of Pennsylvania Schools of Medicine, Nursing, Social Policy and Practice, the Philadelphia public schools and West Philadelphia residents. This project utilities innovative technology through an interactive website, Philly Health Info, designed by The Philadelphia College of Physicians, to provide residents health education.
Walter Palmer is a graduate of the University of Pennsylvania School of Cardio-Pulmonary Care. He was a Director of Cardio-Pulmonary Care at Children's Hospital of Philadelphia from 1957 – 1967. He is a current Fellow in the Philadelphia College of Physicians. He received his Juris Doctorate degree from Howard University and law clerked for Community Legal Services upon graduation.
He received his bachelor's degree in secondary education from Cheyney State University; and was certified in history and social studies. He also studied business administration at Temple University as well as radio, television production, and direction.
Walter Palmer has achieved a lifetime of awards and recognition and has amassed over 1,000 medals plaques, trophies, and certificates of acknowledgement and appreciation in community services, academics, athletics, health, law, social justice, and leadership.
In 2005 the Walter Palmer Leadership Charter School was named after him and in 2007 the Walter Palmer Library and Museum was dedicated to house a 5,000 book collection along with two hundred volumes of materials on leadership, self development and social justice.
Contact
Email
About
Department(s)
Faculty | Lecturers | Part-time Lecturers
Program(s)
MSW