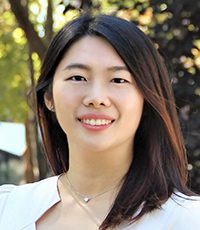 Viviana Chiu-Sik Wu, PhD, LLB, MS
Graduate, PhD in Social Welfare
Research Interests
Strategic management of nonprofits and foundations
Community and place-based philanthropy
Nonprofit advocacy and policy engagement
Machine learning and spatial analysis
Viviana Wu is a doctoral candidate whose research interests lie at the intersection of nonprofit management, democratic governance, and organizational and community sociology. In her research, Viviana focuses on how communities collectively organize for public problem-solving and how nonprofit and philanthropic organizations shape, and are shaped by, the community environments they serve and the issues they face such as economic inequality.
Viviana's dissertation draws on computational and mixed methods approaches to study the impact of resource heterogeneity across communities on community-based organizations and the use of social media in public mobilization and policy engagement in the online playing field. She assembled unique nationwide datasets of community foundations across the United States by combining their organizational data from IRS Form 990 with multiple county-level data sources and employing data mining and web scraping techniques to harvest website and social media data.  Viviana's data analytics expertise includes topic modeling, network analysis, supervised machine learning as well as spatial analysis to analyze massive observational data, with effective use in R, Stata, ArcGIS, and GeoDa.
In 2018, Viviana's working paper on "The Place Dilemma of Community Foundations: "Equalizing" the Inequality?" won the Best 2017 Conference Paper Award from the Association for Research on Nonprofit Organizations and Voluntary Action (ARNOVA), with Dr. Weiai Xu and Dr. Chao Guo. Recently, she received the Hal Levin Award in recognition of her meritorious academic performance in the doctoral program. Besides her research commitments, she also serves as the Managing Editor of Nonprofit and Voluntary Sector Quarterly (NVSQ) and Penn Urban Research Fellow Student with The Penn Institute for Urban Research (IUR). Viviana holds an MS in Nonprofit Leadership from Penn and an LLB (Bachelor of Laws) and a BSocSc in Public Administration and Laws from the University of Hong Kong.
Contact
Email
About
Department(s)
Recent PhD Graduates
Related Links