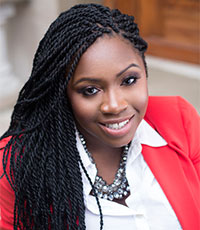 Tiffany N. Younger
Lecturer, MSSP Program
Tiffany Younger is a Scientist, Activist, and Professor. Her work focuses on understanding how the US economy shaped by whiteness, patriarchy, and coloniality as a construct materially impact Black women's health and wellbeing. Currently she serves as a Liberation Health Science Fellow at the Insight Center where she serves as the expert on qualitative research working with the team to fill research gaps that center race and gender. In addition, she is building out her project Liberation for Us, an interactive lab focused on building new measurement tools that center the lived experiences of Black, Latinx and Indigenous women.
Prior to working with Insight Center, Tiffany served as the Director of Policy and Advocacy at Closing the Women's Wealth Gap (CWWG), a national organization that prioritized economic security through policy solutions that center women of color. In addition, Tiffany worked as a Policy Fellow for United States Senator Kirsten Gillibrand where she focused on issues of criminal justice, gender, and race equity. From 2019-2021, during the pandemic, she served as a T32 Clinical Research Science Fellow at the National Institute of Health (NIH) where her research interests focused on the psychological and physiological implications of structural racism.
Tiffany obtained her Master of Science in Social Policy from the University of Pennsylvania's School of Social Policy and Practice. She is a Lecturer at Columbia University School of Social Work and at the University of Pennsylvania School of Social Policy and Practice where she teaches Social Policy and Human Behavior and the Environment. She recently completed her degree in Clinical Epidemiology at Weill Cornell Graduate School of Medical Sciences, and she is currently completing her doctoral degree in Social Welfare at the Silberman School of Social Work through the Hunter-Weill program sponsored by the NIH. She resides in Harlem, New York with her daughter Grace.
Contact
Email
About
Pronouns
she/her
Department(s)
Faculty | Lecturers | Part-time Lecturers
Program(s)
MSSP