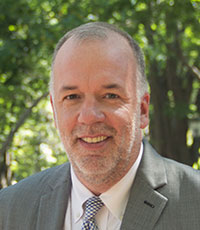 Steve Wilmot, MSW
Lecturer, MSW Program
Field Liaison, MSW Program
Steve Wilmot is a 1997 graduate of the School of Social Policy & Practice and currently works as the Senior Director of Practice Management at the Children's Hospital of Philadelphia where he has been employed for over fifteen years. In his current role, Steve oversees the Hospital's Primary Care Centers in Philadelphia, including the Nicholas and Athena Karabots Primary Care Center at the Children's Hospital of Philadelphia, the nation's largest Primary Care Center providing care to over 31,000 children and adolescents. In addition, Steve directs the Hospital's After Hours Nurse Triage Program, as well as the Hospital's pediatric literacy initiative, Reach Out and Read.
The former Director of Camp JOY and the Variety Club Camp & Developmental Center, Steve has spent a great deal of his career working with children and young adults with chronic disability and illness. In addition, Steve has worked with the homeless population and is one of the co-founders of the Safe Harbor Homeless Shelter located in West Chester, PA.
In addition to teaching at the University of Pennsylvania, Steve is an Adjunct Faculty in the Undergraduate Social Work Department at West Chester University where he has taught Advanced Social Policy, Human Behavior in the Social Environment, and Generalist Practice. Steve can be found at most SP2 functions providing "ice breakers" and ideas for experiential teaching tools.
Contact
Email
About
Department(s)
Faculty | Lecturers | Part-time Lecturers
Program(s)
MSW