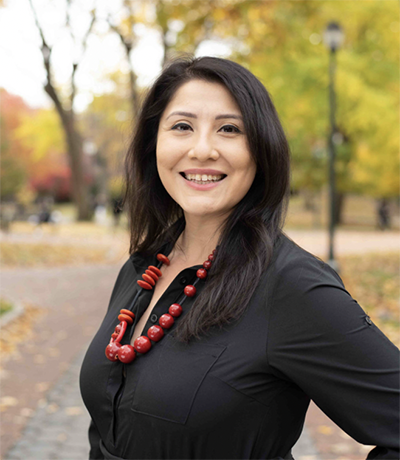 Stephanie Rivera Fenniri, MS, MPA
Lecturer, NPL Program
Stephanie Rivera Fenniri is a first-generation doctoral student and Fontaine Fellow in City and Regional Planning at the University of Pennsylvania Weitzman School of Design. Stephanie's research focuses on the migration of Latinx immigrants from the Global South to the U.S. and how Latinx immigrants are creating positive economic, cultural, political, and social impacts in U.S. cities. Prior to her doctoral studies, Stephanie worked for more than ten years as a nonprofit professional and social impact strategist and founder of RK Impact, a global social impact consultancy.
Stephanie is currently the Treasurer of the University of Pennsylvania Association of Alumnae, co-chair of the Nonprofit Leadership Alumni Association, co-chair of the Pennsylvania Immigration and Citizenship Coalition, has worked as a Teaching Fellow for the Center for Social Impact Strategy for four years, and is currently a Research Assistant for the Center for Guaranteed Income Research. In the first year of her doctoral studies, Stephanie was selected as a Graduate Associate for Perry World House, Penn's center for global engagement.
Stephanie holds a Master of Science in Nonprofit Leadership from the University of Pennsylvania School of Social Policy and Practice and a Master of Public Administration in International Administration and Development from the University of Texas at Arlington, a Diversity and Inclusion certificate from Cornell University, an Organizational Leadership certificate from Wharton and the School of Social Policy and Practice, and a Professional Fundraising certificate from Boston University. Stephanie has experience managing more than $40 million in grant funding and providing oversight for federal, state, and private grants. Additionally, Stephanie is a 2022 Greater Philadelphia Social Innovations Awards Finalist, 2021 AL DÍA 40 under Forty Honoree, and in 2019 was the recipient of the University of Pennsylvania's Excellence in Social Impact Award.
Stephanie's commitment to social justice and ensuring low-income and immigrant populations have equitable access to resources and opportunities is evident in her academic pursuits, board service, and professional contributions throughout the Greater Philadelphia region. She believes public service is a civic duty and one form of conveying gratitude for the numerous opportunities she has received thus far. Stephanie has lived in Philadelphia since 2018 and loves enjoying the area's parks and green spaces as an avid bicycle commuter.
Contact
Email
About
Pronouns
she/her/hers
Department(s)
Faculty | Lecturers | Part-time Lecturers
Program(s)
NPL