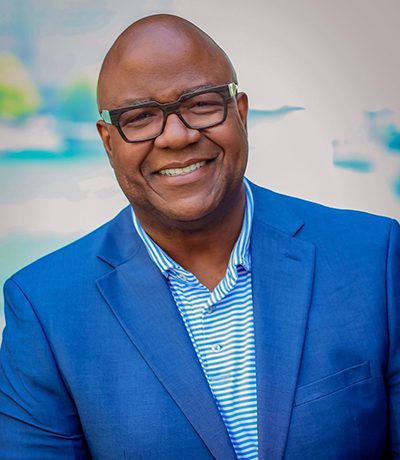 Sidney R. Hargro, MSME, MDiv
Lecturer, NPL Program
Sidney Hargro is an international speaker, philanthropy advisor, and executive leader. Hargro is the Executive Director of the LeadersTrust. The LeadersTrust invests deeply leadership development and organizational capacity strengthening for movement and social change organizations. After spinning off from the Haas, Jr. Fund in 2021, the LeadersTrust is poised to expand its national reach with a focus on liberatory leadership development, wellness, capacity for current and emerging leaders. Hargro is also a Lecturer in the School of Social Policy and Practice at the University of Pennsylvania, teaching equity-informed social impact measurement.
Prior to the LeadersTrust, Hargro was the Executive Director of Philanthropy Network Greater Philadelphia, which serves funders and social investors in greater Philadelphia as a hub for learning, engagement, and knowledge-sharing and cross-sector collaborations. During his tenure, the Philanthropy Network helped foundations in the region evolve their philanthropic practices – governance, strategy, grantmaking, endowment investment, procurement, etc. – to center intersectional racial equity and trust-based relationships with nonprofit partners.
Previously, he led the Community Foundation of South Jersey, a startup foundation seeded by the Ford Foundation, which grew from $400,000 to over $21 million in assets in seven years after serving as a Senior Officer at The Columbus Foundation, the nation's 7th largest community foundation. Hargro presented and written about liberatory philanthropy, mission-aligned investing, equitable evaluation, leadership development, and capacity strengthening.
Hargro currently serves on boards of World Education Services (US/CAN), National Art Strategies, Independence Public Media Foundation, Independence Blue Cross Foundation, Symphony in C, and All Together Now PA.
He earned a Master of Divinity degree from United Theological Seminary, Master of Science degree in mechanical engineering from The Ohio State University, and a Bachelor of Science degree in mechanical engineering from North Carolina A&T State University.
You can follow Sidney on Twitter @sidneyrhargro and on LinkedIn.
Contact
Email
About
Department(s)
Faculty | Lecturers | Part-time Lecturers
Program(s)
NPL